Team Overview: "Young but very quick," is how coach Terry Meagher categorizes his Bowdoin squad this season. "We will have a lot of new faces and some shoes to fill with the departures of Adam (Dann) and George (Papachristopoulos) but we have a nice returning nucleus and some good leadership for this team."
Senior captain Bryan Ciborowski (10-11-21) brings a quiet resolve in his leadership the Meagher finds to be effective with his young players acclimating to college life on campus. "Bryan is different than Adam and has his own style but it is effective and he will have a strong influence on this club," Meagher said.
Senior Tim McVaugh (10-10-20) plays the versatile forward/defense role in the Bowdoin system and will be looked upon to add to some solid numbers from his junior season.
Goaltending will be an area of focus starting the season with sophomore Nick Smith returning having played just four games last year going 2-0-1 with a 3.34 goals-against average. Expect to see some competition at that position with some new faces at Bowdoin this season.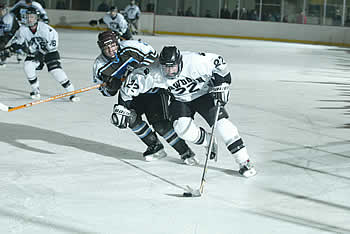 Special Teams: Bowdoin can score in bunches and has had good success on the power play including 34 of the team's 109 goals last season. Look for continued success from the specialty teams in Brunswick.
Schedule: In addition to the aforementioned Colby Bowdoin rivalry weekend, the two Maine teams also share an invitational event where they will play Assumption and the US under-18 team in December.
Summary: Terry Meagher's teams are always in the hunt so expect this year's edition to be right there when the young guys get the system and they find the next great goaltender to play in Brunswick.