Team Overview: Last season the Bantams struggled to find themselves offensively and were a bit more generous in allowing other teams to score. They found there game heading down the stretch and managed to make it into the final four of the conference tournament. Like others in the league, Coach John Dunham will have a lot of new faces on the bench this season as Trinity looks to rebound.
"We never quite got into that rhythm," Dunham noted. "You don't really appreciate some things until they're gone and we had some big shoes to fill last year with the departures of Doug (Kiselius) and Joe (Ori). But we have a nice group back who should be healthy, stronger and ready to go — it's going to be a lot of fun!"
Leading the Bantams is senior John Halverson, who scored five of his nine goals on the power play. Look for senior Simon Dionne (3-20-23) and sophomore Tom Price (9-6-15 in only 17 games played) to also be big contributors to the offense.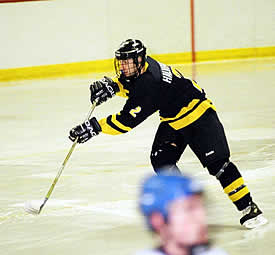 Trinity will be real young on the blue line and in goal where competition is wide open for playing time. Coach Dunham likes to challenge his teams early in the season to find themselves so look for some varied line-ups in the early going.
Special Teams: Trinity struggled in general to score goals last season and the power play was no exception. Both Halverson and Price scored five power play goals each which accounted for 40% of the team's total for the season. They will need to improve on those numbers as their defense matures.
Schedule: Mark Nov. 17 and 18 on the calendar as Trinity will open its new on-campus arena in style against Hamilton and Amherst. Without a doubt the new building will have the campus and team sky high so there won't be much need for pep talks from Coach Dunham on opening night.
Over the holiday break, the Bantams play in the Middlebury Invitational and meet a Frozen Four participant from last year in Hobart followed by a day two match-up with either St. Anselm's or the host school. A great tournament to start 2007.
Summary: How much of a difference can the new arena make? It already has in the recruiting game and if the new arrivals can have a solid impact don't be surprised if you see Trinity skating again at a league final four.