Revolving Door
Hockey officials are clamping down again. It was quite evident in the first full weekend of conference play. In eight games, only six times did teams not go into double digits with penalties. Its effect was also evident on the scoreboard. Out of the 55 goals scored, 24 of those were scored on the powerplay. Another four were scored shorthanded. That's just over half the goals scored by special teams.
"At first you think it's your team," Oswego coach Ed Gosek said. "But then you look around the league and see everyone is getting calls against them."
"Combination of officials cracking down, calling the penalties in combination with players learning how to deal with it," Geneseo coach Chris Schultz said. "They've learned all their lives how to cheat, and now they are going to have to adjust."
Schultz may have been a bit harsh, but many players do come from junior hockey where a lot more is allowed.
Buffalo State coach Nick Carriere explains, "It comes down to the habits of a bunch of guys who played junior hockey with different rules."
So, what can the coaches do about it? "It's only so much I can say and do," Carriere said.
Old habits do die hard, but Gosek has no problem dealing with it firmly. "I can make them do extra practice, skate extra laps, but sitting guys out is the only thing that gets their attention," he said.
Potsdam was able to take advantage of the situation as their powerplay started to return to last year's form. Surprisingly, the Bears, who got numerous penalties coming into this weekend, did not have double digit penalties in both their games.
"We've had an awful lot of experience with penalties and stick calls and problems all year long," Potsdam coach Glenn Thomaris said. "I thought our guys finally did a pretty good job keeping their sticks to themselves. It's nice to see them get penalties instead of us for a change."
Potsdam came into the weekend at 0-4, outscored 22-7. Yet, not only did they win both games on their longest road trip of the year, they did it in the most unlikeliest way — with solid goaltending by both Rob Barnhardt and Vince Cuccaro. They also relied on a strong powerplay, scoring four of their six weekend goals with the man advantage.
On the other end of the surprise spectrum, Plattsburgh, despite also getting few penalties, scoring four powerplay goals, and one shorthanded tally, didn't get a single point in the western reaches of New York. The Cardinals never led Fredonia and despite two early leads against Buffalo State, they let up six unanswered goals in what suddenly turned into a route. They even resorted to playing all three goalies in the Bengals' game.
Penalties did hurt Cortland who looked set to start making some noise this year. Seventeen penalties against Geneseo and ten against Brockport doomed them to two losses. Somehow, the Golden Eagles fared decently, only losing to Oswego by one goal despite 14 penalties — but they never let up a powerplay tally — and came back to beat Cortland even though they did let up three powerplay goals and got 17 penalties.
Last year, SUNYAC teams comprised three of the four most successful powerplay units in the country. Oswego was number one at 29.0%, Potsdam was second at 28.0%, and Plattsburgh was fourth at 26.4%. It appears they will get plenty of practice to reach those numbers again as there is no reason to believe the referees will let up on the mandate to call tight games. It will be the teams that can limit the revolving penalty box door and take advantage of their special teams that are going to win games.
Oswego coach Ed Gosek said, "If you're not prepared to play hard and compete, you will fall by the wayside."
And play smart.
Making The Most Of The Opportunities
Oswego may have played six games, but sophomore forward Garren Reisweber has only played in three of them. He certainly has made the best of his playing time, scoring six times in those trio of games.
"He's worked extremely well to get back into the lineup," Gosek said. "He certainly earned a spot right now and will stay in there as long as he deserves it."
Last year, Geneseo's Mitch Stephens scored a nation's best seven shorthanded goals. Reisweber already has three in just three games.
"He's a hard worker," Gosek said. "If he's got open ice, he'll go for the net. He's opportunistic."
Reisweber played 12 games last year, and only got five assists. Not a single goal. He's definitely being opportunistic this season.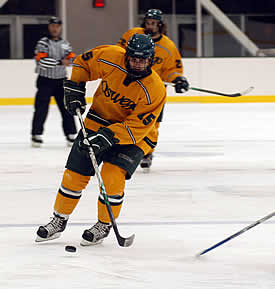 As for the Lakers overall performance this past weekend, Gosek said, "What I'm most pleased with is that we have not played three good periods in a game and we've taken way too many penalties, yet we have been able to win. It's the timing of the penalties that has hurt us. Our five-on-four penalty kill has been good. It's the five-on-three's that have been killing us. It's just discipline."
Oswego's powerplay wasn't that good over the weekend, scoring just once in 22 attempts. Yet, as Gosek said, they have been able to win. That can't be good news for the rest of the league, because for a team that is already undefeated, just imagine what will happen when they get more disciplined and their powerplay starts producing like it did last year.
SUNYAC Short Shots
Oswego's Garren Reisweber and Geneseo's Mike MacDonald each scored a hat trick in their game against each other by getting a goal each period; Reisweber's final goal was the game winner for the Lakers … Buffalo State's Jason Hill scored two goals and two assists in their 7-4 win over Plattsburgh; he also got a goal in their 3-2 loss to Potsdam and another goal in a 5-2 loss against Elmira … Oswego scored 17 seconds into the game against Brockport en route to a 3-2 victory … Potsdam's Pat Lemay scored twice within 17 seconds in the second period to give the Bears a 2-1 lead over Fredonia and an eventual 3-2 win … Plattsburgh and Fredonia each got a powerplay goal and a shorthanded goal in the Blue Devils 4-3 win … Going back to last year, Oswego now has a regular season seven game winning streak.
Game of the Week
Is there any doubt? But, before we get to that, let's point out some other key match ups this coming weekend.
Fredonia at Oswego is an important game for the Blue Devils as they look put the Potsdam loss behind then and try to stop the Lakers.
"We always have good games against them," Gosek said. "We're at home. We should try to take care of business."
In another Friday contest, Buffalo State at Cortland is a key contest for both teams, as this game may very well be a key component in whether either team makes the playoffs at the end of the season.
On Saturday, Potsdam at Geneseo will show whether the Bears really have turned the corner while Geneseo will have to settle back down after what is sure to be an emotional contest the night before.
Speaking of that emotional contest the night before, the Plattsburgh at Geneseo game is the game of the week for the obvious reason — it's a rematch of the last two SUNYAC championships.
"Looking forward to it," Schultz said. "Every time Plattsburgh and Geneseo get together, you're going to expect to have a good game. Last year, they came into this building and gave us a good beating [7-1], so the kids want some redemption. And we're looking to validate last year's victory."
The campus is also gearing up for the game.
"It was a pretty good atmosphere last week against Oswego," Schultz said. "I wouldn't expect it to be any different."
Neither do I.
On The Periphery
Everybody knows that Albert Einstein came up with the Theory of Relativity. It is said that he developed the concept while commuting by train to his job as a clerk in the Patent Office. He observed the world outside the train compared to the world inside the train as it sped along the tracks.
Einstein could have come up with the same concept — and had a lot more fun doing so — if he was watching the Potsdam at Buffalo State hockey game. During a Bengals powerplay in the third period, the clock never started after a face off. The action continued for about 20-30 seconds before a normal stoppage of play occurred.
At this time, the referees noticed something was wrong, especially after Potsdam alerted them to the situation. They had a conference, but decided to do nothing. The rule book states that the officials are allowed to add or remove time if they deem it necessary. Clearly, they had to have known the clock never started for some period of time.
Even curiouser, instead of restarting the game from the moment before the clock didn't start, they simply picked up where the game last left off. Thus, the Bengals were given an extra 20-30 seconds of powerplay opportunity, not to mention the extra time at the end of the game when they were trying to tie it.
Why the penalty for such a gaffe isn't harsher is perplexing. This is not the first time this has happened — a few years back this occurred a number of times in Geneseo. What's to stop an unscrupulous home clock operator from turning an honest mistake into a purposeful advantage? If the refs have the option to punish the home team when their fans throw debris on the ice, why can't they punish them when the clock operator provides an unfair advantage? Unsportsmanlike is unsportsmanlike. In fact, this is protocol violation in the purest sense of the definition.
Time truly is relative. Especially at Buffalo State.