The race for the Hobey Baker Memorial Award is always on the minds of college hockey fans. The award, given annually to the best player in Division I college hockey, prompts passionate debate among fans, players, coaches, and media every year.
It was last season that my play-by-play partner on CSTV, Matt McConnell, drew the ire of the faithful in Omaha when he stated that Scott Parse was a good candidate but not the best player in the country. He got hate mail on message boards all summer. Parse, to his credit, is a terrific player and has been his whole career. I agreed with McConnell, though. Parse was among the elite, but not the best player in the country. My choice from mid-December on was Matt Carle. He was head and shoulders above the field last season, in my opinion.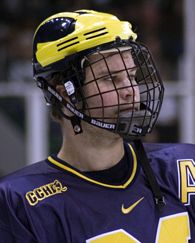 Mid-December is not far off and the debates for who the frontrunners are this season should start pretty soon. I'll toss a few names out for debate. The list includes but is not limited to Brian Elliott, Jonathan Toews, T.J. Oshie, Scott Parse, David Brown, Nathan Davis, Byron Bitz, Jay Barriball, Kyle Okposo and Michel Leveille, to name a few.
Let me toss out one more.
I was a huge fan of his during his freshman year, and was also on his bandwagon as a sophomore. His junior year changed my opinion a bit because his game changed. I was down on him. He didn't seem to be having fun. He didn't seem to be making the highlights all that much. He scowled instead of flashing the happy-go-lucky smile that thrilled fans and scared goalies.
He was changing his game. Changing it for the better, hoping to become a more complete player instead of a just a one-dimensional player. He was hoping that he could earn extra ice time with a commitment to being a two-way player and better without the puck. He wanted to kill penalties, which was never to be imagined his freshman and sophomore years.
Now a senior, he has become a leader. An offensive threat with as good a package of skills as any player in the country. He'll still pull you out of your seats with his offensive flair, but he'll also block shots. He'll care when he's scored against. He'll be miserable when his team loses. He has that Mark Messier look on his face now. That look that says, "This is my team, and I'm the man."
His name is T.J. Hensick. He plays for the University of Michigan. My personal feeling is that he is as good a candidate to win the Hobey Baker Award as any.
A draft choice of the Colorado Avalanche, Hensick told me in September that he really admired the way Jim Slater played the game. Slater, a rival from Michigan State and now a second-year center with the Atlanta Thrashers, played the game hard, smart, and from start to finish.
Hensick admired how Slater competed, and even T.J. will admit that early in his career there were some games in which his juices flowed more than others. He also realized in his three-year evolution as a student-athlete at Michigan that to be a Hobey Baker winner, there was one key ingredient.
Consistency.
He also mentioned Steve Yzerman as someone who he admired. When pressed to explain, he told me that Yzerman was a great player who finally won a Stanley Cup or three when he became more than just an offensive threat. That's a huge lesson learned from the perfect player to have learned it from.
"The guys who win that award bring it every night," said Hensick of the Hobey Baker. "They show up every night, shift after shift, continually compete. That is where I want my game to be."
It certainly has gotten there.
His coach, the legendary Red Berenson, told me last season that Hensick is just as happy to block a shot as score a goal. His first two years that goal-scoring grin was pretty wide. Last season he looked satisfied to score. He expected to score. He also was expected to be a more rounded player by both his teammates and his NHL team.
The Wolverines had a miserable year last season, in my opinion. They were too young and that was as big a factor in their subpar season as any. Despite the high-end talent of freshmen like Jack Johnson and Andrew Cogliano, the Wolverines lacked something that other Michigan teams had.
Consistency.
Hensick had a pretty good season despite the lack of harmony in the Wolverine dressing room. He could not carry the team solo. That's not his game. What he did accomplish was what he set out to do; become a two-way player. Watch him now and you see it. He uses speed to create offense and he also uses it to backcheck. He uses his instincts not only to read teammates and set up scoring chances but also uses that sixth sense to break up passes and eliminate offensive options against the rush.
He kills penalties and blocks shots. He wins key defensive draws. He competes every shift. When things aren't going his way he doesn't sulk anymore. He battles through adversity.
Heading into his senior year, Hensick reflected on what he had done and would continue to need to do and what he had started to do in the past season while sitting in the Red Wings' alumni room at Joe Louis Arena. On a warm fall day in Detroit, Hensick addressed his biggest challenges.
"I knew I was going to get an opportunity with a big senior class leaving. It was going to give me a chance to go out and play against the other team's top lines, possibly kill some penalties. The mindset had to change a bit. I didn't necessarily want to change my game completely, but there are little things that I needed to change in order to become a better player, and ultimately, hopefully play at the next level.
"And that is being aware of my own zone, better defensive-zone coverage, being able to block shots and doing the little things that don't show up on the scoresheet. I didn't want to change my game completely. Just little things here and there."
Was he worried about tinkering with what had made him so successful up until that point?
"Well, it goes through your mind, I think. You want to be the best you can at both ends of the ice. That might take away from your offensive things if you're more focused on the defensive side of things. But I think ultimately it came down to be me being a little too frustrated last season in different areas. Maybe being shadowed a little here and there.
"Things were getting to me. Maybe I was putting too much pressure on myself. That's something that I realized that going into this year I need to be relaxed at both ends of the ice. No matter what the situation is, if we're down a guy, if we're on the power play, five on five, I have be more relaxed and let my teammates know that I'm relaxed. That's just going to rub off on them."
Hensick made a great point towards the end of our conversation. It was a paradoxical statement, but made perfect sense. In talking about winning the Hobey Baker, Hensick said that you really can't worry about it in regards to how you play. It is important to play the way that got you there if you want to continue to be successful, and that if you are successful, you stand a chance of winning the award. He is in no way lobbying for the honor, just talking about what he has seen from other skilled forwards like Marty Sertich who have won it.
Hensick is not doing what got him to this level of success. He's doing more. He has gone away from the sole style of play that has got him here.
By contradicting himself he has increased his chance at this illustrious piece of hardware. Whether he wins or not will be determined by his play. Hensick is also after another elusive piece of hardware, the NCAA championship trophy. To win that one he'll need to continue what he has done in the past season and a half. Michigan won't get any easy nights and neither will its star player.
If he punches in for a full shift every night, both awards will be within his grasp.