A team that welcomes four Olympians into the fold is supposed to excel, and this has certainly been true of Dartmouth this season. Although the team opened its season in October with back-to-back losses at current No. 1 Mercyhurst (is there any shame in that, really?) the Big Green have since compiled a 17-4-2 record (and an ECAC-leading 14-1-1 record) despite injuries that kept two of the national team players, Cherie Piper and Katie Weatherston, out for at least 10 games.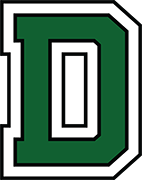 Those two should return in the next week so that Dartmouth will be set for the stretch run. That includes a league tournament and another shot at the Frozen Four, where they have landed in the last three non-Olympic years, being eliminated in the semifinals each time. (During the Olympic year, they finished 12-13-4 and out of the NCAAs.) Piper has a knee injury and must wear a brace. Weatherston had a concussion early on and that was compounded by a wrist injury that kept her out of action.
Prior to this season, fourth-year head coach Mark Hudak was in clover, pleased to have 21 players for the 2006-2007 year – the largest roster Dartmouth had amassed in several years. But with the injuries those hopes dissipated – they only played three or four games with a full roster — although he's pleased that the team has fared so well on partial strength.
"The biggest part about getting them back," said Hudak of Gillian Apps, Piper and Weatherston, "is that for three years they were such a huge part of this team. They brought back experience, maturity and leadership and raise the bar for the others on and off the ice."
Weatherston, Piper and Apps all played for the Gold Medal-winning Canadian team in Torino. Piper and Apps were linemates and tied for the tournament lead with seven goals each, and both ranked in the top three in points scored. The trio of senior forwards returned a career 388 points and 155 in 2005-06 to the team.
Since Dartmouth is on a trimester system, the upperclassmen came back for their final period last spring so they got to meet some of the newer players.
"Coming back was definitely different," said Apps whose 33 points (24 goals, 9 assists) leads the team in scoring. "Most of the players I had come with had graduated and there were a lot of sophomores and freshmen on the team so it was like getting to know a completely new team again."
Apps said readjusting to the life of a college student was strange at first. "Last year I was a full-time athlete which was mentally and physically challenging, but getting back into the college experience was definitely an adjustment. Sometimes it was hard to get back into the swing of things."
Apps is cautious about the stretch run and postseason play. Dartmouth's remaining schedule include Colgate, who beat the Big Green 2-1 during Four Nations Cup weekend; Yale, who the Big Green beat 4-3; and Brown, Rensselaer, Union and Cornell, all of whom they defeated by at least four goals earlier in the season. Apps said the team would like home ice for the entire ECAC tournament but to achieve that, Dartmouth must finish first in the league.
"It depends on injuries and how the team sticks together," she said.
Hudak said the team is a strong unit off the ice, on the ice and in conditioning. Players also recognize the importance of paying attention to the small details if they want to succeed, he said.
Regardless of the outcome of this season, however, the Big Green will be strong again next season with the presence of Parsons, the youngest player on the U.S. National Team in Torino. She had committed to Dartmouth before deferring her admission to try out for the Olympics. Now at 18, she is happy to be back in a normal environment.
In Torino, she tied for the team lead with seven points and led the U.S. with four goals during the round-robin portion of the competition. A bronze medal accompanied her to Hanover for her efforts.
Hudak wasn't that surprised when he landed one of the most sought-after recruits two years ago since he had gotten to know Parsons and her family in hockey camps and through recruiting.
Still, it was no lock. "I knew there wasn't a team that didn't want her," he said. "She could have had her choice." When she called to tell him she had selected Dartmouth, it was in typical humble fashion. "She told me 'I'd love to go to Dartmouth … would that still be possible,'" he said, pointing out that it was a typical modest statement from the forward from Dover, Mass.
But Parsons "fell in love" with the team and the school and the setting, he said, and that was enough. He said she's a mature freshman, but a freshman nonetheless despite her impressive international experience.
During the recruiting process, she visited Harvard, Princeton and Dartmouth. After the visit to Hanover, she knew that's where she wanted to go, so she cancelled a visit to Yale. "It felt like the right place for me," she said of Dartmouth.
"She's all of 18 – loving life, loving college … I hear this from her parents, too," Hudak said. "Coming off a year with the Olympic team and being with older women, it was good for her to be able to go back into a college environment. 'I can be a freshman,' she was thinking. 'I can be with kids my age.'"
"I was so excited to come back," Parsons said. "I wouldn't trade what I did for anything but it's nice to come to this environment. I'm still a freshman in college, figuring things out as I go along."
Despite all of her early success, she has remained "incredibly humble," Hudak added. She has grown as a player as she has gotten stronger – but that's just part of the maturation process, he said.
Parsons said she's glad she took a year off to train for the Olympics and was even a little nervous about her role on the team when she returned. (She has started in 21 of the team's 23 games.) "But that made me want to go to college more," she said. Being on edge helped her compete, she added.
Recently, Hudak took Parsons off a line with other Olympians and made her the center of her own line to give her more responsibility and to challenge her more. When she was playing on the same line with Apps and Piper, "she was deferring to them a lot," he said. "Now she has to assume the responsibility herself."
She said she developed her game in all areas being with the national team but has had to learn to be more of a physical player in college. Dartmouth plays a "grind it out" style of hockey "which was not really my style," she said, "since I was more of a finesse player." So she made adjustments and is second to Apps in points (33 to 31) with 8 goals and 23 assists. Apps has 24 goals and nine assists.
Parsons plans to continue on track for the 2010 Olympics, as does Apps.