First Time For Everything
Congratulations to Notre Dame, the CCHA regular-season champion. The Fighting Irish have risen to new heights under head coach Jeff Jackson, who has taken the hockey program at one of the nation's most visible athletic departments to a place it has never been.
The rise of the Irish can only be a good thing for college hockey, in my opinion. Division I hockey has long been distinguished by its eclectic mix of big and small schools, including a welter of programs that play up to Division I in hockey while keeping the rest of their athletic departments at lower levels of competition. And when a big-name school makes a name for itself in hockey as well, the sport's exposure and reach expand accordingly.

Not everyone will agree, of course. College hockey advocates tend to fall into two camps: one that longs to see the sport afforded the same coverage enjoyed by football and basketball, and another that holds the sport near and dear and takes the attitude that if other people don't get it, then that's their loss.
I'm firmly in the former camp. The growth of D-I college hockey over the past decade has been fueled by two sources: the increasing commitment of big-time programs, and expansion in the form of new teams and new leagues like Atlantic Hockey (yes, I know they're in the East) and College Hockey America. Both are critical to the sport's well-being, and when a school like Notre Dame achieves the limelight, everyone benefits.
For another example, consider Ohio State, which is suffering a down year right now, but is a school whose then-athletic director, Andy Geiger, saw to it that the program was properly cared for. The result? A CCHA and national contender, a new, hockey-friendly facility in the form of Value City Arena, and a Frozen Four in Columbus that I attended and gave high marks across the board.
Of course, expansion appears to be stalled right now, and dreaded contraction isn't out of the question given the plight of the CHA (see below). I'm hoping for the best.
Darkhorse Candidates
With the regular season winding down, two WCHA teams which seem to be unlikely candidates for the NCAA tournament are hanging around the fringes of the PairWise Rankings. Michigan Tech and Wisconsin, both with sub-.500 records overall, are 18th and tied for 19th in the PWR, respectively.
(Note: I have used the .003 adjustment which is standard in Jayson Moy's Bracketology articles for the "good road wins" bonus. That number is not officially released by the NCAA, but we know from past experience that it's a pretty good guess.)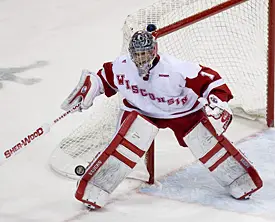 Now, that means neither is in the field as of today, which should provoke some relief from the rest of Division I, especially those who remember the firestorm a few years back when St. Cloud State, with an overall record just one game over .500 and a first-round loss in the WCHA tournament, made it into the NCAAs thanks to the PWR's computational whims.
But either team — though almost certainly not both, as we'll see in a minute — could conceivably make the field of 16 as an at-large with a strong finishing run, even if the WCHA playoff title isn't at the end of it.
As always, the PWR is hard to predict, thanks to its many moving parts. Every game in Division I can affect every other team's chances, sometimes in ways that are hard to foresee.
Recall, for instance, the situation last year that I and others jokingly dubbed the "Doomsday Scenario," in which Holy Cross could have made the field as an at-large by losing to Bentley in the Atlantic Hockey championship game. (Of course, Holy Cross erased the worries by beating Bentley in that contest, and promptly justified its presence in the NCAAs with a monumental first-round upset of Minnesota.)
Now, Wisconsin has suffered from an inability to put pucks in the net all season, with a goals-per-game average of 2.3 to this point. Michigan Tech's offense hasn't been much better off, at 2.4.
Both teams have been solid in net, which has kept them afloat in a scoring-challenged year: MTU's duo of Michael-Lee Teslak and Rob Nolan are both in the top 15 nationally in goals-against average (for which a good portion of the credit should also go to the Huskies' defense for keeping pucks away from the net), and UW's Brian Elliott is 10th in GAA and 15th in save percentage.
With four games left in the regular season, a best-of-three first-round playoff series and then the WCHA Final Five looming, each team has the chance to run off eight more wins before the league championship game for the Broadmoor Trophy.
Win that game and you're in the national tournament anyway, so ignoring that possibility, would an 8-1 run down the stretch be good enough for either team? In all likelihood, yes, an outcome that would almost certainly give the WCHA five teams in the field — and maybe even six, if Colorado College can put together a similarly-strong finish. That's because Minnesota, St. Cloud State, Denver and North Dakota are all in the field at this point.
The catch? Wisconsin and Michigan Tech play one another this weekend, a series that could turn into an NCAA eliminator if either team sweeps the other, or gets even three points.
Looking For The Door
When the news leaked out that CHA members Bemidji State and Wayne State had applied for membership in other leagues — the WCHA for BSU and the CCHA for Wayne — it cast a pall over the survival of Division I's newest and perpetually most fragile league.
Now, I'm a big proponent of the CHA, since college hockey can only welcome new schools if they have places to go. There are currently 59 teams in Division I, with 54 of them wedged into five leagues with at least 10 members apiece.
But the five-team CHA has been on shaky ground since its inception, with programs coming and going thanks partly to geographic concerns; long road trips have always been the rule, as opposed to, say, Hockey East, which Northeastern coach Greg Cronin recently called a "neighborhood league" in a feature article by USCHO's Keith Lavon.
Now, no one can blame Bemidji or Wayne for doing what seems best for their programs. Both are natural geographic fits for the leagues to which they have applied, though the WCHA does not seem all that interested in expanding just now. The CCHA may be more receptive, though the Warriors have suffered through some down seasons recently, and their ability to compete in a "Big Four" conference could be a concern.
Either way, if one of those programs manages to find its way out, it could be the death knell for the CHA, which cannot survive with four teams for any length of time. And that would be a shame for everyone who loves the sport.