The defending three-time national champions find themselves in an interesting position this season as they start the tournament with a play-in game against the SUNYAC champions — the Fredonia Blue Devils.
Having won their fourth consecutive NESCAC championship with wins over Colby and Bowdoin this past weekend, coach Bill Beaney likes what he is seeing from his club at this time of the year.
"It really was a great weekend. The team showed up ready to play. There was a quiet confidence, determination and understanding of what needed to be done to be successful. I think for the first time all season we played championship-type hockey. We really needed to be on top of our game to beat Colby and Bowdoin in Maine — a place our seniors had never won before this weekend. We finally have everyone on the same page willing to do what it takes to support each other and what needs to be done on the ice."
The Panthers formula has always included strong defense, solid goaltending and great special teams. This year is no different as Middlebury used two short-handed goals to grab the lead in the championship game on Sunday and never looked back.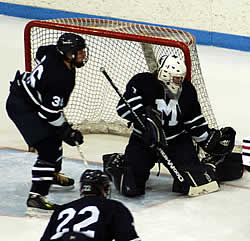 "How about that," commented Beaney. "We doubled our output of shorthanded goals for the season in that one game. Overall, we played consistently well. Both Doug (Raeder) and Ross (Cherry) played very well and that's a big part of winning at this time of the year."
Middlebury will try and take advantage of their big ice surface at home and leverage the offensive outputs from forwards Mickey Gilchrist, Jamie McKenna, Justin Gaines and defenseman, Tom Maldonado.
"Tom is one of our go-to guys," noted Beaney. "Everyone played well over the weekend but his goal against Colby was a big goal in the semi-final. Looking forward to this week's game Fredonia is a good team with a great power play and a strong goalie – strong special teams and goaltending certainly can carry a team a long way right now. We will control what we can with our work ethic and preparation. It's great for our seniors as we extended our season and time to play with each other. It will be great to play one more at home."
For Fredonia, coach Jeff Meredith has his team on a roll at the right time of the year having survived as the fifth place team in the very tough SUNYAC conference only to win the championship following big wins over Oswego and Plattsburgh.
"We've got a lot of leadership and belief in our group and every period we played that belief got stronger and stronger," Meredith told USCHO's Matt Rennell after the championship victory.
Leading the way for the Blue Devils is junior forward Neal Sheehan. His 22 goals and 24 assists lead the club offensively as do his ten power-play goals. The Blue Devil power play has been very effective clicking on almost 21% which would cause any opponent some concerns especially in a win-or-go-home format.
Backstopping the Fredonia club is freshman goaltender Kevin Amborski who only began to play in games after the New Year. Since then he is 6-1-0 with a .936 save percentage and a paltry 2.06 goals-against-average. Having taken the starting job from fellow freshman Pat Street, Amborski has been clutch down the stretch including the three playoff wins where he stopped 122 of 129 shots during the three SUNYAC playoff games, two of which went into overtime.
"He's huge. That save with a minute and a half left [against Plattsburgh], that was huge. That was the championship," said Meredith when asked by Rennell what Amborski means to this Blue Devils squad.
Momentum and a hot goalie have a lot to do with who wins and moves on and that description fits both teams in this match-up. Both teams like to play tight defense so don't look for any high-scoring game here. A quarterfinal berth is on the line so look for some great mid-week hockey to get the NCAA tournament off to a great start in D-III.