Katie Weatherston spent too many games sitting on the bench for Dartmouth this season. So when she got healthy as her senior season winded down, she knew it was her time to contribute.
She did just that, culminating with four points including a hat trick Sunday in the Big Green's 7-3 win over St. Lawrence in the ECACHL tournament final in Hanover. Weatherston led the Big Green with nine goals in four ECACHL tournament games.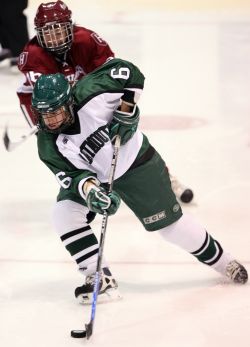 "I was struggling early on getting back into the swing of it, so I had a lot of motivation to help in the postseason," said the forward from the small community of Thunder Bay, Ont. "It's definitely tough being injured your senior year. You have that much more motivation to come out in the postseason and enjoy the games with your teammates."
Weatherston, like three other Olympians back at Dartmouth this season, took last year off to play with Team Canada in Torino, and she earned a Gold Medal with fours goals and an assist in the five games. She suffered a concussion at the end of the week in Italy and then after returning to school, injured her wrist which cost her eight or nine more games.
"The first part of the season really took away from her playing, her conditioning and her speed," said fourth year head coach Coach Mark Hudak. "But she's worked incredibly hard to get back. She has been very patient."
Now she, Gillian Apps, and Cherie Piper, all seniors, all Canadian Olympians want to make history by becoming the first Dartmouth team to reach the NCAA finals and beyond. The Canadian trio were eliminated in the NCAA semifinals in each of their first three seasons. Dartmouth did not reach the ECACHL semifinals during the Olympic year, but that gave the team's younger players an opportunity to develop. They have played a critical role in the Big Green's ECACHL regular season and postseason titles – the first time the program has achieved that dual feat since 2001.
The road continues against Boston College, Saturday at 3 p.m. in Thompson Arena. Dartmouth (27-4-2) is seeded third in the national tournament; BC (23-9-2) is seeded sixth after losing in the Hockey East tournament final last weekend to UNH. The Big Green beat BC 2-1 when the teams last met, in each teams' first game back from winter break.
"Everyone is playing with their hearts on their sleeves," Weatherston said earlier this week, as she prepared for finals. Exams begin Friday at Dartmouth, which has a trimester system. The psychology major has only one test but three papers due.
Weatherston anchors Dartmouth's second line. The first is comprised of Apps, Piper and freshman Sarah Parsons, who was also on Team USA last year in Torino. Weatherston skates with the two top scorers from the 2006 team, sophomores Shannon Bowman and Maggie Kennedy.
Because Weatherston is so strong, her presence, "gives us, in effect, two first lines," Hudak said. And because of the quality of these players, defenses discover they can't cover everybody and wear down.
Hudak said: "Weatherston is that good, regardless of whom she plays with." And against, he could add.
"I think teams think, 'If we can stop that …, if we can stop that… we have a chance," he said. "Success for us is not just one thing. Opponents have to stop this line and stop that line. And they have to get by a pretty good goalie," he said, referring to sophomore Carli Clemis.
Hudak acknowledged that Weatherston flew under the radar during her prep days at St. Patrick High School even though she had made the U-22 Canadian National Team. "There weren't that many people who knew a lot about her but I'd been watching her for a couple of years," he said. "She was definitely underrated but I saw a lot of potential in her. A lot of that comes from her competitiveness. She wants to do everything well."
Is she a perfectionist? Yes, he replies with a firm tone.
Weatherston agrees that because she was from a small community where women's hockey does not get much recognition, she did fly under the recruiting radar. "I thought I'd just be a third line player."
But her freshman season at Dartmouth she played in 35 games and finished second on the team in scoring (47 points), and she took home a pile of ECAC awards.
"I really improved that year," she said. "I was surrounded by good players and it was the first time I trained specifically for hockey. Team Canada noticed me, and I owe a lot to them for where I am today in my career."
Weatherston hopes to play for Team Canada in the World Championships (camp is later this month in Manitoba) but right now that's the farthest thing from her mind.
"We have experienced players who know what it takes to get to the Frozen Four," she said. "We've been there three years and come out losing in the semifinals. There is real motivation to get past that," she said. Right now they're focused on defeating BC this weekend. "Now we just want to win the quarterfinals and move on. We take it one game at a time."
"We have a very determined senior class, poised and ready to lead," Hudak said. "They are all focused on the same thing," adding that the experience and home ice should play to his team's advantage. Also, for the first time all season, Dartmouth has 21 healthy players.
Much of BC's strength resides in its freshman class — forwards Kelli Stack and Allie Thunstrom were First Team All-Hockey East, and goalie Molly Schaus has been among the nation's best. Hudak said, "[BC] may figure they have nothing to lose," he said. "At some level all of that youth and inexperience can be helpful."
"We have experience and home ice but that doesn't matter in BC's mind," said Weatherston. "We know we have to pick it up a little this weekend but we've come together at the end of the season. We're all working well together at a great time of the year."