Every coach has different ways of handling pressure. For Rick Comley of Michigan State, it is his 14-month-old granddaughter who is doing the trick. Makes you wonder — if the Spartans win it all, does little Katy Murphy get a ring also?
While facing the pressures and winning expectations of being the Spartans' head coach at a Frozen Four, Comley is up at 7 a.m., dressed, and walking Katy up and down the escalators of the team hotel here in St. Louis. Proud parents Brian and Gillian (Gillian is his daughter) must be thrilled to be able to sleep late, as Granddad dotes on his new little girl. Certainly beats watching game film.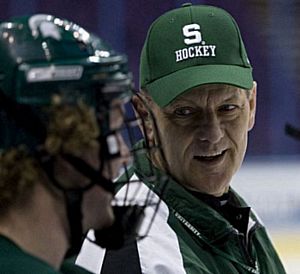 The Comley clan is here in full force this weekend. Relatives from both sides have made the trip from across the continent to watch Coach Rick try and become the third Spartan head coach to win a national title. He'd be the first to do it since Ron Mason's club beat Harvard in St. Paul in 1986.
One very interested observer in all of this is Rick Comley, Jr. Known as either "Junior" or "Ricky" around the hockey world, the coach's son is amazed at the emotions that have poured out his father as he makes his return to the Frozen Four, his first since beating Boston University at the helm of Northern Michigan in three overtimes in the 1991 final.
"I am amazed at how calm he is, and how happy he is," said Ricky as we chatted at the hotel a couple of hours prior to the Spartans' faceoff with Maine. "He has literally walked all over St. Louis telling everyone how happy and how lucky he feels to be back here with his team. He is really realizing how special it is to be back here at a Frozen Four after being a spectator at these since 1991."
Ricky remembers that 1991 final well for many reasons. Then an 11-year-old who spent countless hours at Lakeview Arena in Marquette playing two-pass with his dad after practice, Ricky was "a nervous wreck" at that title game.
"That game was wild. I remember one of the game plans my dad had was to have Darryl Plandowski shadow Tony Amonte. Both guys wound up with hat tricks, and Plandowski scored the OT winner on a pass from Mark Beaufait."
Comley was in the last row of the lower bowl in the corner NMU was attacking, and had a perfect view of Plandowski's shot going top-shelf.
However, earlier that night, "I remember going downstairs to the dressing room to see him just after the third period. I was so nervous, and there he is laughing with his assistants. He might have been as scared to death as I was, but he never showed it. I remember that like it was yesterday."
After the game winner, Ricky rushed away from mom and headed right towards the ice, and then got his first introduction to big-time hockey.
"I had to wait to give him a hug. I wanted to wrap my arms around him but he was doing a live TV interview and I couldn't get to him. I had to wait my turn. I remember our equipment guy giving me a hug, and he was a huge man. I thought I'd never breathe again."
That almost came true.
The excitement on the ice could in no way have foreshadowed the events to follow. Amid the hoopla in the postgame dressing room, Ricky helped out the equipment manager, Billy Bloom, in bringing the equipment bags to the bus.
A heart issue plagued young Rick as a child, one that has since been corrected. He had a condition where under extreme excitement or physical activity, his heart rate could accelerate to 200 beats per minute or higher. As he jokes now, he termed it "when my heart would go off."
Well, that night it did. The excitement of the evening, the carrying of bags and whatever other stimuli around him caused his heart to "go off."
"That night, while all of our fans and players are at the hotel going wild celebrating Northern's first-ever national championship, my mom and dad are with me in the emergency room as the doctors were trying to get my heart rate down. Talk about memories of championship night — that one has to rank with the more unusual. However, in a way it was kind of special, because we were all there together on my dad's most special night."
Within the Comley circle there are hopes for a second national title, this time looking to avoid doing the postgame in the emergency room. For Comley, being back here and potentially winning it would mean a lot of things to a lot of people, and that is not lost on Ricky.
"My dad is in the same boat Tim Whitehead is in. They both succeeded legends at their school who won national titles and they haven't. My dad is just getting to his first Frozen Four at Michigan State. Tim has had some great games in this tourney and some heartbreaking losses that were so close. I feel for both of them."
Comley has attained a measure of success within the MSU hockey family in getting MSU here. Ricky feels that if Ryan Miller had stayed on for his father's first year at Munn, the Spartans would have had a powerhouse. Players like John-Michael Liles, Brad Fast, and Brian Maloney sparked a team that everything but their Hobey Baker-winning goalie. Maloney had 20 goals from Christmas on, and was probably the best player in the country in the second semester.
"The best part of this is that my dad is doing this with his players, his recruits," said Ricky. "That is what is really important. Ron Mason is his mentor and a part of his success. Ron hand-picked my dad to replace him. For my dad to get here with his guys and not Ron's is important because it allows him to separate a bit from Ron's legacy and really build his own."
Ricky currently is the assistant coach of the Des Moines Buccaneers of the United States Hockey League. Under Regg Simon, he is honing his skills for a head coaching job of his own, continuing the Comley coaching chain. Prior to that, he did a great job scouting the Midwest for the Waterloo Black Hawks of the same league.
Should MSU make it to Saturday, Ricky will be behind the bench as the Bucs play at Lincoln.
"Believe me, I'll be going nuts on that bench trying to get scores," said Ricky. "I'll do my job, but I'd be lying if my heart wasn't in St. Louis."
Considering the memories his heart created in St. Paul, it was an interesting statement.
"I'm sure it will beat a bit faster when if I hear they won, but no worries about lightning striking twice."