For those outside of the Michigan State program, Chris Lawrence was hardly the obvious choice for captain, but for those involved with Spartan hockey there was no other option.
Lawrence may not be the leading point-getter or the go-to scorer, but he offers intangibles that are so important to leading to the team, especially after Drew Miller left MSU to sign with the Anaheim Ducks late in the summer.
"He was the unanimous selection by his teammates to serve as captain, and that is a testament to their confidence in him as a leader," said head coach Rick Comley.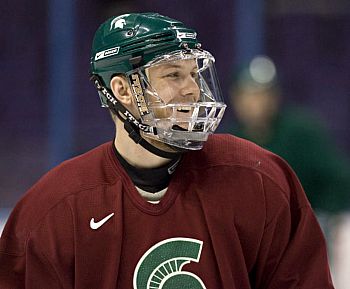 "We knew all along that was the decision to make," said sophomore netminder Jeff Lerg. "He's the leader and the motivator and he gets the most out of the guys in the locker room. Everyone always thinks that the captain has to be the leading scorer, but that's not the case at all with our team."
Character and heart are what have taken him this far, and according to Comley he has come quite a long way.
"Chris has done a great job, especially since he was a little bit of a high-risk pick. It put great pressure on him," said coach Rick Comley. "Now that we've gotten here (to the Frozen Four), he can take great personal satisfaction in the leadership that he put into the locker room."
Making such a mark on Michigan State hockey is something that Lawrence could have only dreamed about as he began his college hockey career.
After a season of limited playing time for Dubuque in the USHL, Lawrence returned home to Pennsylvania to play with the now-defunct Pittsburgh Forge of the NAHL and head coach Kevin Constantine.
The move got Lawrence some attention while playing for Pittsburgh, and he committed to Mercyhurst, but the gritty 5-foot-10, 184-pound winger had his sights on something bigger. He recanted his commitment and instead chose to take an opportunity to walk on at MSU.
The opportunity proved fruitful, but it was hardly the fast track to the top of the college hockey world. In his freshman campaign, Lawrence appeared in 23 games and chipped in with 10 points, but after playing just four games in his sophomore season, he was starting to regret his decision to come to such a high-profile program and even considered transferring.
Even through his limited playing time, Comley saw something special in Lawrence.
"He may not be the most skilled player on the ice, but he is one of the smartest players on the ice. In some ways, he reminds me of myself in that respect," Comley said. "As a player, he's such a student of the game that it's really like having another coach."
Lawrence had a very challenging season as captain, leading a team that was as high as a a two-month 11-1-2 run and a crash landing to the regular season that left the Spartans 1-4-1 heading into postseason play. Yet, he somehow found a way to temper the swings.
"He motivates guys in different ways. When we were struggling headed into the playoffs, he wrote individual letters to each of the guys, reminding them how important they are to the team and how much we all need them. He continues to find ways to get guys to re-focus and give the team their all, and that's exactly what you want out of a captain," said Lerg.
In just getting to St. Louis, Lawrence did something that former Spartan captains and current NHLers like Jim Slater, Adam Hall, Shawn Horcoff, Anson Carter, Rem Murray, and Bryan Smolinski all failed to do — lead MSU to the Frozen Four.
"He has no thoughts of playing professional hockey, and he should be very proud to be able to leave this mark on the program, especially when one considers that guys like [1991 Hobey Baker award winner] Kip Miller came into the locker room to wish the team well this week and they never got there," said Comley.
Considering the result, the Spartans could not have made a better choice than to select Chris Lawrence as their captain.