This isn't a rebuilding year or a transition year or even a year Wayne State is favored to win the College Hockey America championship.
It is, however, the Warriors' final year as the university announced in late September that financing the team is a losing effort and the team will fold effective the end of the season.
Wayne State is using that as motivation to make one last run at the CHA title and hopefully go out on a high note.
That may be difficult with 15 freshmen this year and just a handful of returning players, but the Warriors see the infusion of youth as a positive.
"From what I've seen so far, a lot of the freshmen bring a lot to the table," senior captain Mike Forgie said. "Youthful enthusiasm is good. They're all chomping at the bit and want to go the full 60 minutes and not let up. Being one of the older guys, I need to put up some numbers and hopefully have the young guys follow my lead. I know we'll have our growing pains, but still, expectations are high."
Forgie is technically in his fifth year at WSU as injuries have hampered him since his freshman year back in 2003, when he redshirted. He was a co-captain last season, but this season Forgie feels he has nothing to lose.
"I've never felt better," added Forgie.
Since WSU's inaugural senior class graduated in 2003, nothing but sub-.500 seasons have followed, including a six-win season in 2005-2006.
At the tail end of last season, the Warriors showed signs of competing and showing a willingness to win, but fell in the CHA tournament to eventual champion Alabama-Huntsville after a 12-21-2 regular season (8-10-2 CHA).
"We started to show some consistency at the end of last year and we really started to come together," added Forgie. "We had that enthusiasm and knew we could play with anyone in our division. The bounces started to go our way."
Eleven players graduated last spring, including five of the team's top 10 scorers. Three players — forwards Jason Bloomingburg and Mark Nebus and defenseman Dan Iliakis — signed pro deals. Nate Higgins, last year's top scorer, is also gone after popping 13 goals a year ago. Bloomingburg tallied 11 after a school-record 20 in 2004-2005. Forward Jason Baclig and big defenseman Taylor Donohoe are also now alumni.
Sophomore defenseman Jeff Caister was stellar on the blue line a year ago as a freshman and is one of three returnees on the back end with classmate Ryan Bernardi and junior Matt Krug. Four defenders graduated and as many as seven new skaters will seek playing time on the back end for the Warriors.
A championship would be a bittersweet ending to this year, but Caister noted that before a championship comes something else. Caister said that playing for a non-powerhouse school, and in a league many don't take seriously, is something that is discussed among the players.
"It's easy to get motivated when you're in our situation," said Caister, named an assistant captain this year along with junior forward Derek Punches. "We know the CHA isn't on the map and that's motivation in itself. I know we don't get the respect we deserve even though last year we beat teams like Cornell and Brown, and in their buildings."
The Warriors will play 14 home games this season, opening with Lake Superior State Nov. 9-10 at the chilly confines of the Michigan State Fairgrounds Coliseum, their original home in 1999-2000. A game in January against Niagara will be played at the Palace of Auburn Hills.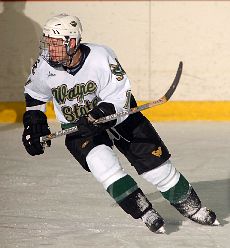 Still, even with the bombshell that was the team folding comes a season chock-full of hockey. WSU head coach Bill Wilkinson, the school's only head coach in its nine years as a program, wants to keep his team focused on the present and not what lies ahead next spring.
"I'm approaching this season with guarded optimism," Wilkinson said. "We're very young and kids tend to make mistakes. But they have hustle and desire and can only get experience by playing. The older guys need to set an example early and we have a good crew of the older guys that are willing to do that."
Wayne State has just four seniors on the roster in forwards Stavros Paskaris (a former CHA rookie of the year), Tylor Michel, Derek Bachynski and Forgie. The junior class is just as big with forwards Jon Grabarek, Bryan Olds and Punches along with Krug on the blueline.
Sophomore goaltender Brett Bothwell earned the No. 1 job from senior Will Hooper the second half of the season and was in net for eight of WSU's 12 wins. He'll be pushed for time by freshmen Kyle Funkenhauser and Mike Devoney, brother of former Air Force skater Billy Devoney.
Sophomore forward Jared Katz, all 5-foot-6 and 142 pounds of him, was a surprise walk-on who scored 11 goals and 23 points while making the CHA All-Rookie Team and being named WSU's top rookie as its third-leading scorer. He led CHA rookies in goals and was second in points to Niagara's Chris Moran.
Freshman-wise, WSU brought in forwards Tyler Ruel (30 goals and 84 points in the British Columbia Hockey League last year), Jeremy Tejchma (10th in Eastern Junior Hockey League scoring in '06-07) and Jordan Inglis (21 goals in the BCHL) and defensemen Phil Partyka, a Michigan native who played juniors with the North American Hockey League's Traverse City North Stars, and Eric Roman, a local player who also played in the NAHL, but with Traverse City's rival Alpena IceDiggers.
The fact there will be no Warriors men's program in 2008-09 gives the team a philosophy of "nothing to lose and everything to gain." A tournament win next March on the Niagara campus would be a Cinderella ending, one for which Wilkinson is holding out hope. But he is being cautious and realistic.
"[WSU folding] is a bitter pill for sure," Wilkinson said. "We've been nipped in the bud the past few tournaments, so maybe what goes around, comes around. Maybe this year we complete the circle."
In any event, in this space next year, Wayne State will be notably absent.
And that's a shame.