Offense: True, true, the Raiders practically couldn't win a game in which they didn't pitch a shutout last season, going 7-21-3 when allowing more than a single goal. That record fell to a disastrous 0-16-1 when the team surrendered three or more. With figures like that, Colgate didn't stand a chance against top competition, going 2-7-2 against the top four teams in the league and 1-6-1 versus NCAA-qualifying teams.
That wasn't the fault of the defense; it was instead emblematic of a sputtering offense that accumulated only 53 goals, the fewest in the league. The 2.41 league goals per game was only moderately worse than the overall count of 100 goals in 40 games, or 2.5 per contest.
This year should be better. Fulton was the only departing member among the team's top 11 scorers, and while the charts were top-heavy last season, the extra year of seasoning will even things out a bit.
Tyler Burton scored 40 points last season, matching his sophomore total exactly, which had been a six-point improvement over his freshman season. Therefore, it seems safe to presume that last season's prodigious production was not an anomaly. Classmate Jesse Winchester likewise stayed the course, tallying 37 points after a 36-point sophomore campaign. Junior Nick St. Pierre is a brilliant offensive defenseman, and his production on the scoresheet should compare similarly or favorably to last year's seven goals and 16 assists.
Tom Riley and David McIntyre performed admirably in their first full seasons as regulars, and hope to benefit from the talents of the incoming class: Governor Dummer's Brian Day, specifically, who played for the 2004 U.S. Under-17 Team, and was drafted 171 overall in the 2006 NHL Draft.
Defense: After so many losses in such close games, it's a testament to Don Vaughan's staff and the character of his players that the Raiders still showed up to shut down Rensselaer in the first round of the playoffs.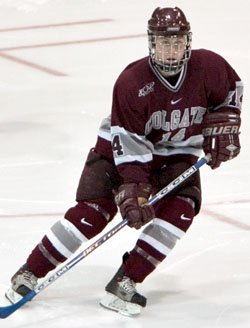 The defense lost only two seniors this spring in Mike Campaner and Alex Greig, and return four players who earned ice time in 35 games or more last season. St. Pierre and senior Matt Torti were the only two blueliners to lace up for all 40 games, and the duo is night-and-day in style: St. Pierre is the rush-running, quick-stepping offensive opportunist, while Torti didn't register a single point all season … he just went to work, game in and game out, rocking opponents with his 6'5″, 210-pound frame.
The tandem will once again by example, and expect to command an experienced corps that played 200 combined games between six returning skaters. Of note, Kevin McNamara out of Belmont Hill played on the 2004 U-17 team with Day.
Goaltending: Mark Dekanich played 36 games for the second year in a row in 2006-07, and is one of the elite established goaltenders returning to ECAC Hockey play this fall. His 2.33 goals-against and .923 save rate should have earned him a much better record than the 15-17-4 with which his offense saddled him in the end.
"He's a pretty focused kid," coach Vaughan told CSTV. "He's very driven and pretty intense. He's tough mentally, which bodes well for any elite goaltender, and he's a tremendous athlete."
Outlook: The defense is solid, and only getting better. The offense … well, it can't really get much less consistent than it was last season. Like Union, there may have been some strange mojo in play all year long for the Raiders, but mostly it was a simple lack of firepower.
Colgate looks like a solid pick for home ice come March, and if the goals can complement the defense as well as it deserves to be complemented, the Raiders may well be a dark horse in the race for the league title.