Offense: Can Kirk MacDonald come back for another season, perhaps? Between Captain Kirk, Oren Eizenman and Jake Luthi, the 'Tute bid a fearful farewell to last season's top three scorers. With 77 points and 25 goals between them, the Engineers lost 28 percent of their offense on graduation day last spring.
RPI was ninth in league scoring last season with only 55 goals, and fell short of 2.5 goals a game overall as well. The graduating trio showcased magnificent playmaking skills, but they weren't the team's only assets in the offensive zone. Fortunately, six of the team's top eight goal-scorers are back this fall, with juniors Seth Klerer and Angers-Goulet leading the pack with nine apiece last season. Each of the duo actually had more game-winners than the senior class combined: three.
Of an eyebrow-raising nine incoming freshmen, six are forwards, and surely a few of them will blossom in Appert's second year behind the Houston Field House bench. Center Ben Contini out of the Ontario Provincial league is a 6-foot, 175-pound 18-year-old who put up 20-19–39 in 47 games last season.
Six-foot-four Kevin Beauregard is a 19-year-old from the Hartford Jr. Wolfpack of the Atlantic league, and with 45 points in 44 games last season, the potential for his 210-pound frame must have strength coach Jon Rowan drooling. At a more inconspicuous 5-foot-10, center and Eastern Junior product Scott Halpern ought to be a dependable player as well.
"We are very excited about the young men who are joining our team," said Appert. "Collectively they bring size, speed, skill and an excellent work ethic. Just as important, they will be solid members of the community."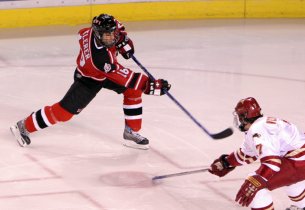 Defense: Luthi and Ryan Swanson are the only defensemen not returning this season, so Appert should at the very least have a solid and reliable corps of rear-guards as he continues to refurbish the program. The Engineers watched ECACHL opponents light the lamp nearly four times a game last year; it's highly doubtful that that will happen this time around.
Bryan Brutlag out of the Academy of the Holy Angels in Minnesota had a hand in a whopping 53 goals last season, with 49 helpers complementing a more understated four goals of his own. Oh, and that was in 28 games played, by the way.
"The area of concern defensively is much less than last year," Appert told the Albany Times-Union. "[The incoming freshmen] are all very talented in their own ways. John Kennedy is more of a physical-style defenseman. He's mean and he's tough to play against. Jeff Foss is 6-foot-2 and he's a great skater. Bryan is more of a power-play quarterback and also very competitive. We think all three can be impact players for us."
Goaltending: Mathias Lange played in eight more games than Jordan Alford last season, but allowed goals at a higher rate, and saved shots at a lower one. It's going to be a battle for playing time all year long between these two; Alford fired the first volley, backstopping a 4-0 home win over Bentley on Tuesday, October 9.
Outlook: Last year, Rensselaer showed flashes of not only coherence and competence, but true competitive grit and victorious ability. While Appert and the team obviously strive to improve on last season's inconsistencies, reliable scoring appears destined to remain an issue. Will any among the bevy of freshmen compensate for what was lost in last season's seniors? Can a goalie — or goalies — rise to the occasion and steal the few games that can swing the course of a season?
These are questions that are too crucial to be left undetermined, or to be dismissed with fluffy, sugary optimism.