After an excruciating 3-24-7 record in his first season at Northeastern, coach Greg Cronin saw his squad improve to 13-18-5, performing especially well during the second half.
"You try and point toward the positives from a year ago," Cronin said. "We were able to march through the second half of the year with a 9-6-1 record. … The fact that we were able to have some success without Mike Morris [who was injured for much of last season], who may have been one of the most talented players in the league, has kind of reinforced the believability of our team.
"From December onwards we were able to have some good chunks of time where we were successful as a team, and we did that without Morris and the other guy who was very effective who was Dave Strathman, who was dismissed from the team in January. That was very good for our players."
Yet Cronin still could see the clouds just as clearly as the silver lining. "The absence of Morris and Strathman underscored a problem we had offensively, which was power-play production, an area that we're going to have to get better at statistically," Cronin said. "Our penalty killing was in the top three-four in the country most of the year, though we got destroyed by BC in the playoffs, which shocked me. I really feel that if our power play had been more successful last year, we would've had much more success as a team."
So are the Huskies going to be able to make further strides during this campaign? One make-or-break factor will indeed be special teams, especially the power play. Cronin cites special teams, goaltending, and team chemistry ("a cultural thing") as the keys to success. "We're making progress on the cultural piece, and we've clearly got a goaltender [in Brad Thiessen] who's very good. I think that as we continue to recruit talented players that can think the game and make plays, we can get better."
But the Huskies aren't going to wait around for recruits to make the difference; the onus is on their talented crop of sophomores and juniors to raise the bar this season. "If you look at our team, we've got a bunch of guys who were at 14 to 21 or 22 points last year," Cronin said. "You've got your Chad Costello, Kyle Kramer, Ryan Ginand, Jimmy Russo, Joe Vitale, and Dennis McCauley. There's that bloc of players who all have been through at least one year in this program, and they understand what's expected of them.
"Our challenge with that particular group is that they've got to ratchet up their ability to be productive offensive players while maintaining that tough-to-play-against identity. They have to do it. If we're going to move up the ladder in Hockey East, those players are going to have to set their sights on higher point totals."
That said, Northeastern does have some newcomers who bear watching this season. "We've got a good freshman class," Cronin said. "We had Chad and Strathman and Thiessen last year; I think that if Strathman had not been expelled from the team, he would've been one of those guys who would've been a popular pick for the all-rookie team.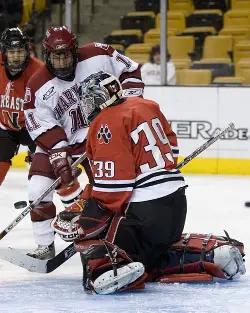 Brad Thiessen makes a stop on Jon Pelle during last year's Beanpot (photo: Melissa Wade)>