Welcome to Tuesday Morning Quarterback, USCHO.com's freeform debate about the week that was in college hockey. Every Tuesday in this space, Jim Connelly, representing the East, and Scott Brown, representing the West, will discuss the issues of the day, trade barbs, make indefensible claims about their teams and leagues and generally rant about the things that make college hockey great.
Jim: Well, Scott, some of the top teams notched their first losses of the season this weekend, but none really came as a major surprise. Denver and Notre Dame split their series, which Ohio State followed script with a loss to No. 2 Miami. If there really were any surprises among the top teams this weekend it was Boston College, which followed up Friday's fog-abbreviated tie with No. 1 North Dakota with another stalemate against Vermont. I guess looking over the entire slate of games, the one that really raises my eyebrow is Air Force's sweep of Quinnipiac. Which leads me to the question: Is Air Force that good or did Quinnipiac really nosedive from last season's runner-up finish at the ECACHL tournament?
Scott: Jim, I agree on last weekend's results. I have to confess to being a bit of a fan of both Quinnipiac and Air Force (heresy coming from the West guy, I know). I always liked the Bobcats in their Atlantic Hockey days, and their accession to the ECACHL was a plus for that league. And I always like the service academies, and Air Force in particular earned a lot of respect last year in its NCAA regional against Minnesota. QU's biggest loss during the offseason was Reid Cashman, but the Bobcats still looked to be set going into 2007-08, so this is definitely a surprise — but we might have to wait for more evidence to be sure how big an upset these games were. I still like Quinnipiac, and I think the team will be okay. Speaking of Atlantic Hockey, how about Holy Cross beating Providence in a 6-4 slugfest? Is the AHA making a move on the rest of college hockey?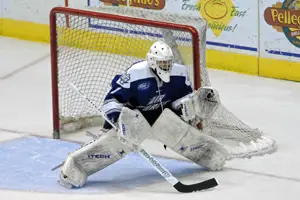 Jim: Having covered Atlantic Hockey (and its predecessor, the MAAC) for so many years, the league holds a special place in this hockey writer's heart. But truth be told, I'm not sure I'm willing after a couple of weeks of inter-league action to say it is "making a move" on college hockey. Games are getting closer when Atlantic Hockey teams play outside their conference, but the league still posted an anemic 3-17-1 record in non-conference action over the first two weekends. If there's any conference I have to bow to, it's the WCHA (talk about heresy — I think we both have fevers today). The west's senior circuit went 15-3-4 in its first two weeks of non-league action. To me, that's just impressive.
Scott: That's a double thumbs-up for the WCHA, a strange matter indeed. And even though it's way, way too early to start talking like this, I'll do it anyway — those non-league wins will look mighty pretty when the PairWise Rankings debut in January. Wisconsin, in particular, made a bit of a statement by dominating Robert Morris, a team coming off two pretty good performances the previous weekend. Checking our stats page, Badger freshman Kyle Turris sports quite the line: 5-7–12 in four games. With Turris taken third overall in 2007's NHL draft, that raises the question: how long can we expect to see talent like this stay in college, and is our sport going the way of college basketball, where players have a cup of coffee in the NCAA and then bolt for the pro ranks?
Jim: There's no doubt in my mind that hockey is slowly going the way of basketball, though for different reasons. Hockey allows its players to be drafted before or while attending college, something basketball does not. But top prospects have become major targets for NHL teams who would rather send a kid to the AHL and have him play an 82-game schedule than leave him in college. For the kids, too, I can't blame them for leaving early. If you're a top prospect, it's better to head to the pros than risk remaining one more season in college and run the risk of injury. There is insurance in the pro game that will cover a player should he suffer a career-ending injury, while if the same injury happens in college, all of those pro dollars are out the window. And that's just talking sensible — to say nothing of the glitz and glamour of the pro game that attracts these young kids.
Scott: On to more mundane matters — Friday's game between Boston College and North Dakota should have been a showcase between two of the nation's top teams, but I'm guessing a lot of fans left Chestnut Hill that evening a little disappointed, not because of what happened on the ice, but because of what was happening just above it. I'm talking about the Fog Bowl, of course, and it's not like this is the first time this has happened. What gives in Beantown?
Jim: I've covered the BC beat for nearly a decade but will not pull punches when I say this is a disgrace. Boston College is a big-time Division I school. Its overall athletics operating budget is likely more than the majority of the other Hockey East schools combined. Conte Forum is an "old" building by today's standards — it was build in the late 1980s — but for the most part it has to be considered one of the better arenas in the nation. For three straight years — two years ago in exhibition and last year against Boston University — BC has had to stop games because of the humidity inside the barn. When you have millions upon millions of dollars in your operating budget, when you have big-time sponsors and alums lining the coffers, you need to have an air conditioning system inside your arena. If I'm Hockey East head honcho Joe Bertagna, or the NCAA for that matter, I'd be making BC play its entire October, November and December (yes, it was December last year when this same problem occurred) schedule on the road.
Scott: It's hard to find a counterargument to your points. It is strange that a school with ample financial resources — much of which are used on hockey in other ways — would be so lacking in terms of what appears to be a basic facility issue. Perhaps this can be a wake-up call for needed changes; I'm reminded of the improvements that were made at Ohio State, another big-time sports school, under then-director of athletics Andy Geiger, a great friend of the game by any measure. Anyway, that's all the space and time we have for now. Until next week …