Scott: So, Jim, a wild weekend is behind us, and with the dust settled we're suddenly looking at three CCHA teams — Miami, Michigan and Michigan State — at the top of the USCHO.com/CSTV poll. The CCHA has struggled a bit in recent years come NCAA tournament time, but with MSU winning the national championship last April and now this, are we seeing a resurgence in that league?
Jim: "Wow" is all I can say when I look at this week's poll and see the CCHA at the top. That league has suffered so many postseason disappointments in recent years, so I think it's good for the league and for the game that there is a solid resurgence going on. I'm not sure if, or maybe the better term is "how much," leveling off still needs to happen. The WCHA is clearly a strong conference, but its members are beating one another up with probably six or seven of the 10 teams extremely strong. In the CCHA, it seems like you have four extremely strong teams — Michigan, Miami, Michigan State and Notre Dame — and a lot of also-rans. Sure, those bottom-of-the-barrel teams are good spoilers, but the true picture of the league will uncover itself when those top four clubs all battle. We saw it a little last week when Miami and Notre Dame locked horns, handing Miami its first loss. We'll likely see it again this weekend when Michigan State and Miami go.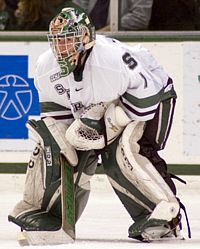 Scott: True enough. The WCHA has already had several top-tier skirmishes, with Minnesota having played Colorado College and Denver, and North Dakota taking on Wisconsin last weekend after playing CC the previous week. I'll be very interested in how this weekend's Miami-Michigan State series shapes up, with those teams now No. 1 and No. 3, respectively, in the poll. Moving East, though, what the heck is going on in Hockey East? Every team has at least one tie in conference play already, and we're seeing results like Northeastern beating New Hampshire and Merrimack tying Boston College. Now, I know that on any night, any team can beat any other team and all that, but factor in Hockey East's 12-14-1 nonconference record — with eight of those wins coming against the CHA and Atlantic Hockey — and you have to ask if there's something in the water.
Jim: This certainly seems to be a crazy year in Hockey East. There's more parity top to bottom than we've seen in recent years, but I think it's a combination of reasons. First, the bottom of the league has gotten stronger. Programs like Merrimack and Massachusetts-Lowell might not be championship-caliber clubs, but they're definitely more competitive this year than last. At the same time, early departures, injuries and suspension have led to some of the top teams in the league becoming a bit weak. Maine lost Teddy Purcell, arguably the best rookie in the league. BC lost Cory Schneider a year early and is without top defensemen Brock Bradford (injury) and Brett Motherwell (suspension). And that's only part of the list. The good news is that the season is a long one and it's better to peak in March than November. But that doesn't make early-season losses for the traditional Hockey East powers any easier to stomach.
Scott: Agreed. And early or late, those losses will weigh on the PairWise Rankings when the time comes. Speaking of a wild weekend, tempers flared between North Dakota and Wisconsin on Saturday, culminating in a brawl that saw 122 penalty minutes handed out and words exchanged between UND head coach Dave Hakstol and UW bench boss Mike Eaves postgame. Now, I've seen footage of the scrum on YouTube — which started with a hit on Brendan Smith by Rylan Kaip — and it's no "Punch-up in Piestany," but you don't often see most everyone on the ice taking part in a melee in the college game. The result was a bunch of roughing minors handed out, with an extra one to Kaip, and a series of 10-minute misconducts for the players involved, meaning no one misses a game. Was this the appropriate reaction by the officials?
Jim: Not a chance. I wrote in my blog this week that with all of the supplemental discipline that leagues have handed down this year based on video review, this seems like a situation where the WCHA must react. Almost every player on the ice could have been assessed fighting majors and game disqualifications for their participation in this mess. There were true haymakers being thrown, not to mention third-man-in and abuse of officials penalties that could've been given as well. If the WCHA doesn't react, I'm not sure the precedent it sets. Speaking of, as I just made reference to it here, what do you think about the suspension that Hockey East levied to BC's Nathan Gerbe, basically saying that the league has had enough of cheap stuff behind the play?
Scott: Gerbe's case is an interesting one since his suspension is the cumulative impact of a pattern of behavior. Quoting commissioner Joe Bertagna from the league's press release, "While a suspension might not have been forthcoming on last night's actions alone, this is not the first time this season that I have been made aware of inappropriate behavior from Nathan. Given the fact that he had already been put on notice, I felt that supplemental discipline was in order in this instance." Now, I don't get to see Gerbe much, but a reputation for this sort of stuff is hard to wash away, especially once the league office notices. I only hope that the suspension has the desired effect, which is to keep everyone — not just Gerbe — clean. The CCHA sent a similar kind of message with its recent three-game suspension of Bowling Green's Kai Kantola for hitting from behind, and the most good that can come out of these sorts of things is if the punishment means that they don't happen again. As an aside, we prominently mentioned Clarkson, Princeton and Miami last week, and all three lost at least one game over the weekend, though Miami is still No. 1 and Clarkson is still in the top 10. Are we putting on a hex in this column?
Jim: Could we be the creators of the SI jinx in college hockey? That would almost be a dream come true. Seriously, though, I'm pretty sure Clarkson and Miami are very legit teams. For Princeton, the jury is further out now than a week ago. The fact of the matter is that no matter how long I've been around the game, it still amazes me how much parity there is in the ECAC. You can throw a dart to pick those games — and speaking of darts, we'll have more to toss next week.