The Red Bird Is Back
Look up. Wa-a-a-a-a-ay up. There you will see the Cardinals high on top the SUNYAC perch.
By Plattsburgh's standards, they have had some off years recently. This season is more like a Plattsburgh year as they have opened the season with seven straight victories, all conference games.
Even though they have played more league games than anyone else, you can pick any team and have them win all their games in hand, and they still won't catch the Cardinals. There's something to be said for starting out against easier opponents and forcing everyone to play catch up.
"The success of our team is getting the save at the right time," Plattsburgh coach Bob Emery explains. "It's not so much the number of saves you get. When a team has a rush at the end of a period, you don't want them to get momentum going into the locker room, or you don't want a team to get a quick goal at the start of the game and have to play catch up right away."
One of the key factors is Bryan Hince, the freshman goaltender. He has an amazing .953 save pct. and a 1.00 GAA. Needless to say, both those stats lead the league.
"When your team has confidence in your goalie, it allows your team to hold their sticks a lot lighter in the other end," Emery said.
In fact, Plattsburgh is getting a lot of contribution out of their freshmen, a recruiting class some are calling one of their best.
"We got some great freshmen who are playing very well," Emery said. "[But] you can't tell how good a recruiting class is until they graduate. We've had classes that won 100 games."
So far this class also includes Dylan Clarke, the teams third leading scoring (6-3-9) who also is tied with the most goals for his team and the SUNYAC, Eric Satim (2-4-6), and defenseman Ryan Corry (1-5-6).
At first, when Plattsburgh beat Morrisville twice and Potsdam all at home, it was no surprise. When they beat Oswego on the road, it was impressive, but for a rivalry like that, records get thrown out. But then they defeat Fredonia and Buffalo State, two solid teams, on the road.
"It's a tough road trip, no doubt about that," Emery said.
Plattsburgh's form is back, but how far back?
"We're just a good team right now getting great goaltending," Emery said. "We have to get better as a team. My goal is always to play better at the end of the year."
Most coaches would be concerned that a team that keeps winning may get overconfident and take an opponent too lightly. Emery is not concerned about the former, as long as they keep a proper attitude.
"You can never be too confident, but always have to rely on your hard work," he said. "You can be overconfident as long as you come to work with your hard hat and goggles on, willing to work hard."
If they do, the rest of the league may be looking up at Cardinals flying above them for a longtime this year.
Seven
Oswego has a long line of very successful goaltenders dating back to Pete Sears ('71) who was the program's first All-American. After college, he played for the U.S. Olympic team in 1972 that won the silver medal. He is currently the goaltending volunteer coach, a position Sears has held for about 10 years. He still holds the record for most saves in a season, 920, in 1970-71.
Since then Laker netminders have included Ed Layton who holds the school record for most wins in a season (24 in 1980-81); Paul Mueller with most saves in a career (3,144); most saves in a game (71), most wins in a career (63), and most games in a season (31); Carl Antifonario with best save percentage in a season (.929); Joe Lofberg with most consecutive shutout minutes (165:13); and Tyson Gajda with most shutouts in a season (four) and most shutouts in a career (six).
Scratch that last record. Ryan Scott now has the most career Oswego shutouts as he notched his seventh in a 5-0 win over Geneseo.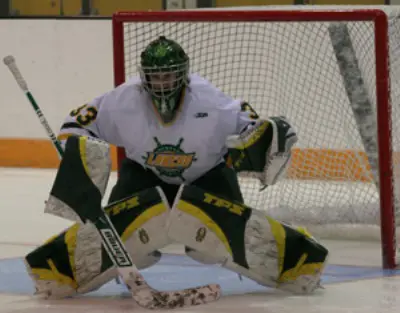 Scott, like any successful athlete, brings a winning attitude and confidence to the ice.
"Competitiveness," his coach Ed Gosek explained. "His will to win. His work ethic. Tireless worker in practice. If you ask him, I don't think he looks at it as an individual success as much as if he plays that way, the team is successful. He tells me, 'It doesn't matter if I get a shutout or let in four goals as long as we win.'"
Scott currently holds three other school records — best save percentage in a career (.913 prior to this season), lowest goals against average in season (1.99 last year), and lowest goals against average in a career (2.40 prior to this season). The senior needs 15 more wins to equal that career mark.
Which he just might get considering Gosek said of him: [He] always works to get better, not just maintain where he's at."
Last year, Scott became the first Oswego goaltender since Sears to be named an All-American.
Most importantly, he rid the murmurings of not winning the big game when he led his team to the national championship. A ring that is something none of the great goalies before him ever attained.
SUNYAC Short Shots
Brockport fired 51 shots on Cortland's net and seven different Golden
Eagles scored in a 7-3 win … Riley Hill scored twice as Plattsburgh
let up just 14 shots in defeating Buffalo State, 6-1 … Plattsburgh and
Buffalo State traded their initial goals 14 seconds apart in the first
1:49 of the game … All the goals in the Potsdam-Fredonia 3-3 tie were
on the power play … Ryan Scott stopped all 28 shots and Garren
Reisweber scored twice in Oswego's 5-0 win over Geneseo … Morrisville
scored four times in the second period for their second win in a row by
defeating Lebanon Valley, 5-2 … Neil Musselwhite scored twice to help
Oswego jump out to a 4-0 lead which they almost blew, holding off Brockport,
4-3 … Buffalo State scored 32 seconds into the second period and
Potsdam scored 27 seconds into the third frame in a 2-2 tie … Bryan
Hince stopped all 40 shots as Plattsburgh shutout Fredonia, 3-0 …
Cortland's Frank Rizzo scored the game winner at 3:27 of overtime as the
Red Dragons shocked Geneseo, 3-2.
Game of the Week
With most of the travel partners squaring off, there is one conference
game that stands out while two non-conference match-ups bear watching.
First, a quick rundown on the other contests.
Potsdam playing at home for a pair against Morrisville is not
significant, except for the fact that it is the Bears first time at home
this season (not counting an exhibition game). After seven straight
games on the road, you won't find anyone happier than their coach, Aaron
Saul, except perhaps his wife.
"Finally back home!" he said. "I think my wife is going to be the
happiest woman in America. It's going to be a great environment. We're
already pumping it up on campus to get people out to our game.
Morrisville is not a pushover. They have a very good team. Coach Grady
is a very good coach. So, we're going to work all week to get ready."
Oswego is going to have to contend with Cortland, who after upsetting
Geneseo has thoughts of doing it again. And the Red Dragons have a
history of catching the Lakers by surprise.
"It's always important no matter who we play we get off to a good
start," Gosek said. "It's a key to our success. Get everything going
from the start and build upon that success."
Geneseo at Brockport poises an interesting question: was Brockport's
victory in the last game of last season against the Ice Knights a fluke
due to needing the win to get into the playoffs or are the Golden Eagles
ready to take control of their travel partner?
In non-conference play, Hobart at Oswego is certainly a game worth attending.
Hobart is undefeated (6-0) and ranked ninth in the country, one spot
in front of Oswego, who is still considered one of the top teams in the
country despite their slow start. This is a classic ECAC West v.
SUNYAC contest.
"It's a top 10 team and we want to be measured against them," Gosek
said. "You won't outwork them. We have to match their intensity in
order to be successful."
Another classic between the two leagues is Plattsburgh at Elmira. They
have played each other 70 times with Elmira holding a slim 35-32 edge
with three ties.
"They won some big games there. We won some big games there," Plattsburgh
coach Bob Emery said. "It's going to be a tough game. We don't have to
save anything because we're off the rest of the week. I think their
defense is the key. We got our work cut out for us."
That said . . . the pick for game of the week is Buffalo State at Fredonia.
Ever since Wil Barlow scored at 2:18 of double overtime to give Fredonia
the win in the first round of the SUNYAC playoffs last February, the
rematch has been eagerly anticipated. Adding to this budding rivalry is
a few days before that marathon match, Buffalo State won in Fredonia's
rink to get the home ice in the playoff match-up.
"That's always a good barn burner," Buffalo State coach Nick Carriere
said. "Jeff's got his team going hard. The last time we were there we
beat them the last game of the season, so they are going to be ready for
us. I'm sure Jeff is priming the pump. So, we're looking forward to it."
So are we.
On The Periphery
So often, we hear stories of boorish fan behavior. Rarely do we hear a
good example of sportsmanship and support, though they certainly exist
more than they are mentioned.
I witnessed exemplary behavior and support from the Geneseo fans in
their game against Oswego.
For starters, during the long delay when two panes of glass were
shattered, the pep band played throughout, entertaining the crowd.
When Oswego scored a third period shorthanded goal to essentially clinch
the game, the crowd was disappointed, but never displayed any hostility
towards their team.
They continued to cheer for their team throughout and the pep band
continued to play with heart, even when Oswego tacked on two extra
goals. In fact, 99% of the capacity crowd never left, unlike Oswego
fans the week before who streamed out of their rink like they were
escaping the plague when Plattsburgh scored an empty netter. In fact,
the Geneseo fans stayed to the last seconds, continuously chanting
"Gen-A-Seo!" and then stuck around for their team's stick salute.
Were the Geneseo fans perfect? No. They certainly had a variety of
crude chants in their repertoire aimed at the opposing team or the refs,
but I don't mind enthusiastic fans pushing the envelope occasionally.
The key point is the Geneseo fans were extremely supportive of their
team and never once — never once — ever turned against their fellow
student athletes. And that deserves major kudos.