To Have A Humanitarian
Over the years, I have highlighted the community outreach in the ECAC West in this column. Every team has programs to get the players out of the rinks and into the communities helping on numerous community service projects.
Now, three programs have been recognized on a national level for the efforts of their players.
Humanitarian Nomination and Finalist
Two ECAC West players were among the 22 nationally, and eight within Division III, that were nominated for this year's Hockey Humanitarian Award. Hobart's Ryan Adler and Utica's Adam Dekker both received the recognition for work they have done in the community.
Dekker, a senior, has given his time on countless service projects during his four years at Utica including the Mohawk Valley Resource Center for Refugees, the Holland Patent Elementary School's Reading Program, and America's Greatest Heart Run and Walk.
After being named a nominee on January 21, Adler became one of eight finalists for the award on January 28. He now will be interviewed by the selection committee and then await the announcement of the winner on April 11 at the Frozen Four in Denver, CO.
Adler was inspired to do community service at Hobart after a conversation with Michigan State's Drew Miller, who he played with growing up. Miller started an organization called "Spartan Buddies" in which Michigan State players visit pediatric patients on a daily basis on a rotation, playing video games and other activities to lift their spirits.
"I was talking to him, telling him how great the community here was, and was trying to find a program that would fit," said Adler. "We came up with Hobart Hockey Helpers and thought we could do community based projects, instead of just regular stuff."
"Hobart Hockey Helpers is a name and logo that we use for all of our community service. It has given us some kind of identity," said Statesmen coach Mark Taylor. "Ryan came to me and said 'Coach, I want to do something with my time'. He was proactive and that is how we got here."
Since its inception, Hobart Hockey Helpers has partnered with the Wounded Warriors Project, assisting severely wounded veterans who have returned home.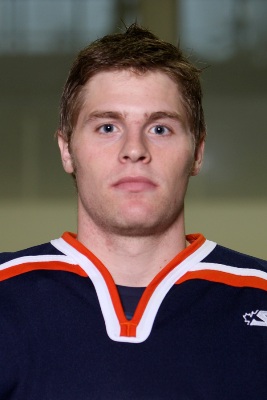 Adler has rallied his teammates to Hobart Hockey Helpers, both to support the Wounded Warriors project and for other community service.
"[My teammates] have been extremely helpful," said Adler. "I talked with them before we started and made sure we were all on the same page and could give a couple hours of their time for projects. And they were all on board."
The impact of Adler's efforts are being felt even beyond the immediate Geneva, NY area.
"Out of the blue, we got an email from Kyle Moore that played for me my first year," said Taylor. "He is a sergeant over in Iraq and said 'I couldn't be prouder with what you guys are doing.' That has spurred something on as he sent us a flag that his platoon carried."
The Humanitarian Award is a little bit of an enigma. The nominees expend hours and hours working in the community because they can make a difference in other people's lives, not because they are looking for recognition. But the award brings an awareness to projects, and can inspire others to become active in their own community.
"I think it means more to have a humanitarian," said Taylor. "It is great to have a nominee and finalist for the publicity, but I am glad we have the humanitarian. It is great that it recognizes those kids that are out there doing it, and inspires guys to do it. It is great for our program, but it is better for what it does. To me this award is most important because it creates a ripple effect on others to step forward and do for others"
Community Service Award of Merit
Manhattanville College was presented with the National Association of Division III Athletic Directors/Jostens Community Service Award of Merit at the NCAA Convention two weeks ago.
The hockey team earned the award in the One Time Project category for work it did with the 2007 Burke Rehabilitation Hospital Wheelchair games held September 29, 2007 in White Plains, NY. Athletes from across the country in just about every age group participated in the primarily track and field contests.
The Valiant hockey players cheered on the athletes, helped to time and score various events, and assisted in guiding athletes through a slalom course.
"It is a good tribute to the guys," said Manhattanville coach Keith Levinthal.
"They do an absurd amount of community service. People sometimes assume that the guys go to school, play hockey, and that is it. And that is not the way it is at all. I'm happy for them. We demand so much out of these guys it is nice to have someone say thanks to them."
In addition to the Wheelchair Games, the Valiants hockey team has participated in several other community service events so far this season. By the end of the academic year, the team will have put in well over 1,000 hours of community service.
Oh Yeah, Hockey
Even with all the off-ice activities, the on-ice competition continued this weekend at a furious pace. Despite the best efforts of Utica, Elmira remained red hot with a pair of home victories.
The Pioneers ran out to a 2-0 lead in the first period Friday night, but the wheels came off the bus during a five minute major penalty late in the second period where Elmira scored twice and took the lead. Utica came back in the third period, sending the game to overtime, but penalty trouble again let Greg Moore score at the 2:50 mark and give the win to Elmira.
Elmira came out stronger on Saturday, scored early, and then withstood another furious comeback bid by Utica to sweep the weekend and keep its commanding six point lead in the league standings.
Manhattanville, meanwhile, helped Hobart celebrate the completion of the project to enclose The Cooler, the Statesmen's home rink. Unfortunately for the Statesmen, Manhattanville played strong team hockey all weekend and swept both games.
Hobart threw a grand dedication party on Saturday, with speeches by local and college dignitaries who were instrumental in completing this long overdue project.
Two weeks ago against Fredonia, Jason Murfitt moved to the top of the Manhattanville record books in the career goals scored category. When Murfitt scored midway through the second period, it was his 47th career goal. He surpassed the previous mark set by Tommy Prate who posted 46 goals over a short two year career at Manhattanville.
"What is really special is that [Jason Murfitt] handles so much ice time defensively, it would be really interesting to see what he could do offensively if we didn't have to utilize him in that type of stuff so much," said Levinthal. "He is the best defensive center we have ever had, by far."
The league standings, close for most of the season, have started to fracture a bit. Still perfect Elmira is in the driver's seat with 16 points and a six point lead.
Manhattanville and Neumann make up the second tier as they are tied in second place with 10 points. But the Valiants have two games in hand on the Knights, both against Lebanon Valley, so Manhattanville looks to have the upper hand.
The third tier comprises Hobart and Utica, tied with six points. Utica holds the advantage in this grouping, with a game in hand. However, it is unclear how much of an advantage that truly is. The difference in the remaining schedule is slight.
Hobart has three games remaining against Elmira, while Utica has a pair against Manhattanville and another pair against Neumann. The battle between these two teams could come down to their February 15 and 16 meeting at Hobart.
Lebanon Valley might yet play the role of the wildcard in the race for the playoffs. With series against Hobart, Manhattanville, and Utica, the Flying Dutchmen are capable of stealing a game and throwing the playoff race into chaos.
Game of the Week
Elmira at Neumann is the highlight series this weekend. The goal lamps should light early and often in this series as the teams spout the top two offenses in the league.
But the difference may very well come down to defense. Elmira has it in spades, while the Neumann defenders have been struggling a bit to find their identity.