Saving A Season
Buffalo State entered the weekend of December 7-8 with what appeared to be a lost season. They were 2-8-2 overall with a four game losing streak and winless in seven straight. Worse, they were only 1-4-2 in the SUNYAC just 10 months after hosting their first playoff game in school history. This was making the 2006-7 season look like a fluke.
"That was a tough part of the season for us," admits Buffalo State coach Nick Carriere. "We were playing a lot of good hockey against some very tough teams — Manhattanville, Hobart twice, teams within our conference. We lost a lot of close games. Bounces weren't helping us, and we weren't helping ourselves."
Since then, Buffalo State has not lost, winning seven in a row and then getting a tie in their eighth game. More importantly, they went 3-0-1 in the league and suddenly find themselves not only in the playoff hunt, but currently tied for the last home spot for the first round.
"Just tried to stay the course," Carriere said.
The Bengals kicked off the winning streak against arguably weak competition. However, when you need to turn the season around, winning is winning, no matter who it is against.
"People might have looked at those games and said, gee, they are gimme games," Carriere said. "You talk to any coach, when it comes to non-conference games, they are not a walk in the park. Two games we played against Lebanon Valley were close games, Morrisville were unbelievably close games, and going to Johnson and Wales were two really close game as well.
The fact that we were getting wins without our top scorer in the lineup shows we were stepping up. Kerry Barchan, Nick Petriello, Kyle Gunn-Taylor were stepping up. A lot of gumption came out of those wins taking care of business."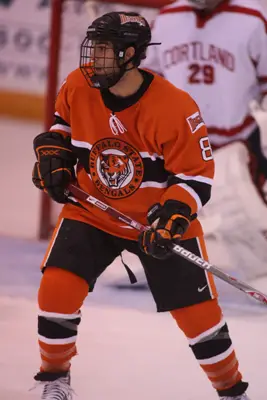 In those first 12 games, Buffalo State let up more than three goals in a game seven times. Since then, they have not let up more than three goals in a game. Offensively, they averaged 2.25 goals a game while being shutout twice. During their winning streak, they have averaged almost 4.6 goals per game and only once scored less than three goals in a game which was the tie.
Gunn-Taylor has improved his overall stats to a 2.45 GAA (third best in the league) and .907 save percentage (fifth), upping his record to 6-3-3 (fourth best winning percentage).
Impressively, offensively this turnaround has been led by two rookies, Nick Petriello and Kerry Barchan, who are now the top two scorers on the team.
"I kind of put Barchan and Petriello in the same class," Carriere said. "They are two freshmen who were pretty big wheels in the programs they came from. Then, they came here and there's always a little bit of a transition of the junior kids coming into college hockey understanding they are not the big show anymore, and you can't just kind of fool
around and slow things down. You have to speed things up."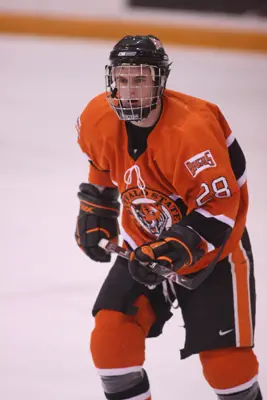 Two-thirds of Barchan's production came in the latter 40% of the season as he scored six goals and six assists for a total of nine goals and nine assists. Petriello, the team leader with 26 points (11 goals, 15 assists), got more than half of that (5-9-14) during the turnaround.
"I think we got two guys there who are just on the cusp of understanding they have to be complete players," Carriere said. "Kerry Barchan is getting physical and when he does that and goes and uses his skating ability and uses his hockey strength and his size to battle for pucks, his skill level is great. When you put all that together, he's a hockey
player. It's fun to watch how effective he is."
Buffalo State still needs to improve their penalty killing which is a dismal 76.0% overall, worst in the league and an even worse percentage within the conference at 67.6%, easily last in SUNYAC. It will help by cutting down on penalties. They have already made a start.
In the first 12 games, the opposition averaged 7.1 power plays while the Bengals only gave up 5.0 power play opportunities since then. In fact, the turnaround started before the winning streak. In the first eight games, the average power plays against were 8.0 and only 5.3 since then.
What originally appeared to be a lost season with no playoff hopes now looks like it could be a repeat home playoff performance by the Bengals.
"We're playing with confidence now," Carriere said.
SUNYAC Short Shots
Plattsburgh overcame 1-0 and 2-1 deficits to defeat Oswego in overtime, 3-2, on a goal by Ward Smith … The Cardinals won in dramatic fashion again the next night by the same 3-2 score on a Dylan Clarke goal with 45 seconds left in regulation against Cortland … Despite being down 3-0, 4-2, and 5-3, Cortland salvaged a tie against Potsdam, going four for eight on the power play as Graham Fallon scored twice including the tying goal … Oswego only let up 15 shots as Ryan Scott registered his eighth career shutout in a 6-0 win over Potsdam … Joe Curry scored twice for Buffalo State as they beat Geneseo, 5-3 … Colin Sarfeh scored a controversial third period winning goal in Fredonia's 4-3
victory over Brockport … Despite getting 50 shots on goal, Fredonia lost to Geneseo 4-3 as Derek Jokic made 47 saves and the Ice Knights got a pair of goals from both Dan Brown and Mathieu Cyr … Brockport got an early third period goal by Steve Seedhouse to tie Buffalo State, 2-2, as Nick Lynch got both Bengals' goals … Plattsburgh's Bryan Hince has been named the SUNYAC Goaltender of the Week for the entire month of
January.
Game of the Week
The pressure continues to build as everyone still has a strong chance at the playoffs, at hosting a game, and some with the possibility of a bye — all that and teams within one win or loss from large positional swings playing each other.
Take Brockport at Cortland Friday. Now there's a candidate for Game of the Week. Both teams are currently out of postseason play, so the one that loses could quite possibly be permanently out. The winner could once again not only consider a playoff spot, but a home berth as well; wild positional swings indeed.
Then, there's Fredonia at Potsdam. Fredonia is looking to get back on the tail of Oswego for a bye. Potsdam is looking to get back on the tail of Fredonia for a home spot. A loss by either team destroys their respective hopes of looking up and will send them scrambling just to maintain their status quo.
On Saturday, the Geneseo at Cortland game might become the game to decide a playoff spot down the road. How's that for double-double pressure for the Red Dragons? And how will Geneseo react after playing a guaranteed tough game in Oswego the night before?
There's also the possibility that Geneseo, Cortland, and Brockport all go 1-1 this weekend, and we're right back where we started — but with one fewer weekend in the regular season — in determining who amongst those three teams gets the final playoff spot.
All that said, in my view the game of the week is Buffalo State at Potsdam. Granted, a lot depends on what happens Friday and beyond, but these two teams may very well be playing each other in the first round. This game could decide who gets to host whom.
That's the best case. The worst case is this game decides which one of these teams may slip down the standings into oblivion — after all, they are both only two points ahead of being out of the playoffs.
"I have a lot of respect for coach Saul," Carriere said of his opponent. "I've known him for a long time. He's a very organized guy who will have his team ready to play. It's going to be physical which is what you expect in the last half of the season."
That and a heck of a lot of pressure.
On The Periphery
Last week, I was trying to write a racing piece for my own Web site. I was getting nowhere. So, I switched over to this column. I was equally fruitless. Ah, good old solitaire. I won four straight games, tying my record! I guess I did something useful…
Writer's block — is it real? Or is it, as one novelist once told me, an excuse to procrastinate?
I don't know. Now, where was I? Oh yeah, I need to finish this column…