Macho hockey players wearing pink?
Sure. When it's for a good cause.
The Fredonia State Blue Devils will be wearing special pink uniforms (along with pink socks) for the Pink the Rink '08 to be held this Friday, February 8 at the Steele Hall Ice Arena. All for the fight against breast cancer.
"They love it," Fredonia assistant coach Greg Heffernan, the organizer of the event, said of the players' reaction to pink uniforms. "You can't go through 20 guys where you can't have one or two of them, or even five of them, who have been personally affected. It affects our wives, mothers, sisters, aunts."
Heffernan is all too aware of that. His mother is a 14-year survivor of breast cancer.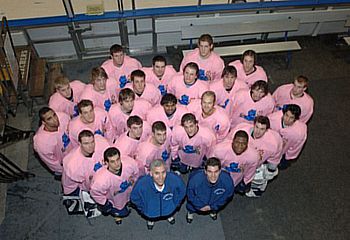 The idea came to Heffernan and his Sports Management class a year ago, whereupon they put on Pink the Rink '07. Then, the event centered around encouraging people to wear pink to the game, and they had pink ribbons and bracelets to hand out, as well as opportunities to make a donation. The promotion raised $1,200 for the American Cancer Society. Fans are encouraged again to wear pink to the game for a "pink out."
"I've seen it in a couple of women's games and basketball games, and I thought it would be nice to include it on the men's side," Heffernan said. "Plus, the men's side can generate more publicity with a bigger event."
This year, they are taking it a step further. They ordered special pink commemorative game jerseys that the players will wear against Cortland. The jerseys will be auctioned off after the game. Silent bids (or simply contributions) can be made right now by contacting Heffernan at [email protected].
There is a minimum $60 reserve bid on each jersey, and the auction winners will be presented with the game-worn jersey on the ice after the game.
"This year, we can really knock it out of the park," Heffernan said. "We got all kinds of support from the faculty, administration, and sports department. The local printer sponsored the special posters for this event. We made sure we got the waiver for the special uniforms and we were compliant with the NCAA rules."
Support has also come from the head coach, Jeff Meredith.
"He's incredibly supportive," Heffernan said. "From a coaching perspective, I can see it being a distraction, but he feels strongly about the cause."
"It's a great promotion," Meredith said. "This year when he brought up the idea of the pink jerseys, it's taken on a much larger concept. We're looking forward to a great evening."
The pink jerseys have been a hit already. They only have seven available to auction off.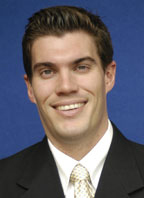 "The only reason we're auctioning only seven of them is because the families have already paid double what they cost in order to have them for themselves and donate to the cause," Heffernan said. "If we could get around $2,000 [in total contributions], that would outstanding.
"But it's not just about contributing. The idea is to raise awareness and share the caring. I don't expect the students to contribute a lot, but if we raise the awareness amongst them, then we have done our job."
But will the players feel funny wearing pink?
"Let's be honest," Meredith chuckled. "If the color of the jersey we wear on Friday is going to be a distraction, we've got bigger issues. The guys think it's a great cause. They are excited about their jerseys being auctioned off."
Will this second annual event become an annual tradition? Heffernan hopes so, but with a change.
"What it's turned into is starting to be an annual event," Heffernan said. "Ideally, we'd like to move it to October because it's National Breast Cancer Awareness Month. The only thing is, we have to plan for it early, and that's difficult to do when it is in October.
"I would like to see it happen every year. I'd like to see it become a Fredonia tradition."
The players will be more than happy, and proud, to be wearing pink.