Norwich Cadets (22-6-0 overall record, 15-4-0 in the ECAC East)
With Sunday's convincing 8-2 win over yet another six seed (Salem State) in the ECAC East looking to claim the title, the Cadets claimed the auto-bid to the NCAA tournament and now move on to prepare for an ECAC East meets ECAC West battle as Manhattanville makes the trek this weekend to play in Northfield.
The two teams have only met once previously back in 2004 during the Times-Argus Tournament hosted at Norwich. Manhattanville won a close game by a 3-2 score.
Offensively the Cadets showed that they don't need a power play to put the puck in the net, having scored seven even-strength goals and one shorthanded tally against the Vikings in the championship game on Sunday. Overall Norwich outscored their opponents by a 21-4 margin in the playoffs.
"We got the hockey gods on are side with some good bounces of the puck last weekend," coomented Norwich head coach Mike McShane. "It was great to get the offense going and score all of those goals in the playoff games but we expect a different kind of game this Saturday night."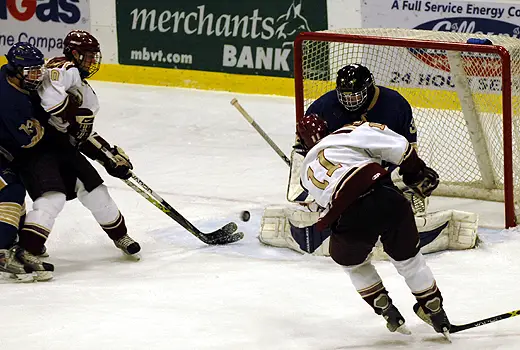 Leading the way are five players with 10 or more goals and a total of six players with 20 or more points. ECAC East Player of the Year, Rick Cleaver (31 goals, 19 assists, 50 points) continues to be a big game player collecting a hat trick and an assist against Salem State during a five goal outburst in the first and second periods that put the game away for the Cadets.
What is even more amazing is that Norwich has scored 133 goals this season and has scored 44 in the first period, 44 in the second period and 45 in the third period — talk about balance.
"We really felt fortunate to be in a close game with them in the first couple of periods," commented UMass-Boston head coach Peter Belisle whose team fell to the Cadets in the ECAC East semifinals by a 5-2 score. "They are really talented upfront with skill and speed and can create good scoring chances. What is most impressive is the depth and talent they have on their second, third and fourth lines. There isn't much drop-off with those units and they definitely contribute on the scoresheet."
Defensively the Cadets are deep and mobile and with Phil Sbrocchi (1-14-15) and with the return of Sylvain Messier (4-10-14) from a mid-season injury, they have some firepower from the blueline that augments their strong offense and makes the power play very effective at almost a 27% success rate.
In goal sophomore David Thompson (.902SP, 2.12 GAA, 14-2-0) has again posted strong numbers in posting all three wins in the conference playoffs and backstopping the Cadets into the national tournament. Ryan Kligensmith, who saw action in two of the playoffs game, carries in impressive numbers as well with a 7-2-0 record to go with a .910 save percentage and even 2.00 goals against average.
"We thought we might challenge the defense and goaltending by getting as many shots as possible from all angles," noted Belisle. "We didn't think he had been challenged much and tried to force some mistakes but he made the big saves and controlled rebounds really well keeping everything away from the front of the net."
"David is playing his position really well right now," stated McShane. "He is moving well and is in position and I really like the way he is approaching the game right now. He is healthy and playing with confidence."
Expect a different kind of match-up this weekend in the NCAA tournament than the Cadets saw last weekend.
"We know we are playing a strong defensive team," stated McShane. "They play a tough trap and really like to tie you up in the neutral zone. This will be a tough, tough game. It will be tight checking and physical. None of the kids on this team were here when we played them last so it will be a new experience and at least we'll have the crowd at home."
Only eight teams remain and Saturday the Cadets look to return to the Frozen Four.
Manhattanville Valiants (18-6-3 overall, 8-5-2 in ECAC West)
Two times this year, Manhattanville's season hung in the balance. Most recent was on February 22 after the Valiants had just suffered a bad 5-1 loss to Neumann College. Manhattanville was then 0-2-1 in its last three games and it appeared that the season, and any hopes of an NCAA bid, were slipping away from them.
Manhattanville coach Keith Levinthal made a gutsy decision, starting an unproven freshman Steve Parry in goal the next night. The move paid off and Parry has now gone 3-0 since that time, including posting a shutout against Elmira in the ECAC West championship game last weekend and being named the ECAC West tournament MVP.
The second moment when the season teetered on the edge was last December.
The Valiants struggled to come together as a team during the first half of the season, having some success but also many failures. Levinthal decided to change the team's leadership, putting the captain's letters in the hands of four seniors who had been with the team for all four years.
While none of the members of this group were vocal players, they led by example. Those players — Chris Wanchulak, Zeke Hume, Jason Murfitt and Paul Reimer — had helped the team make appearances in each of the last three NCAA tournaments.
"It is a real tribute for the kids involved," said Levinthal. "It is so hard to get into this tournament. The group of four seniors who have been here all four years are a real special group. I'm so happy for them. All four of them are outstanding students, are good kids who happen to be good hockey players too.
"At the mid-season mark, I took all the captain's letters away and put them in their hands. I said 'you got us here three years in a row and we're going to put our fate in your hands.' They rose to the challenge."
Last year, Manhattanville defeated Babson 5-3 in the NCAA quarterfinals before losing to Middlebury 3-2 in the semis. While the Valiants are 1-2 all-time in the NCAA quarterfinal round, Manhattanville will look to use its experience of playing in front of large and hostile crowds in the ECAC West to counter the home rink advantage at Norwich this weekend.
"I don't know if NCAA experience gives a whole lot of advantage because we are playing a team that has been there a lot too," said Levinthal. "It's not a disadvantage for us, though. Having played at Utica and Elmira, in front of large crowds that were vocal, it shouldn't be a factor at Norwich for us."
Manhattanville last played Norwich in the championship game of the Cadet's Times-Argus tournament in 2004. The Valiants won that meeting, 3-2, to take the tournament trophy.
Not much has changed since then as Manhattanville is expecting to once again play a highly skilled Norwich team in front of a loyal Cadet crowd.
"From an offensive and skill standpoint, they are loaded," said Levinthal.
"They've got a lot of guys that are capable of making big plays, and that will be a challenge for us to have to face their team in front of their crowd. A lot of teams in our league play such a tight checking style, we don't play a team like Norwich that often."