Scott: Well, Jim, the games are done and the brackets are out, and the good news for us at USCHO.com is that for the zillionth year in a row we got the field of 16 right on the money. The bad news, of course, is that for the zillionth straight year we got the brackets wrong. I know I never would have seen it coming that the selection committee would put three WCHA teams at the Midwest Regional, but that's the way the cookie crumbles when there are six teams to place and only four regionals. It seems that the committee went after attendance and travel issues more than usual this year, as witnessed by Clarkson and Niagara ending up in Albany and the WCHA-laden Madison regional. The biggest news, though it was no surprise to PairWise watchers, was probably sub-.500 Wisconsin making the field. I've already heard the conspiracy theories there, especially since the Badgers are hosting the Midwest Regional, but it was just the numbers, as always, that put Wisconsin in and Minnesota State out. Other than that, I don't see many controversies, though Hockey East getting just two teams is going to turn some heads — kind of a reversal of fortune from last year, when HEA got five and the WCHA three. Your take?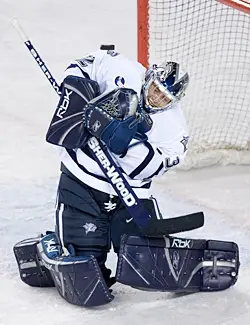 Jim: I think you're spot-on with your analysis. Another thing that factored in seemed to be the committee desire to reward the top two seeds — Michigan and Miami — and place them in regions where the thought of playing a lower seed on enemy ice wouldn't factor into play. It also seemed that the committee didn't feel there was any substantive difference between the two mid-major participants — Air Force and Niagara — and thus were okay with swapping the two to allow Niagara to stay closer to home. As for Wisconsin getting in, I personally hate it. I think a team should have a .500 or better record to make the tournament field, particularly when you have a couple of 20-win teams sitting out. The one thing I will mention regarding Bucky is that maybe, just maybe, karma played in their favor. We all remember Magness-Gate and the loss that many fans felt would've been a tie had the referee not screwed up the video replay. That would've made the Badgers a .500 team. I know, that's a stretch but… Anyway, what regions do you think will be the toughest, Scott? Is Colorado Springs the death region?
Scott: I think it is. In New Hampshire and Colorado College, you've got two of the five teams that were in the running for No. 1 seeds right to the end, both of them regular-season champions. And that's not to mention CC hosting, which makes the Tigers co-favorites with the Wildcats. Having the defending national champion as the third seed is no picnic for CC in the first round, and UNH got a tough draw against Notre Dame, a team which can beat just about anyone if it's on that day. The Fighting Irish are probably glad just to be in the field given Saturday's drama, and CC head coach Scott Owens was clear on Saturday that he was glad to be going home to play, but the Wildcats and Spartans are surely gritting their teeth over the assignments they've got to handle. Elsewhere, I'm anxious to see how new-and-improved Princeton performs against North Dakota in Madison, and Boston College-Minnesota in Worcester should be a fascinating matchup as well. Who's got your attention?
Jim: No disrespect to Princeton, but drawing North Dakota is pretty much like saying, "It was nice to have you. Get home safe now and have a good day." Princeton isn't getting past the Sioux. I agree that the Minnesota-BC game will be a heck of a battle. These two teams like overtime as we've learned through the playoffs as well, so I'm thinking that game should be good for about six OTs. The other game in that region — Miami against Air Force — is also interesting. AFA head coach Frank Serratore told a story today of the two clubs playing about five years ago where Miami won, 12-1. The following year, the two teams met in a consolation game. Serratore said he absolutely dreaded playing the RedHawks that game. His Falcons walked away with a 2-0 win. Air Force proved last year that it can hang with any team, so I think the RedHawks will have their hands full. Heck, a year ago, Miami walked into New Hampshire as a massive underdog against the Wildcats only to walk out with a victory. Enough about the matchups, though, who do you see emerging from each region?
Scott: Well, I think the East Regional should be the easiest to predict, with Michigan playing so well and each of the other teams suffering some shortcoming which should put the Wolverines into the Frozen Four. The Midwest has the WCHA festival, and despite Denver's Final Five win I like Jean-Philippe Lamoureux to turn in on in net and North Dakota to step up on the biggest stage. The Northeast is interesting since Boston College will have pseudo-home advantage, which I think might give the Eagles the edge on a very good Miami team, so I'll take BC there. The same goes for the West Regional, where Colorado College is going to be steaming mad after last weekend and the crowds will be overwhelmingly pro-Tiger. So CC gets my nod over New Hampshire. You?
Jim: Wow, thanks for making me sound so boring, as I actually agree with you on all of those. Here are some potential exceptions, though. I do worry that Minnesota is a force to be reckoned with. You see them a heck of a lot more than anyone else in the country, so your choice not to even mention the Gophers and pit BC versus Miami says something. And in all honesty, in the bracket of death in Colorado Springs, I think that just about anyone could emerge at the top. One other caveat — I think Denver is a heck of a team that's got to raise some eyebrows in Wisconsin. The club just won arguably the toughest Final Five in history. I can't just discount them either. All that said, I see BC, North Dakota, Colorado College and Michigan playing for the title in Denver.
Scott: Four-for-four agreement? As the late sportscaster Mel Allen might have said, "How about that!" You raise good points, of course, so before I start getting hate mail from Minnesota fans, let me delve a little more deeply into the Northeast Regional. Minnesota has done an incredible job of rallying after a near-disastrous run early in the second half, but the Gophers' offense continues to be an issue. Minnesota scored six goals in three games last weekend and rode freshman netminder Alex Kangas into the finals, so much so that Kangas was the Final Five Most Valuable Player on a losing team. Expecting that to continue — even with a remarkably steady rookie like Kangas — is too much to ask when the games are in Worcester. I say that knowing that BC's John Muse is a freshman, too, but the Eagles are fourth in the nation in offense, and that could be the difference in the first round. It was a tough call, and I don't mean to paper over the Gophers' accomplishments, but I do see the regional final as BC-Miami. Same goes for Denver: no one would be surprised to see the Pioneers win the Midwest Regional, but I have to lean toward UND when it's all said and done. Wrapping up, care to handicap the Hobey Baker Hat Trick of three finalists? Notwithstanding the amusing fiasco at Vote for Hobey that you talked about on your blog, I'll go with the obvious Kevin Porter and Nathan Gerbe picks, and then hem and haw a bit before putting Kevin Regan in there too.
Jim: Yes, the Hobey folks have quite a debacle on their hands. I do know that the fan vote is such a minor piece of the overall vote, but you'd think there would be much better security to at least make it seem legitimate. As for the Hobey Hat Trick: Obviously Kevin Porter from Michigan will be there. He's likely the most deserving on the ballot. I actually don't see Gerbe getting into the top three. He's a heck of a player, but he had some problems earlier in the year where he was suspended for spearing a player once the tape was sent to the league office. At the time, commissioner Joe Bertagna said that wasn't the first time this had happened. Now let me just say that I'm a big Nathan Gerbe fan and really like the kid, but I do fear his early-season on-ice discipline issue might cost him. I like Regan in the top three, though I don't see him having a chance at winning, as he's no Ryan Miller (and that's the bar against which every goalie is compared in the Hobey process). As for a third, though I'd love to see Jeff Lerg get in (to me, there's never been a goalie that carried his team to the top as much as Lerg last year), my gut is that Miami's Ryan Jones will get the third spot. All will be interesting to see shake out. One weekend of regional play left, Brownie, and then the Frozen Four. I can't wait!