When reporters were allowed to enter the North Dakota locker room after Thursday's national semifinal, many headed straight to Jean-Philippe Lamoureux.
The senior goaltender, still in his uniform and pads, stood up from his chair and faced over six minutes of direct questioning about what had to be one of the more painful nights of his collegiate career.
He didn't shy away from a question. He didn't appear to grow angry with those trying to get his view on the pucks that went by him.
"He's a stand-up guy," North Dakota defenseman Taylor Chorney said, "and he's not going to hide behind anything."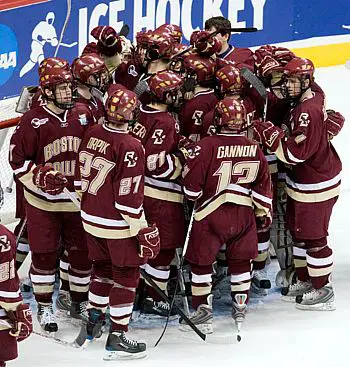 Lamoureux had his worst night of the season, allowing a career-high-tying six goals for the first time all year in a 6-1 loss to Boston College at the Pepsi Center. It was the fourth time he had allowed six goals in 111 games for the Sioux — not exactly the kind of ending to a career any senior would like to have.
And it was so different than how the season started for Lamoureux and from how he entered the Frozen Four.
He had three shutouts in his first three games, including a fog-shortened tie against Boston College. With four shutouts in his first five games, he set a WCHA record.
He was the most outstanding player at the Midwest Regional, where the Sioux punched their ticket to Denver with a pair of victories in which they were outshot.
Those memories seemed so far away as the puck kept going behind Lamoureux on Thursday.
"It hurts pretty bad," he said. "I thought our group of guys deserved a better fate. But you've really got to take your hat off to BC. They played a great game, had a lot of really nice goals tonight, capitalized on a lot of turnovers on our part. But I couldn't have been prouder to play my four years here at UND."
Lamoureux didn't look completely comfortable on some of the BC goals.
When Andrew Orpik scored the game's first goal, the puck went between Lamoureux's pads as he slid across the crease.
He didn't control a long shot that turned into another awkward-looking goal for BC. The rebound eventually went to Nathan Gerbe, who had a sharp angle on the right side but put the puck back into Lamoureux's body. It rolled through him and into the net.
"I wasn't as set or as square to the shot as I should have been," Lamoureux said.
Gerbe earned a hat trick and made it 5-0 in the second period when he came out from behind the net and, with Lamoureux flopping in the crease, lifted the puck high into the net.
Gerbe's first goal, a shorthanded score in the first period that made it 2-0, was the one that Lamoureux wanted back, however.
"I felt like I came out and challenged well; I just didn't close it up and Gerbe made a nice, quick shot," Lamoureux said. "A lot of their shots were good shots, inside the post, top corner and stuff."
Lamoureux came into the game with the national lead in goals against average and save percentage. He left in second place in both categories.
That didn't matter to his teammates.
"Our season would have been over two weeks ago if it wasn't for Phil, and everyone in our locker room knows that," Chorney said. "A lot of those goals weren't his fault. They're a skilled team. There was quite a few two-on-ones. There were back-door shots, and there's not a whole lot Phil can do on those.
"I know he's probably beating himself up a bit, but he's been our MVP all year and he deserves every bit of credit he's got all year."
Defenseman Joe Finley said Lamoureux's play wasn't what sank the Sioux.
"We think he gave us an effort tonight that if we get down and block a shot or two and if we come up big for him on the offensive end, it's a whole different game," Finley said.
Lamoureux was the first one waiting for Boston College players at center ice for handshakes. He then found the referee and the assistant referees for handshakes before being the last UND player off the ice — not before he saluted the team's fans.
"Unfortunately, we weren't able to give them a performance that I thought they deserved tonight," he said. "A lot of people paid a lot of money to come watch us play, and I just wanted to show respect to the fans who came out to support us. As you can see, they didn't leave the building. They hung around us to the end of the game. So I just wanted to show respect to the fans because we had a lot of loyal fans out there."
The Grand Forks, N.D., native said he expects to graduate this summer, and he wants to continue his career in the pros.
But on Thursday, his thoughts were more about what had just transpired.
"It doesn't feel good," Lamoureux said. "One of my goals coming here was I wanted to be part of a championship. My four years, we came close — four Frozen Fours, which I think is something we'll be proud of in years to come here. But it kind of feels like unfinished business."