Another Frozen Four. Ho hum. Another national championship game. Big deal.
The Orpik family might be forgiven if its members reacted with yawns to Boston College's 6-1 shellacking of North Dakota. So what if the Eagles advanced to a third straight NCAA title contest? Isn't that what's supposed to happen?
The Orpiks are now six-for-six in reaching the Frozen Four, moving on to the championship game in the last five. Brooks Orpik got it started, playing at BC from 1998 through 2001 before turning pro prior to his senior season. Andrew took the baton in 2006 and is now three-for-three.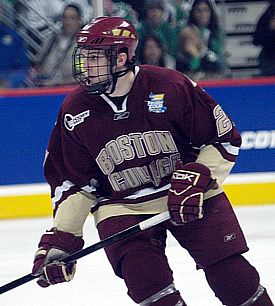 "It's become an ongoing joke with some guys on the team," the younger Orpik says. "We have to work really hard to get here every year, but there aren't many families that can say they've gotten here six times in a row."
BC coach Jerry York sees common traits between the brothers beyond just the success.
"They're very comparable in the character they bring to the locker room," York says. "They're team-first guys. Certainly they're very similar in physical size and strength, but they also both compete so hard."
Like his brother before him, Andrew (6-3, 215) provides a physical dimension to a team dominated by small, quick, highly skilled players. He plays on a line with Matt Lombardi and the only other Eagle forward to top six feet, Kyle Kucharski (6-3, 200).
"You look at BC and stereotypically we're a small team," Orpik says. "What our coaches like our line to do is to get the puck down low, cycle, and wear down their defensemen so when our top lines get out there they'll be tired from dealing with us down low.
"The coaches don't look for us to score goals. If you're a hockey player, you want to score goals, but the older you get, the more you understand what your role is on the team. Anytime we get a goal, it's a bonus."
After scoring a "bonus" of six goals coming into the Frozen Four, Orpik picked a terrific time to add a seventh. He drew first blood against the Sioux, setting the table for Nathan Gerbe's subsequent hat trick explosion.
"It's a 60-minute game and sometimes there are ebbs and flows, but if you get the first goal you just get more energy and everyone feels better," York says.
The Frozen Four goal is one thing his brother, a hardnosed defenseman, can't match. Not that it will be fodder for any ribbing between the two.
"He's never been one to score a lot of points," Orpik says, adding with a grin, "but he sure has me by a lot in penalty minutes." Orpik then becomes very serious. "In terms of rubbing it in, he's still got the ring."
Ah, yes. Brooks holds the ultimate trump card, the 2001 Boston College national championship.
For the older brother, the third time was the charm. Andrew hopes to follow suit.
"The way our team is going right now, we're doing the things that make us a good team," he says. "We're not trying to play other teams' games. When we play our game, I expect us to be successful."
For that result, tune in on Saturday.