Colorado College goaltender Richard Bachman is the winner of the second annual HCA National Division I Rookie of the Year Award, the Hockey Commissioners' Association (HCA) announced Friday.
Three weeks ago, Bachman became just the second player in the 56-year history of the WCHA to earn the league's Player of the Year and Rookie of the Year accolades in the same season. (Eighteen-year NHL veteran Curtis Joseph of the Calgary Flames also captured both awards as a netminder with the Wisconsin Badgers in the 1988-89 season.)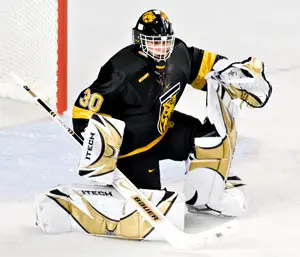 Bachman, a 20-year old from Highlands Ranch, Colo., backstopped Colorado College to its sixth WCHA regular-season title in the last 15 years and its 11th NCAA playoff berth in the last 14, shattering school records with a 1.85 goals-against average and .931 save percentage. He earned First-Team All-WCHA honors and a spot on the league's All-Rookie Team.
The 5-foot-10, 172-pound Bachman finished with an overall record of 25-9-1 between the pipes in 2007-08 and posted four shutouts while allowing two or fewer goals in 25 of his 35 starts. He was honored as HCA Rookie of the Month twice, in October and February, as well as WCHA Rookie of the Week three times and Defensive Player of the Week twice during the course of the season.
The fourth-round NHL draft pick of the Dallas Stars in 2006, who spent the 2006-07 campaign in the USHL with Chicago and Cedar Rapids, finished with a 19-5-1 (.750) record in league play, with a 1.75 GAA and .937 sv%. He also collected three assists, including two on game-winning goals.
Nationally, Bachman sported college hockey's third-best GAA (1.85) and sv% (.931) while recording the nation's fourth-best winning percentage (.729). Overall, the Tigers boasted the sixth-best defensive numbers from among 59 teams, allowing an average of 2.15 goals-per game.
The HCA Rookie of the Year is selected in a vote by the assistant coaching staffs of all 59 NCAA Division I hockey teams. Players on the ballot receive five points for a first-place vote, three points for a second-place vote and one point for a third-place vote. Each conference's top rookie serves as its league's nominee.
Bachman is the second straight recipient of national Rookie of the Year honors to hail from the WCHA. Andreas Nodl of St. Cloud State was the inaugural winner last season.