It was a trying 2007-2008 season in Huntsville as first-year head coach Danton Cole and the Chargers struggled to duplicate their prior season and wound up with just six total wins.
That said, UAH returns virtually every player, including all three goaltenders, from last season and it's with that fact alone that a few more wins may come the Chargers' way this season.
"Well, I'd like to think so," Cole said. "This season, we're better conditioned and a lot of the guys stayed around here in the offseason to train. We're working on getting better mentally and physically and I think those aspects will give us more chances to win."
The Chargers added just four freshmen but one, forward Cody Campbell, scored 32 goals among 87 points in the British Columbia Hockey League last season after just 28 in 2006-2007.
"We'll be looking for Campbell to get going right out of the box," said Cole.
Returning forwards Matt Sweazey, Andrew Coburn, Tom Train and Kevin Morrison look to be the offensive catalysts for UAH and senior two-year captain Scott Kalinchuk, "very underrated," according to Cole, leads a deep defensive corps that also includes Brandon Roshko, a "clever player" per Cole.
"You look at what Scott did last year and even though the numbers aren't there, he logged a lot of minutes for us," said Cole. "He sacrificed individual numbers for the betterment of the team and that's what you look for in a team captain."
"The team's most important; that's what we're taught here," added Kalinchuk. "So far, we've all gelled pretty well and after what we went through last season, we're a much tighter team. This is probably the tightest team I've ever been on."
With 15 freshmen and sophomores on the roster this season, veteran leadership, good goaltending and goalscoring will be key components to how far the Chargers go this year. UAH scored just 60 goals last season, last in the CHA.
"Last year, we knew it would be tough," Cole said. "We played all the young guys in key situations and the whole team responded, but weren't rewarded that much. They did a good job sticking with it, though."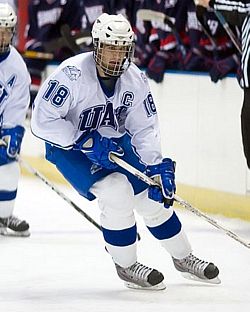 In goal, junior Blake MacNicol went 4-5-1 down the stretch last year and is going into the season as the starter for UAH. Sophomore Cam Talbot should see time, as should sophomore Wyatt Russell.
"Blake has established himself and has put himself in the position to be our No. 1," said Cole. "All three have worked hard and the more competition, the better."
And as with every other team in the country at this point in the season, optimism is at an all-time high.
"We hit a few bumps last season, but there's more of a positive feeling this year," senior forward Josh Murray said. "We just want to forget about last season, but at the same time build from it and use it as motivation. We all know what to expect and the sophomores keep improving. There are no more unknowns.
"We want to come out and surprise some people and not let them know what to expect. If any team takes us lightly, we'll take advantage."