Experience wins games. That's the message that the coaches of Atlantic Hockey are sending in their preseason poll, picking defending regular season champion Army to finish fifth, out of a home-ice spot for the playoffs.
"I think they're looking at the fact that we lost 12 seniors," said coach Brian Riley. "You can't really argue with that. In some ways this season reminds me of when that big senior class we had last year were freshmen. We had to grow up fast. But I think we have a better supporting cast now that we did that season."
Returning an All-American in net is certainly a plus. Senior Josh Kassel is the reigning Player of the Year in the AHA after posting a 1.92 GAA and a .925 save percentage last season.
"Goal is our deepest position," said Riley. "Besides Josh, we have (Joe) Spracklen and Jay Clarke, who both played very well last season. Josh has earned the right to be our starter, but it's something we're going to have to deal with. It's a nice problem to have."
Also back is junior forward Owen Meyer, who led the team in goals (21) and tied for the team lead in points (38). Senior Zack McKelvie will again captain the power play.
But ultimately, how far the Black Knights will go will depend on how quickly they bond as a team.
"Last year we had a very close team," said Riley. "Our biggest strength was experience."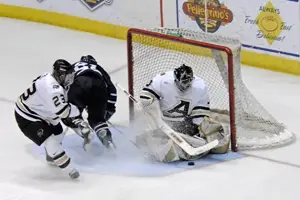 The Black Knights will also be challenged by their schedule, which sees them play 15 of their first 18 games on the road.
"It will help me get to know all our freshman because our away jerseys have names on the back," joked Riley. "Being a freshman at a military school has additional demands. If a freshman can play to his full potential his first year, that says a lot about him."
Included in the schedule are two tournaments within a seven day span, as Army travels to the Ledyard Bank Classic at Dartmouth on December 28 and 29 and then to the Ohio Hockey Classic at Ohio State on January 2 and 3.
"We had the opportunity to play some top teams and we didn't want to pass it up," said Riley. "It's an opportunity to play some teams that were in the NCAA tournament last year. It's part of the development to prepare the guys for the second half of the season."