Take a team that last year defeated Providence, Army, Sacred Heart (twice), and tied Merrimack, Vermont, Western Michigan and Air Force, sported one of the top power plays in the nation (25.2%) and had 10 seniors on the roster. What would your guess be at their overall record? Probably better than 10-19-7.
But that was the story for the Holy Cross Crusaders, who played very well at times, but could never string together more than two straight wins last year.
"We had some bad breaks last year," said coach Paul Pearl. "We struggled scoring goals five-on-five and had our problems on the penalty kill."
The stats bear Pearl out. Despite having a top-notch power play, the Crusaders finished second last in the league in goals per game (2.36) and last in penalty kill (75.4%).
"We couldn't clear the puck (on the penalty kill)," said Pearl. "Some bad breaks, but you make your own and we didn't do that."
While Holy Cross loses those 10 seniors, the silver lining is that the Crusaders return eight of their top 10 scorers, including leading point-getter Brodie Sheahan (33 points last season). Also back are sophomore Everett Sheen (a team-leading 15 goals) and Mark Znutas, who had an outstanding rookie season on the blue line.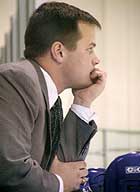 "We had two good power-play units last season and we expect to this season," said Pearl. "And we're going to get better defensively."
Goaltender Adam Roy saw a lot of shots in his rookie season but posted a .911 save percentage. That's something the Crusaders can build on.
"We have the personnel to get it done," said Pearl. "And Adam is a good goalie in a league filled with good goalies. And our other two goalies will challenge him. Sometimes that's what a game will come down to — whose goalie plays better. Every team looks better when their goalie is playing well."
One key for the Crusaders is how long it will take its large freshman class to jell. RPI transfer Jordan Cyr will also be in the mix.
"Our goal is to get better as the season progresses and get one of those top four spots," said Pearl. "Home ice is such an important advantage in the playoffs. We want to do well in the regular season. I think that's the true test because it's such a long battle."