The Tigers didn't show signs of a sophomore slump last season, their second in Atlantic Hockey. After winning the regular season title in 2007, RIT finished second in 2008 before falling to eventual champion Air Force in the semifinals.
But gone are Hobey Baker finalist Simon Lambert (51 points last season) and Matt Smith, who led the nation in power-play goals (17).
Losing 47% of your goal production might keep a coach up at night, but coach Wayne Wilson says he thinks his team will score as many goals as last season, if not more.
"We're going to need a lot of guys to step up and fill those roles, and we have the skill to do it," said Wilson. "It was hard to argue with our power play when you have a guy like Smith scoring the way he did, but it was one-dimensional at times and not as good as it could have been. We want to involve more guys and will need to get scoring from a lot of people."
Junior Matt Crowell had 11 goals last season, a distant third on the team, but Wilson says he and others, including freshmen, will be playing big roles.
"Matt has a sense of being a guy who's counted on this season," said Wilson. "(Sean) Murphy had an unbelievable season last year under the circumstances. Al Mazur will be playing a much bigger role on the power play."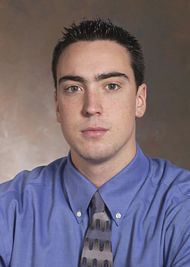 All-league defenseman Dan Ringwald is back for his junior campaign, leading a group of blueliners that includes four veterans and four rookies.
"It's going to be very competitive for (the defense)," said Wilson. "We've got eight guys that can all really play."
Up front some rookies will see their fair share of playing time, including freshmen Mark Cornacchia and Scott Knowles, as well as sophomore Tyler Brenner, who was ineligible last season.
"Cornacchia is one of the fastest skaters in college hockey," said Wilson. "Knowles is quick, productive player and Brenner is a big, strong forward that will have an immediate impact on the power play."
Goaltender Louis Menard (.902 save percentage) returns, backed up by fellow junior Jared DeMichiel.
"Jared came in way more prepared than last year and is ready to play," said Wilson, whose team played postseason hockey for the first time in three years last season.
"It was an adjustment after having nothing to play for but the regular-season title (the year before)," he said. "We learned that we need to change the focus and not make the regular season the be-all, end-all."