Quick: What do you think of when you think of Alaska hockey? Hard-hitting, up-and-down action that results in tough competition? A community that's over the top about its local Division I team? A very long road trip for a weekend series, no matter your home base?
Sure, the Nanooks can be a handful for CCHA opponents, and their fans are in love with them, and the distance between them and their nearest league neighbor, Northern Michigan, is 2,540 miles as the crow flies.
But they're also on their third head coach in as many years, and their six seniors who enjoyed 18 wins during their rookie season spent this past summer thinking about the nine victories they had in 2007-08.
"I think what's important is our identity of Nanook hockey and what it's been," says Dallas Ferguson, UA's new head coach and former four-year assistant. "We need to make sure that the work ethic has to be there when we talk on a daily basis and don't take it for granted."
If it were only a matter of the Nanook work ethic, Ferguson — also a former Nanook defenseman and captain — might have his team vying for an NCAA title in three years.
Not Just the Numbers
It's hard to turn a season around after beginning with an eight-game winless streak. That's what the Nanooks saw at the beginning of the 2007-08 season with new head coach Doc DelCastillo. Forget that four of those losses were to Michigan State and Michigan; Alaska never recovered, the rest of the season is unremarkable, and DelCastillo is gone.
When he resigned in April, DelCastillo cited family circumstances. His wife was pregnant with their sixth child and the DelCastillos wanted to be closer to family and friends in the Lower 48 as their numbers grew.
Before his resignation, however, DelCastillo's status was "under review," according to University of Alaska vice chancellor Jake Poole, who spoke to the Fairbanks News-Miner.
There is no indication that DelCastillo resigned in advance of anything untoward, but there are plenty of signs that his single year in Fairbanks was something from which the team must also recover. Not only did the Nanooks fail to reach the 10-win mark for the first time since the 2000-01 season, but UA lost five underclassmen during the 2007-08 season and subsequent summer, including two of the Nanooks' top three scorers.
Ferguson has a lot to do in Fairbanks — but he also has a pretty good number to work with in his first year during the upcoming season.
Hoping It's No Coincidence
The Nanooks bring in a dozen newcomers this season, a fresh slate with which to work to rebuild that Alaska brand. And yet in spite of the number of freshmen, the average age of the team is 21.7 years, the second-oldest in the CCHA. Enthusiastic new players plus experience could pay immediate interest for Alaska.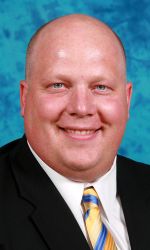 "I think with the insertion of the 12 freshmen we have coming in, I think that it's going to enable us to be a little more attacking this year," says Ferguson. "I think [with] their skating ability and hockey IQ…we have improved in that department."
The last time the Nanooks brought in such a large rookie class was the only year Alaska made an appearance at the CCHA tournament in Detroit, back in 2004-05.
Two freshman forwards, Carlo Finucci (BCHL) and Ron Meyers (AJHL), each netted 33 goals in junior hockey last season. Finucci comes in legal to consume adult beverages in every state of the Union, while Meyers is relatively young at 19.
Offense is an area that UA needs to address, having averaged 2.18 goals per game in CCHA play last season. But even being tied for 10th among CCHA teams offensively, the Nanooks were capable of playing it close, outscored in 28 league games by fewer than 20 goals.
One of Alaska's double-digit goal scorers from a year ago, Dion Knelsen, returns. Landon Novotney, who netted 16 goals as a rookie for UA last season, is now playing for the Grand Rapids Griffins of the American Hockey League.
Both Finucci and Meyers are capable of replacing Novotney's output. Then again, Knelsen scored 39 goals in the AJHL before registering five as a freshman at Fairbanks, and 11 last year. There's just no knowing.
Fate or Fact?
The Nanooks never use their location as an excuse for anything and suggesting that their distance from the rest of the league might be an insurmountable disadvantage is near blasphemy among the UA faithful, but there is no question that where they are affects how and what they can produce. That's not to say that they can't orchestrate greatness from Fairbanks, but those Nanook faithful are still awaiting its arrival.
Fairbanks provides challenges for recruiting both players and coaches. Two notably good coaches in recent Nanook history — Guy Gadowsky and Tavis MacMillan — have left for more southerly pastures. Gadowsky took the Princeton Tigers to the NCAA tournament last season, and MacMillan scouts for the Atlanta Thrashers.
To be sure, the departures of Novotney and outstanding junior defenseman Tyler Eckford will factor in to this year's season for the Nanooks. So will having to say goodbye to Wylie Rogers, who logged nearly 1800 consistently excellent minutes in net for UA last season.
Ferguson says that he's confident that senior netminder Chad Johnson, injured last season, will be able to backstop Alaska, and that the multidimensional Eckford will be replaced "by committee."
The committee that matters most for the Alaska Nanooks this season, though, is a committee of one: Dallas Ferguson.