For most people, a yearly trip or two back to their alma mater might be the only time they re-visit their old stomping grounds. For many Division I college hockey players however, the ties continue for many years.
Of the 58 current Division I men's hockey programs, 25, a whopping 43 percent, are coached by alumni players. There are three in Atlantic Hockey, seven in the CCHA, one in the CHA, four in the ECAC, four in Hockey East, and six in the WCHA (see sidebar).
Some of the coaches had great success as players, competing, and in one case, winning in the Frozen Four. Others have taken their programs in directions that wouldn't even have been thought possible while they were players.
Paul Pearl, a 1989 graduate of Holy Cross, is one example of the latter. Pearl, who captained the squad his senior year, saw the program go from a mid-tier Division III ECAC East team to a powerhouse in Atlantic Hockey and twice has taken the Crusaders to the NCAA tournament, scoring perhaps the greatest upset in college hockey history when the Crusaders beat Minnesota in the first round of the 2006 NCAA tournament in North Dakota.
"That was a school decision with a lot of factors involved," says Pearl, of the move to Division I. "In spite of financial aid policies that were Division III, we were a Division I school playing at that level. It was a school decision that we needed to move up and play schools our size."
In speaking to several coaches, the paths that they took to return to their alma mater all varied, but all mentioned that they had the thought in their heads that if the chance came up, they would like to return.
"As I was playing here I always thought it would be great to be able to coach here, because I knew I wanted to get into coaching," says Pearl.
Pearl was back coaching at Holy Cross five years after he graduated. Mike Eaves and Jerry York both took much longer paths back, while Jack Parker's time away from Boston University was even shorter. Parker found himself in the unusual position of coaching people he played with as an assistant, and within a few years was head coach, taking the Terriers to the NCAA tournament his first five years as a coach and winning the NCAA Championship in 1978.
"I graduated in '68, and then I was a high school coach at Medford High School," says Parker. "I thought that's what I was going to do, be a high school and high school teacher. Then the opportunity came up to go back to be a graduate student and be a part-time assistant coach to my former coach at BU, so I took that.
"My compensation was my tuition at school and I was Jack Kelly's assistant. I got involved in that, I guess you could say, and I never left. When I first became the assistant coach, I was assistant coach for players on a team I had actually played on (laughs). That was more of an adjustment than being the head coach."
When asked about when they considered coaching at their alma mater, they all have different experiences.
York, a 1967 graduate of Boston College, went on to head coaching positions at Clarkson and Bowling Green, and won an NCAA Championship with Bowling Green in 1984.
"You know, it was interesting, because of the ties and connections, when you pick up a paper, you're always kind of looking at how your old school did," says York. "You're always kind of conscious of it, but you get wrapped up in the particular institution you're at at that time. In fact, I think I got a doctorate in the time I was at Bowling Green. But the four years you spend as a student-athlete at a particular school, that's going to leave an indelible mark on you."
"I don't think I ever had a thought that I would have a chance to coach at the alma mater. I was kind of moving away from Boston; I went to Ohio to coach, but when the opportunity came, certainly I was very excited by it. It wasn't particularly salary considerations or contracts or potential, it was just the draw back to the school you went to."
It's ironic that York and Parker returned to their alma maters, where they are year-in, year-out fierce rivals for the Beanpot and Hockey East titles. York and Parker played against each other in both high school and college, and each remembers the other.
"He was the same year of high school and then he took a year of prep so I was one year ahead of him at the colleges," says York. "Boy that goes back a long way, that's for sure."
While York and Parker both played in the Frozen Four as players at their schools, Mike Eaves won the NCAA tournament as a player in 1977 with Wisconsin and then again in 2005 as a coach, something he says is a completely different experience.
"When you're a player, your emotion is a different level than when you are coaching," says Eaves. "There's a level of satisfaction when you're a coach and achieve a championship. It means you go out and create a plan and you kind of go by it step by step and try to create that championship. When you're a player, emotionally, physically, spiritually, mentally, you're all wrapped up to a high energy level that when you win, there's a different euphoria that takes place."
Eaves went on to play professional hockey for eight years after college, then started coaching in the minor leagues. When longtime Badgers' coach Jeff Sauer decided to leave in 2002, Eaves found himself competing for the position against one of his teammates from that '77 squad, Mark Johnson.
"I remember talking to Mark," says Eaves. "We were in Ann Arbor at the time with the National Team Development Program and I told Mark I was going to submit my name. I think Bethy and I and Mark and Leslie, our friendship has endured with what some people say was a tough situation or pit one another against each other. Mark is a very conscientious, level-headed individual, and at the time said 'Things happen for reason, and if I didn't get this now, then good things will happen,' and look what's happened to Mark. We were talking the other day and I said, 'Mark, isn't it interesting that what your dad for men's hockey here at Wisconsin, you've done for women's hockey. You've put it on the map big-time as your dad did with men's hockey.' The reason I tell you that is because of the fact that things happen for a reason, and our friendship is better and deeper than ever at this point of our lives."
Johnson went on to coach the Wisconsin women after Eaves won the men's job, and has since won two NCAA Championships as coach there. A third player from that '77 squad, George Gwozdecky, coached the Denver Pioneers to two national titles as well.
"I don't think you can really explain that," says Eaves of that unusual statistic. "We're all different people, have different backgrounds. Mark and I, our dads were both coaches, George's dad was a doctor, so how the heck do you explain that one (laughs). That's just the way it goes. Coach (Bob) Johnson has been a very big influence, obviously on Mark, but on all of us in some form or fashion in the way he coached. Maybe being around a guy like that helped us decide to get in once we had an opportunity."
As alumni themselves, the coaches certainly hear from their former teammates now and again.
"For the (Atlantic Hockey) finals actually, here against Bentley in '06, we had over 30 former captains," says Pearl. "It was unbelievable. There's only been so many years of school and everybody was back. It was guys, we had probably over 60 former players all came out for that game. Then after the whole Minnesota experience and playing pretty well against North Dakota the next night too, we got a lot of alums e-mailing, calling, just very congratulatory about the whole situation."
"I've been friends with a lot of my former players," says Parker. "Some of them have been on the Friends of Hockey Alumni Board. One of my linemates, John Krup, was a longtime chairman of the Friends of Hockey after he graduated. I'm in close contact with a lot of my former teammates, but probably even closer contact with a lot of my former players from the 70s and 80s."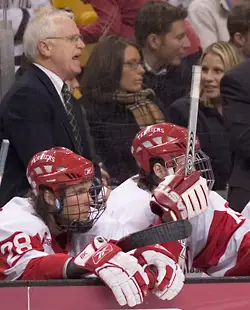 Another aspect of being an alumni coach is that it gives the coaches an extra advantage in the recruiting process, because they understand what life is like for the student-athlete at that particular institution.
"I think it's a unique experience because you're selling, you're pitching your particular school and when you went to that school, I think it helps in the delivery of your recruiting presentation," says York.
Echoed Eaves, "It's fun to walk around campus with recruits, and you have little anecdotes about what happened to you that help make them laugh and feel comfortable with the campus and you can talk intimately about he campus in terms of what it offers from personal experience and I really think that does help sell the program and sell the school when you've gone to school there, you've lived there, you've breathed there, you've had success and failure all in one place."
All four of these coaches agree on one thing in particular-they have pride in their school and feel the opportunity to be a coach there is extremely rewarding.
"I have a lot of pride in my university because I played here and I went here and I had a great time as a player here," says Parker. "We were very successful. I would say I want my players to have the same experience I had."
"It's been fun because in terms of when you come back and coach at your alma mater, I think as a coach you have a little more stock in the program, the history, tradition and pride in the school, so I really think that has a deep seated effect on your ability to want to be successful for the school," says Eaves.
"I think BC is one of those types of schools that from way back has been strong," says York. "We're going to have our cycles, but for the most part we're trying to keep the tradition alive."
"I just love coming here," says Pearl. "My wife's from here and all my friends went here. It's just a really great place. Just picture whatever college you went to, being able to go back and work there. Picture all the fond memories you had as a student and then you get to work there afterwards. It makes for a good combination."