At the start of the 2008-2009 season, the Denver Pioneers knew they would be deep up front. Their only significant losses over the summer were on defense. The core of their forwards, including assistant captains Tyler Ruegsegger and Rhett Rakhshani, as well as Tyler Bozak, who led the team in scoring as a freshman last season, were all returning. If you had looked at the Pioneers prospects, the name most mentioned was Joe Colborne, a 6'5″ forward from Calgary who was drafted in the first round of the 2008 NHL draft by Boston.
Yet through the first nine games of the season, one of the Pioneers' most productive and valuable players has been Luke Salazar, who is listed at 5'7″ on the Pioneers' roster. However, like Nathan Gerbe, the sparkplug for Boston College, Salazar has a knack for scoring, and for scoring important goals.
Salazar is currently third in scoring for the Pioneers, and averages 1.22 points per game. Not only is he scoring a lot, he is scoring big goals. He has three game-winning goals for the 6-2-1 Pioneers. He also got the game-tying goal in the third period of the first game of a home-and-home with arch-rival Colorado College.
Playing on a line with Bozak and Colborne, Salazar finds a way to get open, freeing up Bozak to be more creative in his offensive play.
"We got on a line, I think it was the second week, and ever since then we clicked I guess," said Bozak. "We see each other out there. I always know where he is when I have the puck and I can feed him, and I know if I give him the puck and he has a chance to score he's going to put it in the net, so it works out great."
Salazar's scoring productiveness is all the more impressive when you consider he isn't on scholarship at Denver. While not quite a walk-on, nobody expected him to be as successful as he has been, except perhaps for Pioneers' coach George Gwozdecky.
Gwozdecky is quick to point out that Salazar isn't a "walk-on" athlete, but a non-scholarship athlete. Salazar, a Colorado native who always wanted to play in Denver, turned down scholarship offers from Northeastern, Alaska-Anchorage and Western Michigan to come to Denver, where he receives no financial aid.
"When we recruit our players, we recruit our players to be part of this program," said Gwozdecky. "He knew he was going to be on the team when he was recruited. It wasn't a matter of him coming here and then trying to make the team. We told him, 'You have a locker room stall, you have a number, you're going to be one of our 15-16 forwards.' That's a lot. Now, what you do with that opportunity is up to you."
For his part, Salazar is excited about the chance to contribute.
"I got the opportunity to come here and couldn't pass it up," the soft-spoken Salazar said. "I looked at it as a once in a lifetime opportunity. If I would have passed it up, I would always have wondered what it would have been like to go here, so I had to do it. I grew up here, and watching the games, coming to the games, every so often, I would be like how cool would it be to be out here, so it's definitely been a dream to come here and it's been awesome so far."
Like fellow Pioneer Rakhshani, Salazar didn't start on ice, but on roller skates, making the transition to ice when he was nine. He quickly embraced playing on ice, and by the time he was playing midget was already looking at going to junior hockey in the North American Hockey League.
"I was playing for the Colorado Outlaws, a local midget team, and got a couple of opportunities to be looked at by a couple of teams in the North American League, and I had a couple of different choices for where to go in that league," said Salazar.
Salazar had great success in the North American Hockey League, scoring 41 goals and 87 points in his final season with Wichita Falls.
"We saw a guy who has a real knack for scoring goals," said Gwozdecky. "Playing in the North American Junior Hockey League, it's a pretty good league, and he had 41 goals last year. Now I don't care what league you play in, you put in 41 goals, that opens up some eyes. Especially, I think that he's a got a real knack for his positioning. I think he has benefited from playing with Joe Colborne and Tyler Bozak; I think there's a real chemistry between the three. I think Luke knows that, at times, he just has to go to the net and find a spot where that rebound or pass is going to come. He's quick enough to get to those spots, he's tough enough to fight through traffic, and when he gets the puck on his stick, he's pretty good."
Bozak, who once again is leading the Pioneers in scoring, is quick to praise Salazar's offensive skills.
"The hands on him are unbelievable," said Bozak. "The way he plays, the way he sees the ice, he gets to the right spots at the right time. I could tell after the first couple of skates he was going to be a good player. When he gets a chance to put the puck in the net he's going to score. He can stickhandle with the best of them. His offensive abilities are unbelievable."
For his part, Salazar believes part of his success is due to the faith the coaches have shown in him. Salazar netted two goals and an assist in his first game with Denver against Notre Dame, and was then moved to a line with Bozak and Colborne, where he has flourished.
"I definitely would say the biggest part is just getting the opportunity from the coaches," said Salazar. "That and having the confidence that they would put me in that situation definitely showed me they had confidence in me and that I had the ability to do so. The confidence I gained in myself after the first couple of practices and games, I realized I could play with these guys. I think the biggest thing is confidence."
People in Denver might be used to seeing smaller players do well. Gwozdecky has never made size a primary principal in his recruiting strategy. In April 2008, college hockey fans in Denver saw Gerbe, who is 5'5″, dominate the Frozen Four, a tournament Salazar watched on TV.
"It's always nice to see a little guy do well, but I would never compare myself to him, at least not yet," said Salazar. "He's pretty ridiculous. I was glad to see that he did so well, and him being a little guy and being able to dominate like that was pretty exciting to see for sure."
Asked about Salazar's size, Gwozdecky is quick to point out that he recruits for his team's needs and doesn't look at stature.
"Really the size of the student athlete has no bearing on whether we're going to recruit him or not," said Gwozdecky. "We want to know if he's competitive, if he's willing to compete hard, things like that. You look at Joe Colborne, you look at Luke Salazar, they're two different body types and we recruited both of them, and both have been very effective for us. We look at our team and our needs for the future for our team and say, 'We need this kind of player, we need that kind of player.' Size rarely, if ever, comes into play."
Gwozdecky also believes that Salazar proved himself during his years in the North American Hockey League, and that because of that, he wasn't worried about Salazar's ability to absorb the pounding from bigger players in college.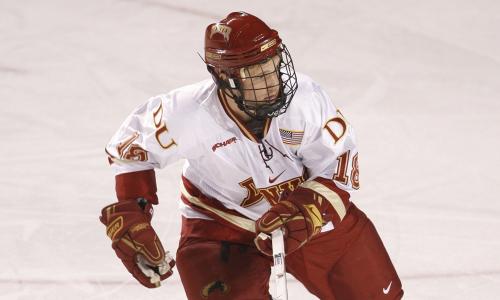 "Obviously you want to get someone who can take that pounding when it comes," said Gwozdecky. "You want someone who's been through it already, and when you play Junior A hockey, you take a pounding. You play a ton of games, it's a long season, and they're going to be big guys who go after you, especially if you're a goal scorer that doesn't have big size, they're going to try to go after you and intimidate you and shut you down that way. I think Luke Salazar has proven that he's not going to be intimidated; he's going to play his game."
Bozak also notes that Salazar isn't intimidated when he is on the ice, and is willing to go into the corners and muck it up.
"He's a small guy but he definitely works hard," said Bozak. "He'll go into the corner and win puck battles and it's good to have a guy like that. With the amount of skill he has, and being smaller guy, if he can win the puck battles in the corner it makes him a complete player."
Salazar is quick to praise the upperclassman for helping the freshmen transition to the speed and intensity of the college game, and is effusive in his praise for Bozak.
"I definitely think he's helped me a lot," said Salazar of Bozak. "He's an unbelievable player. I think he's one of the best players in the whole country. I've never seen, or played, with anybody like him. He's so quick, so fast, and he can make plays out of nothing. All the freshman have this thing called a Big Brother; it's an upperclassman on the team. Mine is Pat Mullen. If you have any questions or things, you can go and ask them and all the upperclassmen have been great so far."
As good as he has been offensively for the Pioneers, Salazar recognizes that being able to play defense is crucial to the success of the team, and is diligently working on that aspect of his play.
"Learning the systems and learning to be in the right position is the toughest thing for me," said Salazar. "Sometimes I find myself out of position and have to think real quick to get back in position. Being able to play the defensive part is tough and I'm getting better every day; it's just tough to learn in the beginning, but I want to be a two-sided player and be able to play at both ends of the rink."
One benefit for Salazar playing at Denver is that his family is now able to watch him play. The Pioneers currently have seven players from Colorado on their roster, including team captain J.P. Testwuide and assistant captain Ruegsegger.
"The coaching staff has given Colorado kids a lot of opportunities," said Salazar. "We've actually played all the games except for one at home, and so my whole family has been at almost all the games. They're definitely proud of me. They've been such supporters of my career so far. Not being able to watch my last couple of years while I was playing juniors, now that I'm back home they definitely have fun being able to watch."