It's a weekend that college hockey fans can love, a weekend with big-time rivalries across multiple conferences.
We'll start in the hub of college hockey: Boston, Mass. Two offensively-gifted teams in Boston University and Boston College renew their old battles with a home-and-home that starts at Agganis Arena on the campus of Boston University. Saturday night they travel three miles west for the back end at Conte Forum.
Rivalries take on many different components in their development, intensity, and prominence. Rivalries can be geographic, rivalries can start with an incident and just last (think Detroit-Colorado and the Claude Lemieux incident), and rivalries can come about by losing big games to someone, then winning a few, and seeing that cycle repeat.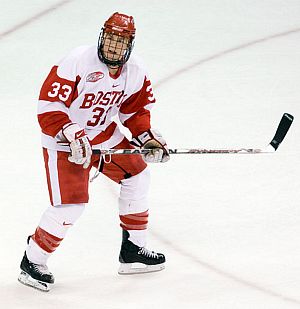 BU-BC is the perfect rivalry (though Harvard at Cornell might be as good as it gets, that's intensity) and the last four years have been as entertaining as any in the history of the matchup. The 128 perimeter surrounds Boston from south to north of the city and goes in a wide westward arch. Inside it is a tight-knit hockey community. Most of the coaches in Hockey East grew up either playing against each other, playing for one of the older coaches, or coaching with a current head coach as an assistant. In the case of BU and BC, Jack Parker and Jerry York played against each other in high school.
Each coaches his alma mater, and both are very Boston, having grown up in the city they still call home personally and professionally. Jerry golfs, Jack yachts in the offseason. Jerry looks very much like the New Englander in the tweed jackets, dark blazers and V-neck vests. Jack personifies the businessman look in tailored suits and power red ties.
On the bench, he looks like a lawyer defending a murderer on death row, steely eyed glares, arms folded and constantly fidgeting. The intensity that emanates from him can be felt across the ice. They are friends, but both acknowledge that ends at game time. They can joke in tense times but are all business when their teams are on the ice.
Jack has a great sense of humor and is quick-witted. Following the cancellation of a game between the two teams at a fogged-in Conte Forum a couple of years ago, the two coaches left their benches (on opposite sides of the rink) to meet and shake hands. The fog was so thick at ice level, Jack said to Jerry, "this is the first time I've seen you all night."
Prior to the Beanpot semifinal four years ago, delayed by a long OT in game one between Harvard and Northeastern, Jerry was pacing the hallways at the Garden. He saw Jack and mentioned that the delay was kind of an inconvenience. Jack shot back that while it sucks, "it sure as hell beats selling insurance." That was Jack's vocation until taking an assistant's job at BU in the early 1970s.
In the past four seasons, these two Hockey East giants have had some memorable games — ones which have impacted each other's seasons, which to me is the crux of any rivalry. Boston College brings a recent 4-1 record into Agganis and don't think that isn't an issue for BU, that the Terriers have lost four of five to their hated rivals on home ice. In the last four seasons, BU is 8-9-1 against BC but what might still be stuck in the craw of some Terriers on the roster is the '05-'06 season.
The Terrier senior class hasn't forgotten that year, in which after losing the first game of the season to BC, they won the next four against the Eagles including a Beanpot final and the Hockey East championship game. The two met in the NCAA regionals in nearby Worcester, Mass., and BC shocked BU and ended its dream run through the postseason.
While BC owns three of the last four Hockey East playoff titles, BU owns the one the Eagles are missing and did it at BC's expense. Add in that the Hockey East playoffs are played in Boston it magnifies any postseason contest between the two.
BU has won its share of big games against BC in the Beanpot, but BC had the last laugh. En route to an NCAA title last season, BC dethroned BU as Beanpot champ in the tourney title game.
BU is ranked No. 7, is 9-4 and 4-4 in Hockey East, seventh in the conference. BC is ranked second and enters the weekend 9-4-1 and 5-3-1 in Hockey East, good for third place.
Now to Michigan State-Michigan. No other rivalry has had the impact on college hockey that these two have had due to their magnificent "Cold War" game in 2001. The game, played on the football field at Spartan Stadium, packed over 70,000 fans into the winter night to witness rookie Spartan Jim Slater score a late goal for a 3-3 tie in a game that saw goalie Ryan Miller star for the Spartans.
"That game was unique for so many reasons; look at how many outdoor games it has inspired," said Shireen Saski, who was on the broadcast team that historic evening in East Lansing, Mich. "Wisconsin coach Jeff Sauer was there, and when he saw that, he decided that Wisconsin should do this also. That came to life in the Frozen Tundra game at Lambeau Field between Ohio State and Wisconsin. What was really special was to see Amo Bessone, the former MSU hockey coach, in attendance."
It could very well inspire a night that like in Fenway Park as a doubleheader featuring Maine-New Hampshire and BU-BC has been discussed.
Like BU-BC, this one is tight; these two also play in an annual tournament where fans get the possibility of them meeting for a fifth time in the regular season in a nonconference tilt. The Great Lakes Invitational has paired these two together twice in the past four years and Michigan State has won both, though Michigan is the defending GLI champs. It helps these rivalries that they can meet in an extra game every year that's nonconference.
The teams enter Friday's games with MSU holding a unique 7-6-7 record in the past four seasons. Over the last 20 games, they are separated by two goals overall.
This pairing has produced a couple of great video classics, such as the brawl that saw Michigan State goalie Jason Muzzatti and Michigan goalie Steve Shields locked in combat at center ice at The Joe in 1991.
"The interesting thing about that game was that Red Berenson had a recruit in the stands who he was selling on playing college hockey because there was practically no fighting ever," said Saski, a three-time Michigan Emmy winner for her coverage of the CCHA in Michigan. "Red seems to remember getting the recruit despite the melee on the ice."
Then three seasons ago, it was a borderline cheap shot by the "manchild," Jack Johnson of Michigan, that almost killed MSU's Tyler Howells, who stands about eight inches shorter and is 50 pounds lighter than Johnson.
In their most recent annual meeting at The Joe, Michigan embarrassed MSU 5-2 last season, getting out to a quick lead and holding on the night after MSU drilled the Wolverines by the same 5-2 score at Munn. However, a game that stands out and helps define a rivalry is Michigan's improbable 4-4 tie with MSU on March 5, 2004.
"Michigan State held a 4-3 lead and was on a power play in the last 70 seconds of the game," said Saski, a Michigan State alum who was doing rinkside reporting the following night when the Spartans got revenge with a 1-0 win at The Joe. "Jason Ryznar won an offensive-zone draw and scored to tie the game. That was all the damage Michigan needed to do to kill MSU's chance to win a CCHA regular-season title."
Then there's the Ethan Graham-Steve MacInchak, "Act of God" game at Munn three years ago (I named it that). This game did a lot to improve instant replay in the CCHA. Graham, an MSU defenseman, ripped a shot that blew past the left shoulder of Michigan goalie Billy Sauer and came all the way around the boards. However, the side of the net bulged as the puck went past.
Instantly, Rick Comley, MSU head coach, pointed to the sky as if to imply that we need a video review because he knew it went in. We at CSTV thought so also, and when our production staff in the truck looked at the replay while play was still active, they told us the puck went through the net and was a goal. We said as much on the air, supported by a bevy of replay angles to which the on-ice officials were not privy.
The whistle blew and video review ensued. Every camera angle proved it went in except the overhead camera that looked straight down at the net, which couldn't show it conclusively. MacInchak waved off the goal, the correct decision according to CCHA protocol, and when MSU captain Drew Miller asked MacInchak why the net moved, MacInchak shrugged and said tongue in cheek "an act of God?"
Divine intervention gave Michigan a 1-1 tie that night.
"What has to be remembered about that game was how well MSU was playing when it happened, and that would have been a 2-0 lead on a young goalie (Sauer was an 18-year-old freshman) on the road," said Saski, an astute historian of the rivalry and the CCHA. "The week before MSU had shut them out and earlier that season rallied twice for a 3-3 tie at Yost in Jeff Lerg's first game in the rivalry. MSU kind of had control of the rivalry at that point. The year before it was all Michigan."
Miller, along with the nine other members of his family to oppose the Maize and Blue in this rivalry, certainly made his mark on its history.
"Drew might have been a freshman when this happened, but he singlehandedly stole a point at Yost," said Saski, who also worked that game. "Michigan had an early lead and Al Montoya was playing great in goal for Michigan. Then Miller improbably scored two goals in the last three minutes to tie the game, the last one being as time literally expired. I've never heard Yost that quiet since."
As a side note, on the scoresheet that night were three future NHLers in Slater, Miller (who won a Cup with Anaheim) and Jeff Tambellini and a first-round draft choice in Montoya.
Lerg and Sauer, both seniors, should oppose each other this weekend at least once. Michigan comes in off a huge win last Friday at Minnesota while the Spartans tied the Gophers 4-4 on Saturday. If playing a rival brings out the best in you, this weekend should be unreal as both teams need wins.
Another of college hockey's great atmosphere venues hosts a renewal of a rivalry not much discussed outside of New York State when Lynah Rink at Cornell hosts the latest installment of Clarkson-Cornell on Friday. Cornell is 5-3-2 against Clarkson in their last 10 games but the last three have all gone against the Big Red in the form of an 0-2-1 stretch.
Cornell, usually an annual visitor to the ECACHL title game in Albany, N.Y., has watched Clarkson win the league's playoff title two seasons ago and has also seen the Golden Knights in the NCAA tourney the past two years while the Big Red have sat idle. They last went to the field of 16 three years ago, losing that epic triple-overtime game to eventual champ Wisconsin 1-0 in Green Bay, Wis.
The lone ECAC Hockey team to hold an advantage over Clarkson in its all-time series, Cornell is the Knights' oldest current rival, having first played during the 1922-23 campaign with the teams battling to a 0-0 tie in Ithaca. The Big Red leads the rivalry against the Knights 51-49-11. Clarkson took two from the Big Red last year, winning 4-2 at Lynah Rink and 4-1 at Cheel Arena, for its first conference sweep in the rivalry since the 1998-99 campaign.
Don't think that hasn't been discussed at the water coolers in Ithaca. Clarkson's victory in Ithaca last Jan. 20 was its first win at Lynah since March 6, 1999.
There you have it. No Minnesota-North Dakota this weekend, or Gophers-Badgers. Can't find Maine and New Hampshire on the docket. Harvard-Cornell will wait until Valentine's Day (how about the Crimson and Big Red on Valentine's Day?). Army and Air Force have other dates, as do Northern Michigan and Michigan Tech.
It's hard to find a bad battle among old foes in college hockey and when they happen, celebrate the tradition that they have built. If you like intensity, Yost, Conte, Lynah, Agganis and Munn are your hotbeds this weekend.