Turkey Tourneys
Four SUNYAC teams competed in Thanksgiving weekend tournaments, and in all cases, the teams did a split. Sort of. Technically, Plattsburgh tied their first game, but were relegated to the consolation match due to losing the shootout against Norwich.
Two of the strongest tournaments of the year — located in St. Norbert and Middlebury where Oswego and Plattsburgh competed, respectively — highlighted the action.
It was the second year for the new format for the Primelink Shootout where the three stalwarts, Plattsburgh, Norwich, and Middlebury, are joined by a Western team. This time St. Thomas had the honors.
"I think the format with a Western team is good," Plattsburgh coach Bob Emery said. "It adds a new flavor and gives a good geographical comparison."
The Cardinals came into the tournament as the hottest team in Division III, and left the tournament still unbeaten.
For the second game in a row, Plattsburgh needed a late third period comeback to salvage the deadlock. After falling behind 2-0, Vick Schlueter got one back in the middle of the second. Norwich rebounded and took a two goal lead into the third.
"I thought we weren't opportunistic early on, and that was the major difference for us," Emery said. "Our power play was struggling."
It certainly didn't help that the Cardinals best player and key man advantage playmaker, Nick Rolls, sat out with an injury.
Plattsburgh came back with two power-play goals at 13:08 and 17:10 by Andrew Willock and Phil Farrow to tie the game at three. Bryan Hince made 21 saves.
The next day, Plattsburgh defeated St. Thomas, though it took awhile for the Cardinals to get going. St. Thomas scored early in the second after a scoreless first period. Kyle Kudroch got the scoring going for Plattsburgh 21 seconds later. That was followed by a Ryan Corry tally for the lead only to have St. Thomas knot it back up.
Two straight goals by Ward Smith, the first on a power play, gave Plattsburgh a 4-2 lead. The Tommies got one back before Dylan Clarke clinched it with an empty-net tally.
"Rob Johnson is one of the best players in the country," Emery said of the Tommies leading scorer. "We had to make sure we keyed on him. I felt the game could have gone either way. Our goalie made the key saves when we needed them."
Out in Green Bay, the rematch everyone expected last year in Oswego finally occurred. Two years ago, the Lakers defeated St. Norbert 4-3 in overtime in the national semifinal. Last year, Oswego invited St. Norbert for their holiday tournament. However, Oswego didn't cooperate, dropping the first game.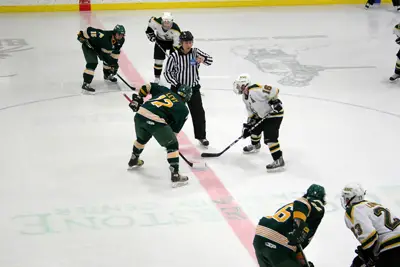 Thus, when Oswego returned the trip to St. Norbert, the coaches agreed they would meet on the first day in a predetermined format.
After all was said and done, the wait turned out the same result: an Oswego victory, 4-3.
"This was a great win for us," Oswego coach Ed Gosek told the Palladium Times. "I am very proud of the way these guys came out and played with St. Norbert. To come in and defeat the national champions on their home ice in front of their fans says a lot about this team."
Derrell Levy opened the scoring midway through the first. St. Norbert tied it in the first minute of the second only to have Neil Musselwhite put the Lakers back up exactly a minute later. Mark Lozzi and Peter Magagna scored late goals to give Oswego a 4-1 second period lead.
Oswego almost couldn't hold onto the lead as St. Norbert scored two late goals. However, Chris Hyk preserved the win for the Lakers, ending the game with 31 saves.
"We played very well for the first two periods," said Gosek told the Palladium Times. "Our defense came out and gave a good effort and supported Hyk, who played tough in the nets. St. Norbert came out in the third period and was playing to win this game, but our guys stayed composed and focused."
The second game against St. Scholastica was an odd one. Neither team scored in the first and third periods, yet nine goals were scored in the game. They all came in a span of 14:39 in the second period. Four times the teams traded goals in a short period of time: 38, 23, 72, and 98 seconds. St. Scholastica won the game by turning a 4-3 deficit into a 5-4 win by scoring two goals in 1:21.
5:19
That was the difference between Potsdam pulling off a big upset and Plattsburgh remaining unbeaten and ultimately moving up to the number one spot in the USCHO.com poll.
Sy Nutkevitch gave Potsdam the early 1-0 first period lead. Ryan Corry tied the game in the second on a shorthanded goal. However, Connor Treacy gave the Bears the lead before the second intermission.
Nutkevitch's second goal of the night, this time on the power play, extended that lead. Steve Cornelissen made it 4-1 1:54 later. At this point the Potsdam crowd — one of the largest in memory — were starting to think this one was in the bag.
"Probably the biggest crowd we've had, at least since I've been here," Potsdam coach Aaron Saul said. "It was rocking."
But with 6:44 left in the game, Plattsburgh fans started thinking comeback. Joey Wilson scored. The two goal margin still seemed to be enough for the Bears.
However, Andrew Willock scored on the power play with 2:08 remaining. Nick Rolls tied the game at the 18:35 mark. In a span of 5:19, a 4-1 game became 4-4, which is how it ended after a scoreless overtime.
"They are the No. 1 team in the country for a reason," Saul said. "They have a great lineup and a great work ethic."
"We didn't start the game off with a sense of urgency," Emery said. "Obviously, in the third period, we started playing with urgency and emotion. To Potsdam's credit, they played with emotion that I have never seen."
Did Potsdam miss a chance to make a statement?
"We were trying to figure who we are as a hockey team, and play good hockey," Saul said. "We met the goal of playing good hockey for 55 minutes. It was definitely a turning point for us that we can play with the best."
SUNYAC Short Shots
Fredonia's Pat Street made 26 saves in shutting out Morrisville, 5-0 … Eric Selleck got a hat trick and Ryan Ellis and Mark Lozzi got two goals apiece in Oswego's 11-3 shellacking of Brockport … Clint Olson scored with 4:13 left in the game to give Geneseo a 3-3 tie with Cortland … Buffalo State's Will Lacasse scored a hat trick in Bengals 6-2 win over Morrisville after a scoreless first period … After Brockport took a 3-0 lead in the first period, Cortland scored five second period goals (two within 18 seconds, four within 2:17) and six unanswered tallies for the 6-4 win … Geneseo defeated Oswego, 4-2, thanks to 31 saves by Cory Gershon.
Potsdam let up a fluke goal with 31 seconds left in the game, losing to Williams, 3-2, in the Skidmore Invitational … The Bears came back the next day to win the consolation game, 9-1, over Suffolk thanks to a 48-15 shot margin and a hat trick by Anthony Proteau … After losing the first game in the Rutland Herald Invitational, Brockport won the consolation game beating Becker, 3-2, holding onto the lead in a scoreless third period, including Josh Roarke stopping a late third period penalty shot.
Game of the Week
After punting last week, this week is a gimme. First, let's mention a few other key match-ups.
The conference schedule has evened out for now with everyone having played six games except Morrisville with eight. After this weekend, the league season will be half over for everyone. Thus, it's real easy looking at potential impacts.
One cluster that will either be broken up or made tighter is when the western New York teams play at the Rochester-based teams. Buffalo State and Geneseo are tied for third, two points ahead of Brockport and Fredonia. Isn't it convenient for us fans that the first night's match ups are Buffalo State at Geneseo and Fredonia and Brockport?
Then, the next night, they switch off, and theoretically, we could end up right where we started. Or, one of these teams can pull away and start making a run at a home first round playoff position. At the very least, fans in the Finger Lakes area should be entertained.
Up in Potsdam, they host Cortland on Friday with just one point separating the teams.
"We know they are a very good team," Saul said. "Even more improved than last year when they came into our place and tied us, 5-5. They are a better team than their record indicates."
Whatever happens elsewhere, everyone will have their eyes on Friday's Oswego at Plattsburgh game in the biggest SUNYAC rivalry. This game will help decide first place down the line as the Lakers trail the Cardinals by two points. Not that these teams need anything more for motivation when they play each other.
"No doubt about it, Oswego has the most talented group of forwards in the country," Emery said. "We have to play good disciplined defense to beat them. That will be the difference because there is going to be plenty of offense in this game."
Which translates to plenty of excitement in an already sold out Stafford Ice Arena.
On The Periphery
My favorite college sport besides hockey is football. I don't care about the controversy over whether there should be a true national champion in Division I and the whole BCS mess. It's hard to top watching a great college football game, especially those games involving upstart programs, big upsets, major rivalries, or two teams battling with everything on the line. And I always love the Rose Bowl.
As a USC fan (my father started his Masters degree there), I have certainly enjoyed many great moments over the years following the Trojans. However, it's not always about big time programs and the skill level thereof.
One of my all time favorite games which I try never to miss is the Army-Navy classic. Though this game has fallen out of favor with many so-called college football fans because these programs are no longer national powers, you will be hard pressed to find more emotion and pageantry. There's still plenty of skill, and in some ways knowing none of these players will be competing in the NFL and the seniors will be heading off playing for the most important team of all — the military — makes the game more interesting. Not less.
You know what I will be doing at noon this Saturday.