For many teams the first three weeks must seem like a blur. After all, the majority of schools' first part of the season is complete before semester break even ends. With the late start to the season for these leagues most teams have crammed in two weekends of conference play along with a Thanksgiving tournament or challenging non-conference games in order to get their teams some game experience following three weeks of practice.
There are some remaining non-conference games this week as well some intriguing travel partner match-ups that may have significance in the standings come the end of February. But for now, most of the coaches are looking to fine tune the pieces they have together on the ice and position themselves for the second half starting after the semester break.
Already in the young season there have been some surprises on both the positive and negative fronts. Some teams have not quite had the success on the ice anticipated and yet others have been very pleasant surprises — pleasing in a way that the coaches would like to fly under the radar a little longer. Here's a look at two of the early season teams that head into the break with a lot of positive experience and success to build on in the second half.
Hamilton Hustle Paying Dividends
For the past two seasons the Hamilton Continentals have missed the league playoffs and struggled mightily to post wins. The Continentals, under first year head coach Norm Bazin, are off to a 3-1-1 start early in December with two non-league contests remaining against Cortland and Morrisville this weekend.
Just to put that in perspective: the three league wins by the first week in December are just one short of last season's total and their third win last season didn't come until February 2. Add in an upset of perennial ECAC East power Norwich last weekend and things are looking up for Bazin's squad. So what's the difference?
"Our overall team effort is leading to our success," noted Bazin. "We are skating a lot of younger guys who are getting a baptism under fire and we are still learning what it's like to play in certain situations."
One of the early season notables is junior forward Chris Lorenc who leads the team with seven goals and four assists in the team's first five games. Included in those totals are three power-play goals, one shorthanded goal, and two game-winning goals.
"Chris has been very opportunistic," stated Bazin. "He sees the ice in lot of different situations and has made the most of his chances to produce points and some key goals early on. We'll be looking for Chris to continue to play at a high level and hope that some of the other players add more to overall play of the team.
"Everyone is working really hard with great energy — the work ethic has been there from the first day. Still we have had some lapses and really need to have a full 60 minute effort if we are going to be successful in the second half of the season."
The exception to the 60 minute effort question was the upset of nationally ranked Norwich at home last weekend. The Continentals outshot the Cadets 27-22 for the game and held Norwich scoreless on the power play on seven attempts on their way to a 4-1 win.
"It was a great atmosphere," noted an obviously pleased Bazin. "In that third period the energy from the crowd really carried us — that was a big help in a game like that."
Two keys for Hamilton's success this season have been special teams play and goaltending. This year's power play unit is producing at almost a 24% clip and the penalty killing unit has been successful nearly 90% of the time.
"The power play really has not been as smooth in transition as I would like to see and so far keeping it simple has worked for us," observed Bazin. "We are looking to get more people involved in producing not only on the power play but also in 5-on-5 situations. We don't want to be reliant on scoring too many of our goals on the power play but you take them however they come right now."
"Our PK unit has really changed up almost every game based on the opposition," he continued. "We do some things a little differently each night but still stay focused on covering shooting lanes and blocking shots in order to be successful."
One of the additional defensive keys and success of the penalty kill has been the play of sophomore goaltender Scott Heffernan. Through four starts Heffernan has a 3-0-1 record with a 2.69 goals against average and .905 save percentage.
"Scott has played well for us to open the season," commented Bazin. "Goaltending was one of the question marks coming in and I think we are going to be OK with the guys we have playing in there. They are working hard and our early success has been a team effort."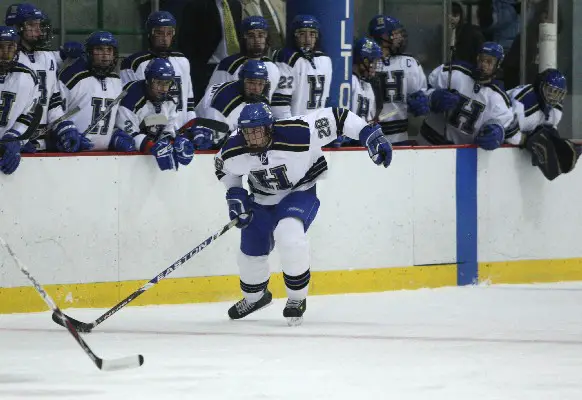 With two remaining contests before the break, Bazin hopes his team will continue to exhibit the effort seen in the first three weeks. A couple of successful results would match their total season win total from last season before the break and set-up Hamilton with a lot of confidence for the second half of the season.
"The second half is going to be really interesting," stated Bazin. "We have 11 games in January, which is almost half our season and eight of eleven (including the first six) on the road against some very good teams. That is a lot of energy to expend for the guys so we will have to be both mentally and physically ready for the challenge."
If Hamilton faces the second half challenges like they have opened the season, this team has a chance to find itself playing for a playoff spot come February. No doubt the effort will be there and if the improvement in coach Bazin's system keeps on pace, so to will the results.
Thoroughbreds Sprinting Out of the Gate
Another team that was been a pleasant early season surprise is the Skidmore Thoroughbreds, who are riding a four game win streak and a 4-2 record into the semester break.
Following an 0-2 weekend to open the season at St. Anselm's and New England College, coach Neil Sinclair's team has enjoyed the benefits of their home rink in posting four straight wins including winning the Skidmore Invitational tournament over the Thanksgiving weekend. They followed that up with two precedent setting wins over Colby (2-1) and Bowdoin (6-4) — two schools Skidmore has never beaten.
"It was a good stepping stone to win our own tournament," stated Sinclair. "The kids are having fun and are playing with a lot of energy and passion right now. It would be nice to stay under the radar screen while we look to continue to improve. The wins last weekend were another stepping stone and we need to keep focusing on getting better. We have had some solid goaltending, strong team play and good chemistry.
"As much as we are and want to be an offensive team, we have played good team defense. With everything our team went through last year, the kids learned about good team defense and so far this year the teammates have been there to support the goaltenders and have been good working together to solve problems."
Just how offensive are the Thoroughbreds looking to be? If you are playing them, you might want to make sure you are ready to go from the first drop of the puck. Skidmore is outshooting their opponents by a 2-1 margin in the first period and have a plus two goal differential in the first and third periods.
For the season, their team is out shooting their opponents by almost 70 shots. While being offensive is their style, it's the back end that has been solid early, surrendering just one goal in three of their last four wins.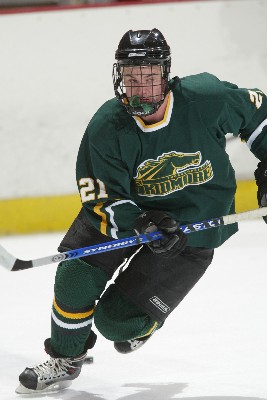 Leading the way defensively for the Thoroughbreds has been a mix of young and old in the return of senior Phil McDavitt and the additions of freshmen Alex Essaris (one goal, five assists, six points) and Nick Dupuis (0-5-5). McDavitt, who missed all but the opening two games last season, has leveraged his time on the bench in a teaching capacity last season to be a true coach on the ice for coach Sinclair's team.
"Phil's return means a lot to this team," stated Sinclair. "I am not surprised at the key contributions made by Alex and Nick so far. It is good to see and it takes some pressure off of Phil back there."
Last season, Skidmore struggled through the year with goaltending challenges. This year two freshmen have split the first six games and have the confidence of their teammates. Andrew Rose and Colin Bessey both have identical 2-1-0 records in three starts apiece but it is Bessey who posting a gaudy 1.01 goals-against-average and .957 save percentage.
So what are the keys for the second half?
Five of the first six games following the break are on the road — a place where Skidmore is still looking to play better and more consistently. Included in those first six games are match-ups with three top 10 teams including Oswego, Middlebury and Plattsburgh.
"We will see what the break brings," noted coach Sinclair. "We know we need to play better on the road. We made some big strides against New England College the second game of the season on the road and need to build on that. We aren't going to get ahead of ourselves.
"We are going to take everything one game at a time and stay focused on the task at hand. We are off to a good start and have some very positive things on which to build. The kids are having fun, it's a good group and we'll see what happens after the New Year."
The leadership is there, the defense and goaltending are improved, and the thoroughbreds love to play offensive hockey. In the ECAC East just about anything can happen so look for these Thoroughbreds to be hitting their stride down the home stretch.
Just one week before the holidays — drop the puck!