Accountability
It's no secret that Oswego has not always played up to their potential this year. A season where they are led by a senior class that was the backbone to their championship season as sophomores.
Some of their losses have been quite disappointing for seniors that should understand clutch play.
They blew a 2-1 lead against Elmira, losing 3-2. They squandered 2-0, 4-3, and 5-4 leads in a 5-5 tie against Morrisville. They never led in a 4-2 loss against Geneseo. They beat St. Norbert and then turned around and lose to St. Scholastica despite leading three different times. Most heartbreaking of all, the Lakers blew a 3-1 lead against their archrivals, losing to Plattsburgh in overtime, 4-3.
The straw that finally broke the coaches back was their performance against Hobart in the last game of 2008. Oswego was up 2-0 on goals by Matt Whitehead and Chris Laganiere before the Statesmen scored six unanswered times in the second period. A Peter Magagna power-play tally was a meaningless gesture.
"We talked about it after the Hobart game — accountability," Oswego coach Ed Gosek said. "Every single player. You earn your keep."
That message was delivered emphatically in the Pathfinder Bank Oswego Hockey Classic championship game when Gosek sat Ryan Ellis, putting Andrew Mather into the lineup for just his third game.
"It doesn't matter if you are the leading scorer [or] All-American," Gosek said.
Which is exactly what Ryan Ellis is. Coming into the tournament, Ellis was tied for the team lead in goals (eight) and points (18). And Ellis is also an All-American, named to the second team last year.
"The work ethic has to be there," Gosek said. "The discipline has to be there. And the execution. If it's not, there's five guys out of the lineup every night that want an opportunity to get in there that work hard in practice, that are good hockey players, too. Healthy competition is good. The days of resting on your laurels are gone."
The senior class has at times the past two years appeared to be resting on their laurels from their sophomore campaign. Gosek sent a strong message this past weekend he will no longer tolerate that sort of attitude. And Mather helped deliver that message by scoring twice against Augsburg including the early goal at 1:14, en route to an Oswego 5-2 championship win.
"Our hardest part is finding a way to get him into the lineup," Gosek said. "We knew when we recruited him he's a quality player. He's only going to get better. He's a great kid. He's not a kid who complained once. I'm happy for him he got a couple. That will give us a little more depth and adds some guys who can step in."
Another issue with Oswego has been their goaltending situation. Senior Chris Hyk has been given an opportunity to play regularly for the first time, but has not excelled to the fullest extent. He was in net for all those disappointing performances mentioned above.
Paul Beckwith is a freshman who was going to be given a chance, but an injury precluded those plans. For the second semester, Gosek brought in a pair of transfers to try and rectify this issue.
Kyle Gunn-Taylor, originally from Buffalo State, is now on the Oswego team. Gunn-Taylor played in 18 games for the Bengals during his sophomore year, but was no longer included in their plans this year. Thus, he decided to look elsewhere. Though he was suited up for the Oswego tournament, he did not see any playing time.
The goalie who did see most of the playing time was transfer Tim Potter from Clarkson. He originally had planned to attend Oswego, but decided on Clarkson instead. When he didn't see much playing time with the Golden Knights, he inquired about the possibility of wearing a Lakers' uniform after all.
Potter started the game against Skidmore, getting off to a shaky start. He also had to leave the game in the third period because of cramps.
"We really weren't playing that poorly," Gosek said. "Our D steps up, hits the kid, our forward losses the guy and he comes in and rips one off the post. The second one, another breakdown and on a deflection it goes in. I really can't fault him [Potter]."
Potter got the start again against Augsburg and responded with a strong performance for a full 60 minutes.
"He was better," Gosek said after the game. "I think last night the combination of his first game, nervousness, the cramping up, let's face it, it wasn't a great start. I wasn't disappointed he let the goals in, as much as he didn't seem comfortable. He didn't track the puck well. He was scrambling to hold onto it. Tonight I thought he followed the puck with his body, moved well in the net, did a much better job. That's promising. We're pleased."
With Potter and Gunn-Taylor added to the goaltending mix of Hyk and a new attitude adjustment, Oswego may be poised for a very strong second half. A second half that could come down to their penultimate game against Plattsburgh.
"Our focus is Hamilton here on Tuesday," Gosek said after the tournament.
The focus worked as they defeated the Continentals, 2-1, on power-play goals by Kyle McCutcheon and Mark Lozzi after Hamilton scored first. Tim Potter got the start again and made 25 saves. And once again, Mather played in place of Ellis. It's Oswego's third straight victory in 2009.
"[Now] the SUNYAC schedule starts," Gosek said. "The depth of our league, as you can see from the first semester, is great for our league. It's great for New York state hockey. Every team has arrived now. Every team is a big game. They are all important. We are fighting for our lives just like everybody else. Again, we want to try to peak at the right time. We want to continue to improve. We take nothing for granted. We respect all our opponents in our league. You have to come ready to play."
Oswego now has a two and a half week break before resuming play with all league games the rest of the way. They will have to be ready to play after their rest with a new attitude and new goaltending.
Oswego Tournament Revisited
In its short three year history, the Pathfinder Bank Oswego Hockey Classic has become, along with the Cardinal Classic, one of the two best tournaments regularly hosted by a SUNYAC school.
I particularly like the goal of the tournament to bring in a western team, a New York team, and a New England team which they were able to do this year. They will do so again next year when Milwaukee School of Engineering, Elmira (for their second appearance), and Connecticut College take part. The tournament will again be held right after New Year's on January 2-3, 2010, which will be a Saturday-Sunday schedule. The year after that, the tournament will move back to December during the holiday week.
Here are some totally useless stats and facts from the tournament that us fans always enjoy:
In the semifinal round, both losing teams initially took a 2-0 lead. In fact, in three of the four games, the team that scored first lost. The championship game was the exception.
This could have been renamed the Andrew Tournament. On the second day, three of the four starting goaltenders were named Andrew: Andrew Ross (Skidmore), Andrew Peabody (Babson), and Andrew Kent (Augsburg). Tim Potter bucked the trend by being the goalie named to the All-Tournament team.
The winner of this tournament in the first two years went on to win the national championship: Oswego in 2007 and St. Norbert in 2008.
So far, the western teams are 4-2 with one championship, the New England teams are 1-7, and the visiting New York teams are 2-2. The host is 5-1 with two championships.
The western team has always won at least one game, making their long trips at least partially worthwhile.
SUNYAC Short Shots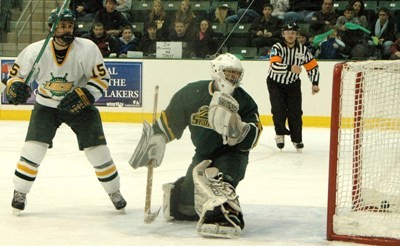 Morrisville's Dave Schultz scored twice in 2:10 in the third period to give the Mustangs a 4-2 lead en route to a 4-3 upset over Hamilton … Garren Reisweber got a hat trick in Oswego's 8-3 win over Skidmore … Reisweber added another one against Augsburg and was named the tournament MVP … Joey Wilson scored two times and Plattsburgh scored twice within 28 seconds midway through the third period to put the game away in their 5-1 win over Wesleyan … Bryan Hince made 19 saves against Castleton to lead Plattsburgh to winning their own tournament, 3-0, and was named the tournament MVP … After letting up the first goal, Plattsburgh scored three straight times (Dylan Clarke, Phil Farrow, and Tom Breslin) for a 3-1 win over Norwich.
Game of the Week
As non-conference play continues, two games stand out for this week. On Saturday, Geneseo travels to Utica and the next day Potsdam hosts Elmira.
The Utica game gives the Ice Knights — tied for second place with Oswego in the SUNYAC and ranked No. 14 in the nation — an opportunity to gauge themselves against the always tough ECAC West.
As Geneseo coach Chris Schultz said in the last column:
"I think it's early to determine how good we are. We have a lot to prove against the ECAC West teams in January when we play Utica, Elmira, and Hobart."
The Utica game is step one.
As for Potsdam, once again the Elmira connection comes into play. Before, when Glenn Thomaris was coaching at Potsdam, he was the longtime former coach at Elmira. Now, it's Aaron Saul, who played for Elmira, went to be the assistant coach at Potsdam, returned to Elmira in the same role, before taking the head job up north. For the second year in a row, he'll face his alma mater, but this time away from the Domes.
However, this year there is probably more practicality than emotion involved with this game. Potsdam needs to start getting things rolling in the right direction with just one win in their last eight games. The Bears have two tough games against Neumann and Elmira, but what better way for Saul to pull out a big win then against his former team?
On The Periphery
I got a kick watching the last Sunday of the regular season play out in the National Football League, seeing New England not make the playoffs. No, I didn't enjoy this because I'm a Jets fan looking for something to smile about after another very predictable colossal collapse. Okay, maybe a little bit. . . .
What caught my attention was the fact that an 11-5 team — 11 wins — was not going to make the playoffs, while 8-8 San Diego was heading to the postseason.
If this sort of thing had happened in a college sport, mainly Division III hockey, the message boards would have melted down. Instead, there was barely a mention. Sure, the sports experts talked about the oddity of an 11-5 team not making the playoffs, indicating the last time that happened. And, I suspect there were some Patriots' fan boards and call-in radio shows that were dominated by this. But, there was no hue and cry over the injustice of it. Head coach Bill Belichick didn't pop a vein. No screams to change the system. No hollering how some teams did not deserve to be in the playoffs while others did.
In some sense, this may be due to the fact that all the rules are clearly laid out, every division is on equal footing, and there is no ranking system with human intervention to decide the playoff teams. But still, you had a somewhat similar system. You had teams that got automatic berths (divisional champions) in some cases coming from divisions that many regarded as very weak (can you say the NFC West?).
Then, you had your at-large bids, the wildcard teams, playing a schedule that may not at all be similar to schedules other teams in contention played. So, if you came from a very tough division (say the NFC East), you may end up beating each other up so much that it's easier for a team from a weaker division to accumulate a better record and get the wildcard.
Yet, even with this lack of fairness, nobody made a big deal out of New England not getting in with an 11-5 record. Could it be that the real reason so many scream at the NCAA is because they are able to? In other words, because the system cannot be absolutely clear cut, whether fair or not (like the NFL), it leaves itself open to complaints simply due to the fact humans have to play a role?
It certainly has me wondering.