Jim: Well, Scott, another weekend in the books and lots of movement at the top of the polls and, in particular, the PairWise. I'll start by talking about Hockey East. Four teams dominated last weekend — Boston University swept New Hampshire, Boston College swept Maine, Northeastern swept Providence and Vermont took three of four points from Massachusetts. The result was BU cementing itself in the number-one spot in the PairWise and number two in our poll. Additionally, Vermont, Northeastern and BC all moved up the USCHO.com/CBS College Sports poll. But most importantly, Hockey East currently owns the top of the PairWise. BU, as I mentioned, is number-one, while Northeastern and Vermont are fourth and sixth after tiebreakers, respectively. I've said it before and I'll say it again. I love the Eastern dominance!
Scott: Jim, it's definitely more fuel on the fire. Of course, in a technical sense every game between teams from the same conference balances out in the PairWise — BU beating UNH drove the Terriers up and the Wildcats down, and so on. But what people notice, and what matters to the NCAA selection process, is the performance of top teams. That means that from a prestige standpoint, Hockey East only strengthened its case last weekend with five teams currently slated into the NCAA tournament. The flip side, naturally, is that the rest of the league now has a long way to go, including Maine, where a once-promising season has lost steam. Meanwhile, muddled results in the WCHA continue to make for a murky situation. Five of the seven teams between No. 14 and No. 20 in the PWR are from the WCHA, and I continue to believe that two of those will end up in the NCAAs along with Minnesota and Denver — but which two might be anyone's guess at this point.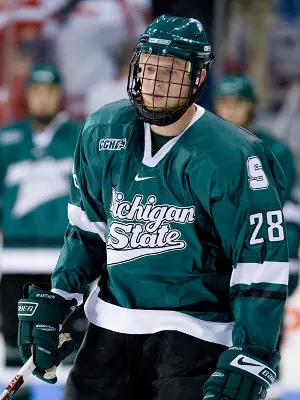 Jim: I agree and am in no position to make a guess. While we're talking about top teams, one thing to note is the upcoming Beanpot, in which poll No. 2 Boston University and No. 3 Northeastern both have the possibility to advance to the title game with wins next Monday night. Now I'm getting way too far ahead of myself here, but … Notre Dame has a major test this weekend with Michigan. Should the Irish struggle to hold serve, there's a chance that they could slip in the poll (assuming both BU and NU keep their winning ways going). I know there are a lot of things that have to happen (this said by a guy who, the day the NCAA tournament brackets were released last year, received heavy laughter when I noted that BC and Notre Dame — two Catholic schools — could play in the title game) but we could have a Beanpot final between BU and Northeastern where one team is number-one in the country and the other is number-two. Crack Beanpot historian Bernie Corbett told me the other day that he believes this happened once before, when Harvard and BU were ranked No. 1 and No. 2 and met in the 1975 Beanpot final. Would make for a heck of a story line, no?
Scott: It would indeed. In fact, I can practically hear sportswriters in the Northeast scribbling ledes for columns along that line as we speak. Moving on to the breaking-news department, it's been a rough week for law and order around the sport. Multiple players and coaches got ejected from games and/or suspended due to on-ice actions, with the biggest buzz centering around Michigan State (yes, my alma mater, for those readers who have forgotten). The Spartans made the news for the wrong reasons after Andrew Conboy and Corey Tropp went after Michigan's Steve Kampfer last weekend late in Saturday's game. With Kampfer the victim of an off-ice assault earlier in the season, the impact was magnified that much more, and MSU head coach Rick Comley responded swiftly and decisively by suspending both Conboy and Tropp for the remainder of the regular season. Conboy has now left school as a result, leaving the Spartans even thinner in the midst of a tough season — but it was a strong and probably necessary statement by Comley that accountability must be maintained. That wasn't all, of course — Denver head coach George Gwozdecky got tossed during a game against North Dakota last weekend and was suspended by the school for one game as a result, and Boston College's Nick Petrecki was also ejected after tempers flared in Sunday's game against Maine. What do you make of all this?
Jim: Not sure what to make here … is this a case of "Boys Gone Wild"? (I know, bad pop culture reference!) The Kampfer incident was awful. I just saw a decent video of it today and YouTube and was left with my jaw on the floor. That said, I truly applaud Rick Comley and the Michigan State administration for their swift and strong punishment. I'm doubtful that Boston College will take the same route with Petrecki. For one, his incident wasn't as bad as he helmet-to-helmet headbutted the Maine player, a move that really doesn't scream of sportsmanship but also one that likely wouldn't threaten a player's well-being. I still think coach Jerry York should consider suspending Petrecki beyond the mandatory single game. At this point, Petrecki has been thrown out of two out of his last three games, though one was for receiving a hit-from-behind major. Still, that penalty cost the Eagles a game against Mass.-Lowell. This is a case where if a coach doesn't rein in his player now, he might be in a situation like Comley at a later point. The last point you made was about Gwozdecky. This one I have no problem with. Things get heated between coaches and officials. Gwozdecky, one of the gentlemen of college hockey, likely had a gripe. He took it too far, no doubt. But one thing I questioned was the referee relaying the message through Denver's captain in not telling the coach of his ejection. This led to Gwozdecky running across the ice in an attempt to discuss this with the referee that was intercepted by the linesman. This is what people will make a big deal about — a coach on the ice. But a single-game suspension is certainly fine to punish this crime.
Scott: Agreed on Gwozdecky, who's not known for outbursts of that sort. It's almost understandable what happened there, though there's a bright line when it comes to who gets to be on the ice, and when. Gwozdecky being down there isn't really a big deal in the grand scheme of things, but every little crack in the wall that's supposed to separate the players and officials from everyone else in the building generates the possibility of bigger problems down the road if nutjobs get the wrong idea. So the suspension was the correct call, not so much for Gwozdecky himself as for anyone else who starts to think about crossing the Rubicon, so to speak. Switching directions again, we come to a news piece that's of great interest to everyone, but especially for you given your ties within the game. I speak, of course, of the news that Atlantic Hockey is expected to admit Niagara and Robert Morris as members for the 2010-11 season. Big, big news — your turn first.
Jim: Well, as I wrote in my blog, this is a major positive step and the AHA needs to be commended. But unfortunately we're only three-quarters of the way there. With Niagara and Robert Morris now having guaranteed homes and Bemidji State rumored to be a strong candidate for the WCHA, that leaves Alabama-Huntsville homeless. This is a school that isn't a perfect geographic fit for any league, but I think UAH might be best suited for the CCHA. If that happened, the CCHA would need to shift its membership to either find a second team to add or, in a more likely scenario, shift a current member to the WCHA. Nebraska-Omaha might be a good fit. It aligns better geographically with the WCHA than the CCHA and it has a large arena similar to those in the WCHA. Other options would included shifting the two Alaska schools to one conference or moving Northern Michigan back to the WCHA, where it resided until 1997. What do you think is the best option here, Scott?
Scott: If we were redrawing the college hockey map from scratch, I'd make sure the two Alaska programs were together in one conference, put UNO in the WCHA alongside Bemidji State and then align NMU and MTU in the same league as well. Of course, all of that isn't going to happen. No one seems to be talking about moving either Alaska program — since the geographic fit isn't there, there's no real motivation. Nebraska-Omaha is reportedly not interested in WCHA membership, though I think they'd be a great fit for the league. That leaves Northern Michigan, which has historical and rivalry ties to the WCHA. This one could actually happen, as it's been reported that NMU's administration is at least investigating the possibility. If so, that leaves room in the CCHA for Alabama-Huntsville, a strong program with a lot of tradition, and finishes the cleanup after College Hockey America's unfortunate demise. No one in the CCHA or WCHA can be blamed for looking after their own interests, but I'm crossing my fingers that everyone involved peers into their crystal balls and sees the value in giving every single current Division I team a home. We've lost enough programs already the last few years, and even though UAH officials have suggested that the Chargers would carry on as an independent if necessary, it's hard to see how that can work out long-term. Until next week …