Now the NCAA just has to find new homes for Bemidji State and Alabama-Huntsville come 2010.
With reports confirming that Atlantic Hockey voted this week to bring Niagara and Robert Morris aboard in two years when the CHA officially crumbles, and NU and RMU both accepting the invitations, the onus is now on the WCHA and CCHA to make room for BSU and UAH, respectively.
And just today, it appears the wheels are in motion for the Chargers as a story in the Huntsville Times states that the school will be applying to the CCHA in the near future.
"We have the official application letter and fee ready to be sent to the CCHA," Alabama-Huntsville athletic director Jim Harris said to the Times. "Things are starting to move now. I feel good. Good things are going to happen."
CCHA commissioner Tom Anastos was also quoted in the article, saying the CCHA has "been answering some questions for them as they navigate through the process and begin to determine their level of interest."
Still, Anastos will not commit to say that the CCHA would allow UAH to be a member.
"We have discussed expansion in the past," he said. "Not so much because we wanted to expand, as much as to stay prepared for the event the CHA disbanded."
The article also said UAH is looking into applying to the WCHA, but economics may prevent that from ever getting off the ground.
Back NU and RMU's way, their admittance into the AHA obviously has its pros and cons with the top con being that each school's 18 scholarships will be reduced to just 12.
The biggest pro, naturally, is that the two schools can go on playing in a stable league against teams they have played well against over the years and in many cases, defeated in recent years.
"Our goal when deciding on the future of our hockey program was to find a conference with other institutions like us, both athletically and academically," Niagara director of athletics and CHA interim commissioner Ed McLaughlin said. "The other main component was to ensure that our student-athletes would be able to compete for an NCAA tournament berth every year. I firmly believe that we have accomplished that goal."
"We have worked hard at RMU to develop our hockey program to a high level in only five years," said Robert Morris director of athletics Dr. Craig Coleman. "And we believe that our entry into Atlantic Hockey is the next big step in that development."
RIT and Air Force were the last to join the AHA back in 2006 with Air Force bolting from the CHA.
"The structure of the league will not change," said David Rourke, director of media relations for the AHA, in the Niagara Gazette. "The directors voted them in, but nothing else will change. There wasn't any handshake agreement. They had to formally apply. That was brought forth and we had to see if we wanted to continue. We looked at both schools and what they offer to Atlantic Hockey."
Bemidji State will seek membership in the WCHA, as stated ad nauseam last week, for 2010 and most signs point to them being accepted with another school that will switch leagues.
The CHA, now in its 10th season as a Division I league, will finish out this season and then bid adieu following next year's schedule.
"There's next year, first and foremost; we're committed to playing next year," McLaughlin said to the Gazette. "From the commissioner's side of things, I really want to try to spend a lot of effort finding a home for other two schools (Bemidji State and Alabama-Huntsville)."
Niagara And Bemidji State Split
Niagara and Bemidji State did battle in Bemidji last weekend and each team came away with a win as the two teams continue to battle for the top spot in the CHA.
The Purple Eagles took a 4-3 victory Friday night, while BSU rebounded for a 3-1 win the next night.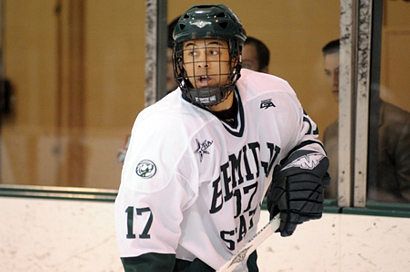 David Ross broke a 3-3 tie in Friday's game with a goal midway through the third period.
"We were great on defense tonight," NU head coach Dave Burkholder said. "We were very opportunistic on our chances tonight. We kept it simple and crashed the net."
Armando Scarlato, Paul Zanette and Egor Mironov scored the other goals for Niagara.
Matt Francis, Tyler Scofield and Ben Kinne tallied BSU's goals and Matt Dalton made 26 saves in goal.
Juliano Pagliero finished with 34 saves for the Purple Eagles.
Saturday night, Francis, Matt Read and captain Travis Winter made Dalton's 19 saves stand up to gain the series split.
The Purps are now two points behind Bemidji, but have two games in hand.
"(Saturday) night was a tough game in that we couldn't get any offense started," said Burkholder. "We couldn't get anything going on our transition game and just couldn't muster any offense."
Mironov was the only played to beat Dalton and Pagliero kicked out 25 shots.
"The old hamburger will taste like steak tonight," said Bemidji State head coach Tom Serratore in the Bemidji Pioneer. "We felt this was a must-win game and the guys responded. Four times this year we've had Saturday games that were really big for many reasons and the guys have responded in all of them. That's great and says a lot about our team."
Colonials Go 1-2 Over The Weekend
Playing three games in four nights is no easy chore, but Robert Morris did just that last weekend in traveling to Quinnipiac and Princeton.
Friday night, the Colonials finally got the start they have been looking for in breaking their 19-game streak of allowing the first goal of the game, but fell to Quinnipiac, 5-4.
Freshman Brooks Ostergard made his first collegiate start in goal and finished with 34 saves.
Nathan Longpre, Jake Obermeyer, Chris Kushneriuk and Denny Urban were RMU's goalscorers.
The next evening, the Colonials posted an 8-5 upset of the Bobcats thanks to a five-point game from Chris Margott on a hat trick plus two helpers.
Longpre, Jason Towsley, Cody Crichton, Kushneriuk and Trevor Lewis added the rest of the offense for Robert Morris, who went 4-for-5 on the power play.
Then in a rare Monday evening game, RMU fell to No. 9 Princeton, 2-1, on the road.
Margott scored the lone goal and Jim Patterson stopped 44 saves, a career-best and team-high, in the loss.
"I was pleased with our effort level, especially with three games in four days," Colonials head coach Derek Schooley said. "All three of our goalies were very good, as was our offense, but we need to be better defensively. To allow 12 goals in three games is not good defensive play, but our offense picked up the defense. Besides our goalies, we had excellent play from our key guys (Margott, Longpre, Kushneriuk, Lewis and Urban)."
This weekend, it's back to CHA play with Bemidji State coming to town.
"They are a well-coached team with high-end offensive talent and good goaltending depth," noted Schooley. "BSU has always been tough to play against and we will get to know them very well with six of our last 12 against them. With a short week of rest, it should be a big challenge against the first-place Beavers."
Chargers Alum Ross Owns AHL All-Star Game
All-Star games are usually high-scoring exhibition games designed to give fans the opportunity to see top players from across a given league.
Monday night in the AHL contest, former UAH star Jared Ross, now a member of the Philadelphia Phantoms, was named the game's MVP after scoring once and tacking on six assists as PlanetUSA beat Canada, 14-11.
"I was just happy to be here," said Ross, a native of Huntsville and the AHL's only player from Alabama, to the Canadian Press. "I wasn't even thinking about the outcome of the game. I was just glad to be around these guys. It was a lot of fun to play with them."
BSU Signs Lease With City For New Rink
On Monday, Bemidji State president Dr. Jon E. Quistgaard and Bemidji mayor Richard Lehmann signed a lease agreement between the university and the city of Bemidji to secure Bemidji State's status as the anchor tenant of the Bemidji Regional Events Center.
The lease signing, held prior to a meeting of the Bemidji City Council, was the culmination of a relatively short negotiation process between BSU and the city.
"I want to thank the people who have persisted and invested long hours to bring us to where we are today," Quistgaard said. "This has been an expansive process, involving not only the city and the university, but also the Minnesota State Colleges and Universities system, the Attorney General's office and the Department of Finance. The process has been spirited and we have come to a result that, I believe, will benefit both the city and Bemidji State University.
"The event center demonstrates what is possible when we work together. We have achieved far more than either entity could have accomplished on its own."
The terms of the 20-year lease agreement, which begins Jan. 11, 2011, and runs through Jan. 10, 2031, will make approximately 170,000 square feet of the Bemidji Regional Events Center available to the university as the home for both the men's and women's hockey programs.
"This lease not only represents a wonderful partnership, but also provides an opportunity for both the city and Bemidji State University to attract the best college hockey programs in the country to a state-of-the-art facility," Bemidji State director of athletics Dr. Rick Goeb said. "This lease is more than a simple agreement between two parties. It is a statement to the other hockey programs in the country that Bemidji State University and the Bemidji community are committed to Division I hockey."
The BREC will feature a 4,000-seat arena around an NCAA-regulation 200-foor-by-85-foot ice sheet and will also have 25 luxury suites, 250 club-level seats, 2,000 square feet of office space, a 2,000-square-foot weight room and 500 square feet on the concourse level to serve as a retail outlet for Bemidji State merchandise.
Under the terms of the lease, BSU will pay the city a minimum fee of $190,000 per year, based on the number of home games played by the BSU men's team. Utilities, repairs and maintenance will be the responsibility of the city, while the university will pay expenses related to game-day activities such as public address announcers, scorekeepers, security and retail and concessions staff.
Looks like Bemidji is doing its part to create jobs in this uncertain economy and society we live in, eh?
Niagara Adds Hannan From The EJHL
Jeff Hannan was described on his team's website at the beginning of the season as being a player who was a can't-miss prospect for college hockey.
"A key returnee from last year's team, Jeff will be counted on immediately to shoulder much of the offensive burden this season," the report read. "His smooth stick and ability to score goals and make plays in traffic will surely gain the interest of D-I scouts. As one of the few returning Monarchs, Jeff will also be counted on to lead the team emotionally as well."
This week, the New Hampshire Jr. Monarchs' forward chose Niagara as his destination this fall.
A 20-year-old native of Venetia, Penn., Hannan has an 11-10-21 line in 22 games this year with all his goals coming at even strength.