Since the departure of Air Force from College Hockey America, a wave of uncertainty had been running through the remaining programs still competing in the conference, which had been reduced to five teams.
There seemed to be enough time to allow the powers that rule the NCAA hockey landscape to assist in encouraging existing programs to come over and help re-strengthen the CHA, or to help in finding new conference homes for the programs still in existence. With last year's announcement that the Wayne State men's program would fold at the conclusion of the 2007-08 season however, the clock started to tick.
The situation was getting critical, and the rumors surrounding the now four remaining schools were getting more numerous by the day. Would they find new conferences? Could they convince other schools to join? Would they try to make a go of it as independents? Would some of them fold entirely?
Last week, with brief announcements from the Atlantic Hockey Association, Niagara University and Robert Morris University, both aforementioned programs became the first of the CHA schools to put all the fears of folding to rest. They will now move to Atlantic Hockey, becoming the 11th and 12th members of the conference now in its sixth season of play.
With a press conference held today at RMU's Island Sports Center, coach Derek Schooley and athletic director Dr. Craig Coleman made the official announcement and said the program would continue at a competitive level for years to come.
"This is an exciting time for the Robert Morris hockey program," Schooley said. "We're finally able to put an end to the questions about our program and what league we will be in.
"Atlantic Hockey was the conference we wanted to be in and we did not contact any other conferences. We are thrilled, excited and thankful to have a home in Atlantic Hockey. The conference is very competitive and it has the potential to have some very good geographical rivals."
The geographical rivals to which the coach spoke of will have a slightly familiar feel to them. Air Force and Niagara were both dance partners for RMU in the CHA, while in Robert Morris' first five seasons, they played most of the schools in the AHA at one time or another.
The geography of the conference will also lend itself to new, close rivalries with RIT, Canisius and Mercyhurst, which are all located within two-to-five hours of the greater Pittsburgh area. This will obviously make for a better travel situation for the Colonials when compared to the current distance for conference game trips to Bemidji, Minn., and Huntsville, Ala.
"To be able to have potentially 25 games at home or within four hours of our campus will increase attendance as well as having some names that people in Pittsburgh are more familiar with will be a benefit," said Schooley. "Our players will also miss fewer class days with travel being closer and our travel costs could potentially drop as well."
Another factor in the decision had to deal with Atlantic Hockey's self-imposed scholarship limit, which right now stands 11 full scholarships, but will increase to 12 starting next season. While the Colonials were in CHA, they had the capability to use as many as 18 full rides. Coleman knows the challenges that lie ahead of the program in this regard, but has confidence that the Colonials we remain as competitive as they have been, and still be a tough opponent in non-conference games.
"Obviously with fewer scholarships to offer, that will have an impact on recruiting," Coleman noted. "However, the conference is a level playing field and we have confidence that with our superb coaching staff, our excellent facilities, and the commitment we have made to the program, we will compete well in Atlantic Hockey and will continue to be a tough opponent for some of the nation's best non-conference teams."
In response to the scholarship issue, Schooley added, "This is the first year we have been over the Atlantic Hockey scholarship limit. We have been planning for the reduction in scholarships, if we got admitted. We will have to work extremely hard to identify players that will keep our program competitive and we'll have to make sure we're making the correct decisions on the players we recruit."
The program could have completely gone in a different direction had Atlantic Hockey not accepted the Colonials' bid to join. It would seem that Robert Morris hockey would have attempted to carry on as an independent for a few years in the hopes that a slot in another conference would open up, but both Schooley and Coleman were very wary of such a difficult proposition.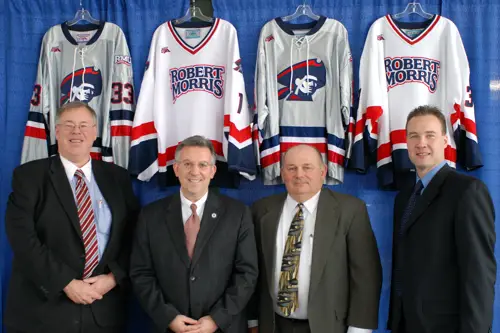 "Getting recruits to believe in an independent schedule with nothing to play for would have been very difficult without any light at the end of the tunnel," Schooley said. "It was never a very serious or practical option."
"If we had been unsuccessful in finding a conference to play in, we would have gone ahead as an independent because our commitment to our hockey program is unwavering, but that would have been extremely difficult for a number of reasons," added Coleman.
At the end of the day, with the stresses of having to wonder about the future of Robert Morris men's hockey now finally fading away, a new feeling of hope was starting to unfold. There was also an overwhelming sense of gratitude for the acceptance of the program by Atlantic Hockey as Schooley gave a closing thought.
"We have excellent support from our president, down to our athletic director," Schooley said. "Our future and the direction of our program have never wavered. We are grateful to the CHA for taking us in five years ago and we will always cherish the series we had with Bemidji State and Alabama-Huntsville. I am very hopeful with Atlantic Hockey opening their doors to us and Niagara that other leagues will allow (BSU and UAH) into their leagues in the very near future.
"We are glad to have firmed up the future of Colonials' hockey."