The Golden Eagles Are Soaring
Brockport's James Cody fired a shot from the left point that found the back of the net at 12:46 of the third period for a 4-1 lead over Geneseo. Cody immediately skated over to the far glass, jumping up against it to celebrate with the student section as the crowd roared. A packed student section. A near capacity crowd.
It's been a long, long time since a Brockport player was able to celebrate with more than a handful of fans spread out amongst the Tuttle North Ice Arena. It's been a long, long time since the Brockport campus — accustomed to success in basketball, soccer, football, softball, and especially wrestling — has had a reason to get excited about their hockey team.
"That was the most fans I've seen in warm ups in any game," Brian Dickinson, Brockport coach for 11 years, said. "The crowd usually doesn't get here till right before game time or sometime during the first period. To have it half full during the warm up was pretty neat to see. And obviously from the players' standpoint, it's easy to get excited. How many times did our kids skate over to the student section tonight when that section was full?"
How many times has Brockport had a 10-game unbeaten streak? None. How many times has Brockport been a contender for hosting a playoff game? None. How many times has Brockport finished in third place? Once back in 1987-88 when they were 17-8-1 overall.
Is there any doubt why the campus is abuzz about a hockey team that is currently in third place with a 10-game unbeaten streak? None.
"It's a buzz on campus right now," Dickinson said. "Our guys are vocal with their classmates, and they're getting a lot of support from different areas whether it's faculty, staff, or the general student body. Hopefully, we'll continue to generate big support, build a tradition not just for this year but for coming years. Obviously we've had some success; it brings people in anyways. This is a hockey area. I think they've just been waiting for us to take off."
Take off they have. It all starts with Todd Sheridan, whom some will argue is the best goalie in the SUNYAC — not that guy up in Plattsburgh. Most importantly, Sheridan has remained healthy all year for the first time in his three year collegiate career.
"He's far and away the glue that keeps us together," Dickinson said. "He's such a good quality goaltender at this level. The kids have such confidence which allows us to stay in an aggressive forecheck, allows us to pinch our D. Really gets us our young kids to play. I think the key is those three freshmen defensemen, [Andrew] Simmons, [Gregg] Amato, [Tyler] Davis, to let them play and not really worry about trying to protect them defensively because they've got skill.
"Knowing we have Todd back there to bail us out 90% of the time just makes it easier to play. The kids know how hard he works to stay healthy. Hopefully, we can keep him healthy and keep playing hard and give us a chance to compete."
In league play, Sheridan has a 2.28 goals against average (second in the league) and a .931 save percentage (first). He has lost just one game while starting in net the whole season.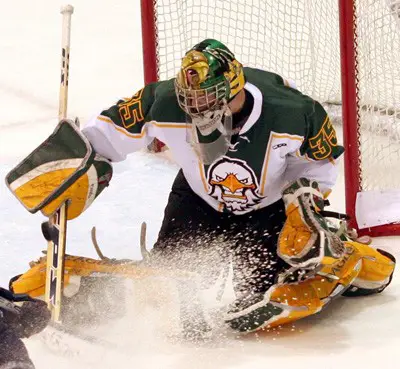 "Hopefully, the guys pick up on how intense he is," Dickinson said of his goalie's leadership qualities. "We talk to our kids especially the young guys, here's a guy that understands the importance and he's going to do everything he can to make sure he gives us a chance to win. We don't ask him to be vocal, just to be solid in net and give us a chance to win."
Speaking of leadership, it is that quality that Dickinson lists as the reason why this team has performed so well when everyone thought it was going to be a rebuilding year. A rebuilding year because the huge class recruited in to turn the program around graduated last year.
"Chemistry is everything in the game of hockey," Dickinson said. "Right now we have great chemistry. We're getting great leadership from Dave McNab; he's a vocal guy. We got Timmy Crowley and Mike Gershon who are leaders on the ice. We might have missed that last year because we had so much leadership, guys didn't want to get on each other since they have been kind of the leaders for three years of the program.
"If I can point to one difference on a daily basis, we have a true leader. That's not to take anything away from Gordon Pritchard who was a fabulous leader. But, when you have 11 other seniors, sometimes you tend to just kind of assume guys were going to get that and when a guy needs a kick in the pants you didn't necessarily get that from the players standpoint, and we got that this year."
Also lost amongst that large class was the recruiting that was performed in subsequent years. Student-athletes who are now the foundation for this year's squad.
"We've got a good mix of talent within our classes," Dickinson said. "We got lucky obviously with [Jason] Gorrie, [Ryan] Silveira transferring in. Getting a [Tom] Galiani who already played a year with Southern Maine before he went back to juniors to play for his dad last year. We got some guys who understand what this level is all about even though they are new guys. I don't think we can underscore the effect of the three young defensemen. What they meant coming in and complement Gershon and [Rick] Stanek. We've been pretty fortunate to be pretty steady in our own end. And we have a lot of depth. We're getting the results because of the competition Monday through Thursday."
Gorrie (three goals, five assists, eight points) and Silveira (4-2-6) are both from Plattsburgh and Ray Tremblay (4-7-11) came from Northland College. Except for Cody (7-7-14), it's upper classmen that lead the team scoring: Tim Crowley (6-9-15), McNab (8-6-14), Sean O'Mally (2-12-14), and Gershon (7-5-12). Besides Cody, Amato is the other freshman in double digits (2-10-12).
The offensive stats for Brockport in league play aren't spectacular. They don't have a scorer in the top 20, the team ranks seventh in total offense (3.30 goals per game), and their power play is next to last (16.7%), letting up the second most shorthanded goals (three). However, thanks to Sheridan, their defense is third (3.40 goals allowed per game) and they are second on the penalty kill (82.8%).
Before Brockport can enjoy some more celebrating in front of their own fans in two weeks, they have to face a tough road trip — Plattsburgh and Potsdam — that could bring them back down to earth. Quickly.
"We'll just have to put together the right game plan," Dickinson said. "A game where we just want to stay close. The longer it stays close hopefully they'll tighten up a little bit being the number one team in the country. It's a good chance for us to gauge where we are. We'll take our chances on Friday night. And obviously the game against Potsdam. Hopefully, our game plans are together for both of them."
"Sports are funny," Dickinson said after the Geneseo game. "Teams get on rolls. We're on a pretty good roll right now. Good things happen when you work hard. We're kind of reaping the benefits of that."
A roll that Brockport fans are recognizing. And filling the rink to enjoy.
SUNYAC Short Shots
Buffalo State played another wild back and forth 6-6 tie, this time against Cortland … Joel Sheppard got a hat trick for the Bengals, but Cortland scored twice within 41 seconds in the final four minutes to get the tie … All of Buffalo State's three ties have been 6-6 scores … Tim Potter made 20 saves for the shutout as Oswego fired 57 shots of their own in beating Fredonia, 4-0 … Fraser Smith scored twice and Potsdam went 4-8 on the power play in an 8-4 win over Morrisville.
Two second period goals by Eric Selleck allowed Oswego to hold onto a 4-3 win over Buffalo State … Cortland's Patrick Palmisano scored four consecutive goals in a 6-2 thrashing of Fredonia … Dylan Clarke scored twice as Plattsburgh needed four third period goals to put away Morrisville, 5-0, as Chris Molinaro made 15 saves for the shutout … Geneseo came back from a 2-0 deficit to beat the USA Under-18 Team, 3-2, with Jeff Pasemko making 38 saves … Plattsburgh scored the first two goals within 38 seconds en route to a 6-1 victory over Williams with Joey Wilson scoring twice and Nick Rolls getting three assists.
Game of the Week
There are certainly some very important games up north — mainly when Geneseo and Brockport head into Maxcy Hall to play Potsdam. For starters, since Brockport is one point ahead of Geneseo, who makes the most of this trip will determine who has third place when they go home.
But it's not just about them. Potsdam is one point behind Geneseo and two behind Brockport. A sweep and depending on how those teams do in Plattsburgh, it's the Bears who will be sitting in third place. More than third place is on the line for Potsdam, however, considering they are tied with Cortland and one point ahead of Buffalo State. A poor weekend could just as easily drop the Bears into a non-playoff spot. The tightness in the SUNYAC standings continue to raise the stress levels of the coaches.
Thus, picking those games up north would be worthy choices. However, I'm going to pick a game that isn't only important on the ice, but also off the ice.
Fredonia will be hosting their second annual Pink The Rink game when Buffalo State comes to town on Saturday. The hugely successful event last year, which garnered national attention, will be back raising money and awareness of breast cancer and support the American Cancer Society.
Like last year, the team will wear special pink uniforms and then auction them off after the game. In fact, you can start bidding on some of the uniforms at the link above. You can also donate towards the cause online or at the game as Fredonia attempts to meet their fund raising goal.
On the ice, this pairing has become one of the better SUNYAC rivalries the past few years. For this weekend, both teams will be playing for their playoff lives. Currently, they are both out of the postseason. A loss by Fredonia could virtually finish them off. A loss by Buffalo State, and it makes for a tough last three games. This would be a perfect time for the Bengals to break their five game winless streak to their western New York rivals. Fredonia is just looking for a win of any kind as they are 0-10-2 the past two months.
On The Periphery
My father-in-law turns 90 on Tuesday. My mother-in-law does so in June.
Every time I read about what makes people live so long, and more importantly, enjoy enriched lives in their old age, it's like reading my in-laws' checklist.
They never smoked. They drink moderately and eat fairly healthy. They exercise and/or stretch every morning and get regular physicals. They have a huge, and I mean huge, social network of family and friends, helping those when they can. They keep their minds fresh by learning new things (my father-in-law took on the Internet age with, if not ease, persistence), read regularly, and maintain hobbies. They travel, including driving themselves to New England, Long Island, and Washington D.C. They keep up with their six grandchildren. And, they don't dwell on the past (a past which saw my father-in-laws' parents die young, my mother-in-law grow up poor, and both of them lose over a year of their lives in Japanese-American internment camps during World War II).
Perhaps, most important of all, is their attitude. It is one of complete independence. My father-in-law still occasionally mows his own lawn and even raked the leaves last year. My mother-in-law still cooks meals and cleans the house. My father-in-law, as chivalrous as ever, refuses to let my wife carry his luggage ("It's too heavy"). My mother-in-law still writes out all the holiday cards.
If I am half as active at 20 years their junior, I will be ecstatic. They are true role models.