Robert Morris made it official on its end with a press conference Wednesday announcing its admittance to Atlantic Hockey two years down the road.
Gary Heeman, USCHO's arena reporter for RMU home games, talked exclusively with Robert Morris head coach Derek Schooley and athletic director Dr. Craig Coleman about the jump to the AHA and the sense it makes for the university.
At the presser, which had to be rescheduled due to the Pittsburgh Steelers' Super Bowl victory parade on Tuesday, several RMU players commented on the new conference situation.
"I'll probably have one year in the Atlantic," said sophomore forward Nathan Longpre. "I think it'll be great for the incoming freshmen to not have any fears of the (CHA) folding and I think it will be very good for this program."
"They never made me any promises, but did say we'd be in this league (CHA) for another year or two," freshman forward Trevor Lewis added. "I heard rumblings about Atlantic Hockey, but when I came here on my visit and met the guys on the team, it really didn't matter. The university took a chance to get something done and obviously, they have."
Both players made valid points. It must have been difficult to recruit a player to a league that has always been on shaky ground, but now, to be able to say that your school will be a member of an established conference like the AHA (and some pundits say it's a step down from the CHA), that resonates with kids, who can go there knowing most road trips aren't halfway across the country.
Some will say college hockey took a gamble on expanding and allowing RMU and Niagara into Atlantic Hockey. Some will say it was for the good of the game and some will say it was a sympathy move.
Whatever the reasoning, those that this move affects are seeing it as nothing but a positive. After all, what were the other options? Go independent and have about a zero chance of ever playing for a national title? Fold? Those essentially were the choices.
Atlantic Hockey was the best option for RMU, an up-and-coming school that went to the CHA finals just two years ago, and Niagara, a tradition-rich school that has been to four NCAA tournaments.
The AHA will be a better conference come 2010.
So would have the CCHA and WCHA, but that's another story for another column.
Beavers Take Both From RMU
Robert Morris couldn't ride its emotional high of getting into the AHA into any wins over the weekend, as the Colonials hosted Bemidji State and lost out on four crucial CHA points.
Matt Read recorded a goal and two assists to lead the Beavers to a 5-3 victory Friday night; then BSU scored five unanswered goals Saturday night in a 5-1 win.
.
Friday night, Matt Francis, Graham McManamin, Brad Hunt and Brandon Marino added goals for the Beavers to back Matt Dalton's 25-save outing, which included 12 stops in the third period alone.
Chris Margott potted a pair and Jason Towsley scored the other for the Colonials. All three RMU goalies — Jim Patterson, Wes Russell (who took the loss) and Brooks Ostergard — saw time in net and combined for 24 saves.
"Their power play was outstanding tonight and our penalty killing was not where it needs to be," Schooley told USCHO. "That was the difference in the game."
Saturday night, just 1:50 into the game, Marino got the boot for checking from behind, but BSU was hardly rattled and put aside an early five-on-three goal by Kyle Burton (on Marino's penalty) to tally five in a row (four with the man-advantage) and get the first series sweep over the Colonials on their home ice since Feb. 11-12, 2005.
In all, BSU had 10 players in the scoring column, while four registered multi-point efforts led by a three-point game from McManamin.
"I think we showed some resiliency tonight," said Bemidji State head coach Tom Serratore. "I really can't stress how proud I am of our guys. This weekend was a good step for us. Now, hopefully, we can carry this over to next weekend."
Hunt, McManamin, Jamie MacQueen, Shea Walters and captain Travis Winter accounted for the BSU scoring and with an assist, MacQueen also registered his first career multi-point game.
Chris Peluso and Cody Bostock each added two assists for the Beavers.
Of the Beavers' five goals, two were scored by defensemen and the blueline corps accounted for a season-high eight points.
The Bemidji State power-play unit scored four goals, marking the eighth time since the team moved to the Division I ranks that it has scored four goals or more on the power play in a single game, and the first since Mar. 10, 2007.
Russell and Ostergard combined for 32 saves, while Russell was tagged with the loss after allowing three goals in 20 minutes of play.
Dalton turned away 23 shots for his 11th win on the season.
"We did not have a great weekend," Schooley said. "We need to be better than what we were. Our starting goaltending was not up to par, nor was our penalty killing. For us to be successful, we have to be good in those situations and we have to be ready to compete every night. Give credit to Bemidji, they took it from us. They were very good and we didn't have an answer."
BSU looks to continue its hot streak with two at home this weekend with Alabama-Huntsville.
Niagara Gets Three Points Against Chargers
The Purple Eagles ventured to Alabama-Huntsville last weekend and came back to western New York with three points in the bank.
A three-goal outburst halfway through the third period propelled NU to a 4-2 victory over the Chargers on Friday night.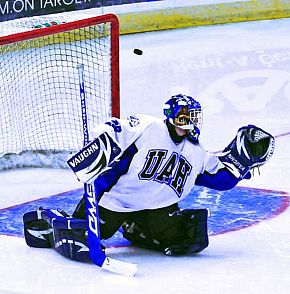 Tied at 1 halfway through the third period, the Purps responded by scoring three goals in a 72-second span from Brian Dowd, Chris Moran and David Ross.
"We played a very patient road game," Niagara head coach Dave Burkholder said. "We finally made plays in the third period when we needed it the most. Our defense as a group were absolutely warriors on the ice and (goaltender Juliano) Pagliero was a pillar in net for us."
Dowd also opened the scoring midway through the first period.
Pagliero finished with 41 saves.
Clark MacLean and Joe Federoff scored for UAH and Cameron Talbot stopped 20 shots in defeat.
Saturday afternoon, a back-and-forth affair saw Ryan Annesley score with just over four minutes to play to gain a 5-5 tie for NU.
The three points were huge, according to Burkholder, who brought out the history books after the game.
"We haven't been able to get three points in this building since 2000 with (current NU assistant coach) Greg Gardner in net," he said. "Neither team was fazed by the momentum swings in the third period."
Matt Sweazey scored twice for UAH and was vocal about his team's lack of wins.
"Sooner or later it's got to come," Sweazey said of the Chargers, now winless in their last five games (0-3-2), to the Huntsville Times. "It's frustrating because you want to win. We're definitely in the right mind frame. We're ready to keep playing and working toward the tournament."
Ted Cook, Dan Baco, captain Vince Rocco (also with three assists) and Egor Mironov scored for Niagara and added two helpers. Moran also contributed three assists.
Tom Train, Andrew Coburn and Cody Campbell added goals for the Chargers and Blake MacNicol made 33 saves.
Adam Avramenko kicked out 26 shots for NU.
"This has been a very difficult stretch since coming back from Christmas break," Burkholder said. "We have played eight of our last 10 games on the road, (but) we are 5-4-1 in that stretch."
RMU comes to town this weekend and the Colonials know NU is playing well.
"Niagara is battling for a league championship with BSU, so we have to be ready to go from the drop of the puck," said Schooley. "They have very good talent from top to bottom in all three positions. Dwyer Arena has not been kind to us over the past four games, so we need to be prepared to compete for 60 minutes each night."
Orban Chooses Bemidji State
And the CHA recruits keep coming.
This week, Olds Grizzlys' forward Brance Orban (great hockey name, by the way) verbally committed to Bemidji State.
Orban, a 20-year-old from Lethbridge, Alb., leads the Grizzlys in scoring with a 34-37-71 line through 56 games and also sits third in the Alberta Junior Hockey League scoring race.
His 34 goals include 13 on the power play, four shorthanded and seven game-winners.
The 5-foot-10, 165-pound Orban was the 2006-2007 Olds rookie of the year and playoff MVP, the '07-08 team's most sportsmanlike player and a South Division All-Star the past two seasons.