The Ohio State Buckeyes secured a fifth-place finish in the CCHA in what can only be described as a major comeback season. Their youth matured all year and sets them up to be a formidable opponent in the CCHA playoffs. I spent a night with their staff as they played host to rival Michigan in mid-February to get a closer look at why the Buckeyes have rebounded and how their coaches guide this young team through the intensity of games in the CCHA.
Rivalry games tend to bring out different emotions in a pre-game dressing room.
When one of those teams in the game is dominated by inexperienced freshmen and sophomores, and the other team is a national powerhouse, it can cause even the coolest customers to be a little nervous. Toss in the fact that it's college sports' best rivalry, Ohio State and Michigan, and you can understand why the Buckeyes were a little tense prior to their game that Friday against Michigan in Columbus.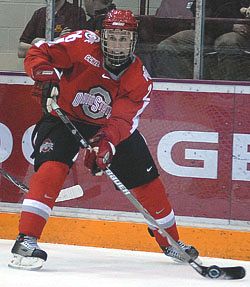 The coaches were no different than they would be any other night, or even on the day of the game. Goalie coach Jeff Salajko chatted about goalie Dustin Carlson and what he has meant to the program. Assistant coaches Steve Brent and Jason Lammers went about the morning skate with the players who did not have class that morning. The atmosphere was light, but you could see the players and hear it in their answers that they were ramped up to play Michigan but still concerned with the effort — or lack of — that they put out the week before in being swept by Michigan State.
Arriving at 4:45, I sat with Brent and Lammers as they started to discuss some of the bullet points they wanted to address in their pre-game meetings with groups of players, penalty killers, or individual players. They were looking at the video that had been well-prepared by former Buckeye captain J.B. Bittner, who is back at the school as the video coach for the Buckeyes.
Brent looked at Lammers and said, "The key thing we need to get across to them is discipline tonight in all areas." The fact that the crowd would be big and that it was a huge weekend against a storied CCHA rival was an issue.
Retorted Lammers, "This place will be rocking tonight. They need to keep control."
The coaches' room is a unique place two hours before game time. At times it might look like the local tavern where the guys are sitting around talking hockey and telling stories. At times it's like command central because everything that can be controlled that evening is being run through that room.
At Ohio State, the big flat-screen TV is connected to Bittner's computer and a the screen is made of a material that the coaches can write on it with a dry-erase marker so that when they show video on it they can circle players, draw lines to spots they want players to be aware of, and so forth. Stalls for all the coaches are also in there with their equipment for practice, and the room is something of a safe haven for the braintrust of Ohio State hockey. In the corner overlooking the entire room is head coach John Markell's stall.
Markell doesn't spend much time in that room between 5 and 6:15 on game nights (assuming it's a 7:05 p.m. start). He leaves his assistants in charge of the dressing room, the meetings, and the atmosphere. But his stamp is all over the game prep as words like "passion," "tenacity," "control," and "discipline" are included in almost every meeting. If you saw Markell play as a collegian or a pro, you'd understand how those words flow from his mouth as a coach because they described him as a player.
Some of the topics on the coaches' board include awareness of Michigan's faceoff plays, making sure the OSU D gets the puck up ice quickly and doesn't waste time with it on turnovers, establishing a good forecheck to rattle the Michigan defense, and on the power play an emphasis on not passing up shots for a perfect setup. Shoot when you have a lane to the net.
From a defensive perspective, the staff had a few concerns about a couple of players who seemed to like taking loose pucks in the D-zone back towards their goal line as opposed to looking to get it out quick. Every team has one or two of those players and it can be maddening to watch a player win a 50/50 (that's a fight for a puck where possession isn't established) battle in his own zone and not get the puck right out.
That was a point of emphasis, as well as eliminating blind passes and freezing loose pucks on walls in their own zone to avoid turnovers. Lastly, the focus was on trying to set the pace against a Michigan team that might just play the most up-tempo game in college hockey.
Brent was sitting in his chair as Salajko walked in to the room in a power blue shirt. Brent exclaimed, "How can you wear a blue shirt on a night we are playing Michigan? That's a fine." Salajko replied it was a new shirt that had to get worn. Brent laughed; he wore a shirt that was a light purple, or as he called it, "a soothing color to keep my guys calm." It furthered the point that the OSU staff was a little worried about the emotional control their players would battle all night.
There was a good reason for that. Brent pointed out to me that in looking at the line charts, the players by class were almost identical. There were a lot of sophomores and freshmen in the lineup on both sides. Markell looked at that when I walked upstairs to his main office at 6:30 and asked him about it. His point was interesting.
"Look at their lineup and ours. Their sophomores are guys that have played in huge games. They all played in the Frozen Four. They all played on a great team last season and gained great experience. They were led by great seniors. For this freshman and sophomore class, this is the biggest game they have played in yet. It's a home game in a packed building against Michigan and remember, the sophomores didn't play Michigan here last season — we played them there, but not here."
Markell continued his assessment almost as if looking towards the future — the possibilities those two classes bring with the experience they are gaining this season.
"Our three seniors are a little different. They all play key roles and are important to us, but they weren't prime-time players leading to their senior year so it's not like they are a Kevin Porter or an Eric Condra, who have been through the big spots and can calm a team down from their experience."
At 6:05 p.m. the penalty-killing forwards came into the coaches' room led by senior Corey Elkins. Being the top faceoff guy on the team, Elkins followed up the meeting by asking a couple of good questions on reactions to won or lost draws. The PK meeting focused on the Michigan power play and the left-wing setup they use with Louie Caporusso and Matt Rust. They had concerns about the big man in the slot, a left shot who could get sticks on passes from below the goal line or move out of the slot to take the coverage with him allowing Chris Summers to sneak off the right point and get chances back-door.
After showing the setup they wanted to watch for, Brent went to work in discussing how the rotation works to make sure the slot is covered at all times and that Summers is contained (that is a whole lot easier to say then to do for any team). They made sure to explain how to react to a won faceoff and the importance of quickly hammering the puck around the wall and out. The Michigan pressure off an Ohio State win in the D-zone was a point of discussion and aggressive pursuit by the Wolverines was mentioned, as well.
After a power-play meeting at 6:15 p.m., the chatter turned to Michigan's goalies. Billy Sauer was listed ahead of Bryan Hogan on the line chart, but that didn't mean he was playing. One of the coaches jokingly turned to me and asked, "Who is in net for Michigan?" I replied, "Now, you know I can't tell you that."
However, we all concluded that despite Red Berenson making a comment in Wolverine magazine that he wanted to play both goalies that weekend, we were pretty sure Hogan was in goal.
The discussion turned to Sauer, Hogan, and Carlson and a pretty good goaltending chat ensued. The strengths and weaknesses of each were discussed and their future potential was estimated. The one thing that was interesting was Salajko repeating a story he had told me and rinkside reporter Shireen Saski of the Big Ten Network that morning at practice (that night's game was on Big Ten Network, the next it was on CBS College Sports) when he revealed that in his preseason goals, Carlson wrote he wanted to play more that 50% of the games, win 20, have a save percentage over 92%, win the CCHA and make the Frozen Four.
"We realized after that early-season series in Denver that he just might have the moxie to hit a few of them, especially the wins and save percentage. It was too early to think CCHA title at that point."
Markell taped his pre-game spot for the radio broadcast as I entered his office and we shot the bull, talking hockey, life, and the evening's game. Markell is a ball of energy, and his intensity grabs you when you walk into his office. He is direct in the answers he gives and the questions he'll ask, and that makes him unique.
He rarely if ever goes "off the record." He speaks his mind to those he trusts and gives you the benefit of the doubt in terms of what is considered public comment and what stays in that conversation. The fact that he asks a lot of questions to the media he likes is refreshing, and his questions stir up interesting discussions.
He will never make you think that he invented the game, which in a way makes him remind me of Jack Parker who loves to say, "I haven't had an original idea in hockey in my life." On the other hand, he is so overtly intense and passionate about the game on and off the ice that he also reminds me of Mike Eaves at Wisconsin.
Prior to addressing the team, Markell looked at me and said, "You know what, the puck doesn't care who is playing. When you don't have it, respect it. When you have it, cherish it. This game will be decided by what team is most careful with the puck and whether or not we bring our intensity level to match theirs, plain and simple."
He turned out to be exactly right, but that's for later.
As Markell addressed the team after warmups and before they went out to play, he started out by saying, "I have no big, emotional speech for you; you don't need that. However I do have confidence in you to go out and play your game. Hockey is a game of ebb and flow but mostly you have to protect the puck."
He had someone throw him a puck and he held it up.
"Take care of this tonight," he said. "It's the key to winning. The puck needs to be cared for when you have it, and respected when you don't."
He paused, and then continued as if to allow a second or two for his last comment, a good one, to sink in.
"Play with passion, confidence, and composure. Stay calm when the chaos starts. Control what you can control and let's go out there and control the pace of the game."
Plain and simple; spoken with intensity but spoken honestly. No grandstanding, no making the moment bigger than it was. The players knew the magnitude of the moment — and unfortunately it ate them alive over the next 60 minutes.
Buckeye football legend Archie Griffin, the only man to win two Heisman Trophies, dropped the ceremonial first puck. "Winning" the draw was the last thing the Buckeyes did right until the latter stages of the second period. However, if you were standing next to Markell, which I basically was, you would never have known that the OSU staff was losing the game. They were intense but they kept it positive.
Standing next to the bench, I got to listen to a lot of what transpired on the bench. Every coach is different and every coach has his bench style. And I identified with Markell's style. He used buzzwords, acted like an extra pair of eyes for his five skaters, and made his voice heard to a corps of young players who would need a little confidence in a big game like this.
Markell didn't like the start, and Michigan scoring less than two minutes into the first period was not what his team needed. While an early PK demonstrated that OSU was paying attention to what was discussed in their penalty-kill meeting, they were still getting outskated and outhit.
"Can we start hitting here? Slow them down guys; finish your hits," he screamed as wave after wave of Michigan lines attacked the OSU blue line with speed.
During a TV timeout he addressed one area that was being ignored, an area he made clear he wanted to be a strength that night.
"Guys, there is no support in the offensive zone. Get to pucks first, be strong down low. The second guy has to get in there — now let's go and get on these guys."
OSU players not being strong on their sticks was another issue addressed by Markell on the bench, and when Aaron Palushaj came storming in on a two-on-two with Matt Rust, the entire bench yelled in unison, "Get stick on stick! Gap this guy."
Markell was vocal but very positive. He would remind guys to be strong on sticks on their faceoffs, stick to their game plan, and slow them down. One issue got sticky when one player got a little frustrated on the bench about something, and Markell put a stop to that negativity quickly. That is such a huge key to a young team: keep them focused on the future, not dwelling on what just happened.
When the first period ended the game was in crisis mode for OSU. The Buckeyes were getting outplayed in their building. As Brent pointed out, "They were so anxious and had so much nervous energy, I think it actually drained them."
Markell didn't disagree. "They are making us rush and some of our guys are struggling at this pace," he said.
With the observation that Michigan was cutting down to three lines a lot, Markell took at two lines he wasn't happy with and said he'd make a third line out of those two and see who picks it up. Lammers was a bit more hesitant.
"Give them a shift or two each, John, then make your decision," Lammers said. "Some of those guys still need to get the nerves out." Markell agreed.
The room cleared and Markell looked at me.
"You have to be really careful with a young team. You get on them you'll lose them in a game so everything stays positive on the bench. There are definitely some guys in that room that need to pick it up and play at Michigan's level. We need to get John Albert going tonight; he is a huge key for us against a team like this."
His message to the team was clear. "Start hitting and slow them down, they want to skate. Start that real early, get some hits going here."
The second period didn't go much better. It wasn't until late in the second that OSU really started to manufacture some chances.
During a TV timeout Markell got frustrated with the team. Making them all get on the ice so he could see all of them, he let loose a bit.
"See what they are doing to you? Do it back to them. Make them uncomfortable. Get pressure on their defense, be patient, be active and our chips have to be better."
He told them that the "excuse-me" hitting was unacceptable, a term that means that his players' hits were happening because they ran into someone instead of lining up a body and delivering an authoritative hit.
"There is just no urgency in our game right now," he said with about six minutes left in the period.
The period ended 4-0 Michigan but the Ohio State staff was calm. They knew they were getting outplayed but they also knew why, and now was the time to lose a battle to win the war. When Markell talked to the team he mentioned chipping away one goal at a time, but more importantly, they needed to set the tone for the next night.
Before that, the coaches met.
Brent: "We are still in our shell."
Markell: "The forwards have one goal in three games. We are getting no pressure on their D, going after loose pucks with one hand on our stick, and missing a ton of nets."
Lammers: "Hey, it's college hockey. They're bound to make a few mistakes and give us some chances."
Bittner had just arrived from upstairs where he watches and logs the game. "There are no X's and O's going on down there," he said. "We are just not doing hockey things."
Markell addressed the team.
"Guys, I have no idea what system you are playing out there or why we don't have an edge tonight. We are not moving pucks forwards, we are moving it sideways. We are not getting pressure and not being strong on our sticks or moving our feet."
Now he was getting more emotional as the pitch in his voiced gained some more volume.
"The last five minutes you made s**t happen. Sims, you threw a hit or two and things happened. Toy, same thing. But mostly we are getting outmuscled on the puck. When you play Michigan, you play like men and not boys! If you want to get them to panic a bit, show them you can get to the net and get shots and rebounds. Win the last 20 minutes and set the tone for tomorrow."
Then he challenged the team.
"Do your job. Can you do that? Have a purpose, keep your heads up high and go out and do some good things on every shift."
The Buckeyes cut the bench, made new lines, and experimented, which was a good thing because one of the lines stayed together the next night after showing spark and factored in on the game winning goal.
The Buckeyes scored a late shorthander to avoid the shutout. After the game Markell was controlled but mad. Losing wasn't why he was that upset — rather he was mad that his team didn't compete and several key players were awfully quiet that game.
"They want to win quick or they deviate from their game plan," said Markell as the team started to pull their gear off following the 4-1 loss. "They don't want to stick with it. This was the biggest game of their lives and they didn't show up."
Markell made sure no one left as some guys showered and others rode stationary bikes. When he called the team together 10 minutes later, he gave an impassioned talk to a young team on the verge of losing its confidence after three subpar performances and three total goals. He told the team he expected them to go right home even if they had long-lost friends or relatives who came to town just to see them this evening.
"I don't know if it was anxiety or what, but we just didn't play well. If you guys can't win quick you get away from the plan, and that can't happen at this level. Look at the first game in Alaska; you lost but you stayed with it after a bad start and you played well. You just played the biggest game of your lives some of you. There were 12,000 people in the building, it was Michigan, the helmets, everything. Your focus was gone.
"Why are we upset with you? We had chances and didn't score. Forwards have not scored. We didn't chip pucks in, we didn't pressure, we didn't get pucks to good areas and make an effort to get there.
"X's and O's are okay and they help, but without passion you cannot win. Tomorrow we'll have a video meeting and sort through this and go over what we expect from you from an energy and a system perspective. This time of year, you have to know how to win a game 3-2. You have to be willing to fight the fight. No shortcuts!"
With that the coaches convened in their office. The dry-erase markers came out as they wrote up that night's lineup and determined who gave them a good effort and who was not a factor, or even worse, a negative. Coaches do that after every game, immediately sorting through their memories of the game to assess what they saw before putting the film on and really seeing what happened.
They tinkered with new lines, who would come out of the lineup, and what they needed to do the next morning at their mandatory meeting. That meeting set the tone for an improbable ending to the weekend, and proved that the staff at OSU has a firm grip on this team.
Follow-up: The following night, down 1-0 early and 2-0 midway through, Ohio State killed off a five-on-three Michigan power play and a few more after that. They found big saves, won battles and scored three goals that were put in by players with the puck no more than a foot from the goal line.
John Albert and Corey Elkins played strong, as did captain Peter Boyd. Sergio Somma was awarded an A before the game for his leadership all season and he played well. All three goals they scored were on rebounds or scrambles, obviously showing that they got the message from their staff.
They went to the net, they played with passion, they showed attention to detail, and they showed up and competed.