Some thoughts on the playoffs as they start in some conferences and continue in others. Not scientific by any means, but just some observations.
ECAC Hockey: Brown goaltender Dan Rosen missed the entire Harvard series because he was hurt, but his father Mike told me last week that he could play Saturday night if needed. Joking with him in the Islanders press box prior to the Isles' game last week (he is an NHL off-ice official) I looked at Mike and said, "You mean when needed," thinking Harvard would win Game 1.
So Mike Clemente stops all 86 shots he faces as Brown wins the 5-12 matchup to open the postseason. Remember 20 years ago when Providence was a popular residence for organized crime? Do you get the feeling there needs to be an investigation into this series? How did Harvard lose this series, and better yet, how did the Crimson not score?
All kidding aside, nice job by Brown. The Bears got Harvard in a year when the Crimson were devastated by graduations, injuries and other intangibles that robbed them of key players. No other team outside of Michigan State has been so wracked by lineup issues and replacing key players and Brown took advantage of the Crimson's scoring issues.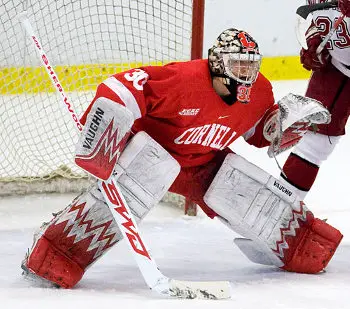 Brown gets Yale and if this series gets to a third game, credential me now — I'll be there. Is there a second upset in the making or is Coach of the Year candidate Keith Allain's team too strong offensively to be shut down?
Doing its best impression of Union, which seems to have been playing overtime playoff games all decade, host Quinnipiac needed three games, all of which went to OT, to eliminate Colgate. In a series reminiscent of Minnesota's dispatching of Minnesota State last year in a first-round series where every game went to OT, the Bobcats got a game winner from Brandon Wong to win the series. They overcame a 2-1 deficit and a late game-tying goal by Colgate to hang on. They go up to the North Country to play St. Lawrence, but if anyone can win a road series, based on recent history it's Quinnipiac.
Nate Leaman's Union squad swept Clarkson convincingly, which reminds me of what Guy Gadowsky said about them in October. "Watch Union. They basically have their whole team back, key guys in key positions, well-coached, and they will be tough." Well, they were this season and they'll face Gadowsky's Tigers starting Friday night in New Jersey.
The Tigers are the defending playoff champions. Princeton posted its second straight top-four finish in the league, is number-one in shots per game and ranks third in the NCAA in goals against behind Alaska and Notre Dame. The Tigers are the least-penalized team in the country, which may be reflected in their impressive goals against.
RPI, fresh off an upset of Dartmouth, gets Cornell. Cornell has been wracked by injuries but lines up, in my opinion, the goalie of the year in Ben Scrivens in his home rink. Cornell is getting healthy but RPI coach Seth Appert has been in big series before, having been an assistant on both of Denver's national-title teams earlier this decade. Cornell has won three of its last four.
Predictions: Prognostications are not really my thing, but here goes. Quinnipiac, Cornell, Princeton and Yale get a weekend in the capital of the Empire State.
CCHA: With me having basically paid rent all year to CCHA broadcast booths, this should be a no-brainer, right? Wrong! Classic case of overthinking ahead.
All the home teams won in round one and the only series that I thought might be won by the road team was Ferris at Nebraska-Omaha, but Ferris hasn't scored much lately and recently the Bulldogs have seemed to give up a goal per game that they'd love to have back.
Ohio State travels to Alaska as the 4-5 matchup. Having watched the last series between those two in February in Fairbanks, I'll say that for four and a half periods OSU was a much better team. The Buckeyes had a travel nightmare to Alaska that made their trek something akin to the Iditarod and that hurt them in period one of game one.
John Markell's team is Jekyll-and-Hyde but if the right version shows up, could blow Alaska out. However this is a young group and what remains to be seen is how they react to playoff pressure in a great hockey environment. There are few better than the Carlson Center so the Buckeyes had better be ready emotionally because Alaska is impressive defensively.
OSU forward Sergio Somma said it best when he told me, "That first period in that second game (OSU scored five goals) should be our staple period" when referring to OSU's outburst against Alaska. Markell once referenced that series when talking to the team in terms of staying within their system. "Stay within your system, don't get away from it," he told them between periods of a game against Michigan. "That Friday night you were losing to Alaska but you stayed with it and almost came back. That's the way you need to play."
Western Michigan gets Michigan, a team which will make the Frozen Four. Great job by WMU head coach Jim Culhane this season to have a home playoff berth and a good win against Lake Superior, but Michigan is just too strong. Then again, Michigan has been the victim of some colossal playoff losses this decade so don't ignore this one just yet.
Just to remind people, Michigan scored six against Northern Michigan last year in the CCHA semifinal … and five of those goals hit someone or something on their way into the net as Northern went toe to toe with the Wolverines. We won't even get into the Notre Dame game in Denver. Michigan seems to tighten up at crunch time. If the Wolverines' loose and fun bunch of sophomores can keep this group playing relaxed, the Wolverines are a menacing team. Their players used the word "fun" a lot this year and that will be a huge intangible for Michigan.
Northern gets Miami at Oxford, and you say to yourself that this should be Miami's series. Not so fast. Two rookie goalies are unique in the postseason and while both are pretty talented, neither reminds me of John Muse or Peter Mannino, who as freshmen won national titles. Northern plays tough and has deceptive speed. Miami has great talent, makes the neutral zone a mudpit to skate through for opposing skaters and will be well-prepared. Somehow in his senior season I can't see Kevin Roeder letting Miami lose this series but Northern is a good team.
That takes us to UNO at Notre Dame, and with all due respect to Mike Kemp — for whom I have a ton of respect — Notre Dame will win this series, and for that matter, could win the national title. Anyone can get picked off and there are areas where I have seen ND get exposed, but there is no defensive corps outside of BU that can match Notre Dame — not even Michigan, and that's a pretty good sextet now that Mark Mitera is back.
Predictions: I know I won't go four-for-four here but maybe I get lucky and go .500. Tickets to Detroit should be reserved for Michigan, Notre Dame, Northern Michigan, and Ohio State.
Hockey East: There are many more qualified this season to make the call on Hockey East but here we go.
Let's start with this fascinating matchup … BC at UNH. It's the 3-6 and the defending champs have struggled with consistency all season. UNH did also but as the season went on found itself with the usual core of character players that has come to define this program.
Two very good goalies, two very potent offenses and James van Riemsdyk of UNH as a major factor. Both teams skate well, so this series comes down to puck management. UNH gets home games in what is affectionately called "Lake Whittemore" (UNH has an Olympic surface that looks bigger than it is) and that bodes well for the Wildcats.
But BC can also use speed going wide and could push UNH's defense back a bit. UNH is 6-1 in its last seven games and has scored just under four goals per game in that span. Kevin Kapstad has been awesome with 23 points as a defenseman and the Wildcats are 11-4-2 in the second half.
The 1-8 matchup is Maine at BU and with no disrespect to Tim Whitehead (who for years I have been trying to explain to everyone is a hell of a coach), Maine is in trouble here. The Black Bears have a competitive team but are playing a team of destiny that has few if any weaknesses. To be honest, I'd take the offensive skills of the big three defensemen of BU — Colby Cohen, Kevin Shattenkirk, and Matt Gilroy — over any of Maine's forwards. BU is just that good. Scott Darling has had a good season for Maine, which continues to rebuild for a return to the top of Hockey East. Whitehead will get them back there — just not this season.
Here's something to know if you are a fan of Michigan, Notre Dame, North Dakota or any other Frozen Four contender. BU has four defensemen who have totaled 95 points in Kevin Shattenkirk, Matt Gilroy, Colby Cohen and David Warsofsky. Northeastern, the No. 2 team, has 111 points from its top four overall scorers. That is amazing and makes BU the scariest team to face from an offensive standpoint.
Throw in Colin Wilson, Nick Bonino, and Chris Higgins, who racked up 126 points themselves, and BU is just flat-out scary. Wilson, a legit Hobey Baker candidate, has played nine games against the top three teams in Hockey East and has 15 points in those games. That's big time performance in clutch games.
Vermont is an interesting team and Kevin Sneddon should be congratulated because three years ago he told me that UVM could be capable of winning Hockey East and making the tourney by last season. Well, they almost won Hockey East, losing the title game. BU and Northeastern provide stiff competition, as will the winner of UNH and BC, but don't count out the Catamounts. They are really good defensively, have shown they can play offensively, and might be the best team in the nation outside of Notre Dame that can crank it up in desperation times of games.
UMass has a ton of speed and James Marcou has been a great player to watch since he was about nine years old, but Northeastern is playing like a team on a mission and has taken on the personality of head coach Greg Cronin. Goaltending is a huge part of the Huskies' success and should continue to be so in the postseason.
Predictions: BU losing would shock me. I could see everyone else doing the unpredictable. I'm thinking you can put up dressing-room assignments at the Garden for BU, Northeastern and Vermont. I have no idea who wins UNH-BC; wouldn't even venture a guess. I'm actually rooting for both.
WCHA: A couple of years ago I had this feeling Bemidji State was going to upset Wisconsin in the Green Bay regional. Wisconsin shut the Beavers out, then did likewise to Cornell in a 3OT thriller en route to winning the national title.
I'm thinking the Badgers just might win the WCHA playoff championship. Their defense is solid, goaltending much improved and stabilized, and they can score. North Dakota and Denver can say the same and Colorado College is always dangerous. I picked Minnesota as a Frozen Four team in October and while the Gophers hit a bump or two they are still a good team.
In looking at the road teams in these series, Minnesota-Duluth scares me a bit because of its goaltending. St. Cloud could pick off Minnesota in a heartbeat due to the rivalry and a short series. Minnesota State is always competitive.
North Dakota was in ninth place in December and tinkering with the lineup. Forward Brad Miller, who was just looking for a spot in the lineup last season, was moved back and he and Chay Genoway have been awesome, both with over 30 points. They have responded to head coach Dave Hakstol's lineup changes, including moving Ryan Duncan to center between Brett Hextall and Jason Gregoire. Rookie goalie Brad Eidsness has made people say Jordan and Jean-Phillipe who?
Here is a sobering fact. Minnesota is 6-10-2 in its last 18 in the WCHA, and Colorado College is 6-6-6. Don Lucia is under fire in Minnesota by local media and fans for having soft teams and bad goaltending. Alex Kangas looked like the best goalie Minny has had since Robb Stauber, but he has really struggled but Lucia has said that Kangas is the guy in goal. The top line of Ryan Stoa, Jay Barriball, and Jordan Schroeder amassed 101 points.
Wisconsin went on a great roll but lately has cooled off a little — 0-3-1 in games at home vs Denver and at Minnesota State prior to a home split with North Dakota last weekend.
Predictions: Not going to overthink this one … all the home teams hold serve. Only Denver worries me a bit because like Michigan, the Pioneers have lost a couple of playoff games I thought they'd win in the past three years, but I'm a big George Gwozdecky backer so Denver gets the nod.
Arriving in the Twin Cities for what is usually college hockey's most compelling conference playoff drama will be Minnesota, Denver, CC, Wisconsin, and North Dakota. Outside of wildly-unpredictable Hockey East, there is usually no better conference finals to watch than the WCHA so set the TiVo! They have provided great theatre in recent years.
With all due respect to the other two conferences, I'd hate to try to comment on what I haven't seen.