Perhaps the third time is the charm for Bemidji State.
After winning the CHA tournament title in 2005 and 2006, the Beavers are once again champions after their nail-biting 3-2 overtime win over Robert Morris last Saturday night on home ice.
Tournament MVP Matt Read scored 8:05 into the extra session to send the 1,962 in attendance into a frenzy.
"First of all, I don't think we could have dreamt of having a better game tonight," BSU head coach Tom Serratore said. "It could have went either way. We were just fortunate to get that last bounce. Read wins the faceoff and Ryan (Adams) actually got the puck through. Read attacked the net and gets the rebound. It was an effort-based goal and it was exciting to win this game in front of our fans."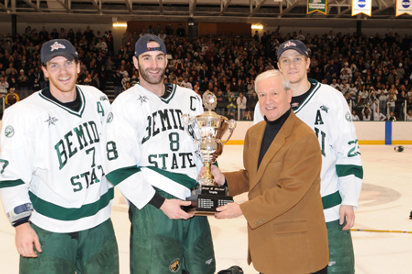 "I won the faceoff pretty clean," said Read. "I noticed their center just stayed there, so I went to the net. I was just hoping the puck would hit the net. I saw it hit the net and it came to me again. I saw open net and slid it in."
Ron Cramer opened the scoring for RMU at 3:53 of the first period only to have Tyler Scofield answer for the Beavers on a power play in the final minute of the period.
Read then gave BSU the lead 14:08 into the second period, but Chris Margott knotted the scored with a 4-on-3 power-play goal at 18:47.
"It was a good hockey game and it was a shame that somebody had to lose," Robert Morris head coach Derek Schooley said. "It went back and forth and I feel bad for our players because they gave everything they had. We had to overcome some obstacles to play as well as we did along the stretch. I'm very disappointed of how the outcome had to end. It was a sad day since we thought we had as good a shot as anyone.
"We had a few chances and I guess it just wasn't meant to be. It was a heck of a hockey game and whoever won that game was going to pay the price. It wasn't going to be an easy goal that would win it. It was going to be a scramble or a bounce and unfortunately for us during championship games we have been on the wrong side of these overtimes."
Matt Dalton earned the win in net stopping 29 shots, while Brooks Ostergard suffered the loss despite turning aside 37.
The game was the last at the John Glas Fieldhouse for the BSU seniors and two of them reflected after the game.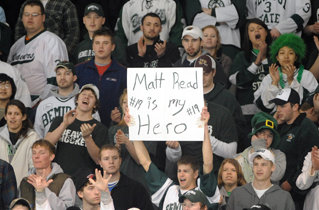 "It is a special group of guys," Beavers captain Travis Winter said. "We have been through a lot this year. When you face adversity like that, you either die or you come together — we decided to come together. We have a great freshman class that bought in right away. We have good upperclassmen and great leadership. Altogether it is a special group."
"Going out with a win in the championship in your home rink, there is no better way you want to go out," added Scofield. "This is a great group of guys, everyone works together and there is no one guy that thinks he is better than the other. When you get along with the guys, it pays off."
RMU also lost in overtime in the 2007 CHA final to Alabama-Huntsville. Still, Schooley had words of praise for his team.
I really realized how proud I was of my team when I walked off the ice (after Friday's 2-1 semifinal win over Niagara)," Schooley said. "I had to stop for an interview and I wasn't able to hear the guys sing our fight song. It really hit me then how much fun we were having while winning and when you have that much success you really don't want it to end."
This Sunday, Bemidji State, odds-on-favorite to be the No. 16 seed, will find out which regional they'll travel to next weekend and who their powerhouse opponent will be.
Niagara, Huntsville Tie In Consolation Game
In a game that was probably lacking intensity, Niagara and UAH played to a 1-1 tie in the third-place game prior to the title game last Saturday.
Kevin Morrison staked the Chargers to a 1-0 lead 3:07 into the first and then Dan Sullivan answered for the Purple Eagles at 9:20 and that's all she wrote.
"It was a lot more competitive going in," Niagara head coach Dave Burkholder said. "I thought they woke us up early by finishing their checks. We responded to their energy level and it ended up being a very good college hockey game compared to what we showed yesterday. In a situation like that, not a lot of guys felt really good suiting up today. Obviously, the toughest part of the game is playing defense. Overall, it was a good effort."
UAH head coach Danton Cole said after the game that he agreed with Burkholder in that it was a decent game.
"Well, there wasn't a lot of goals, but there was a lot of chances for both teams which made it really exciting for being a third-place game," said Cole. "I know talking to Burkholder after the game, we both said it was a good up-and-down hockey game and the sportsmanship was good. It's tough to come back after losing the night before and knowing that this is it for the end of the season, whether you win or lose."
Blake MacNicol made 38 saves for UAH and Adam Avramenko, the heir apparent to Juliano Pagliero in the Niagara goal, finished with a career-high 46 stops.
"It was a different type of game than normal," said Avramenko. "Playing for third place, you don't get anything out of it. We were mostly just playing for pride. Our team was out there trying to end off the season with a more positive note. We never gave up. We wanted to come and play."
"(Avramenko) played this season behind a very good goalie," Burkholder said. 'Pags' will be passing on the torch to Adam. He is going to be a good goalie these next two years."
The tie was also UAH's fifth this season — a new school record.
Colonials Upset Purple Eagles In First Semifinal
Niagara never seemed to get untracked and Robert Morris did in the tournament opener Friday afternoon that saw RMU reach the finals with a 2-1 win.
This can be labeled a minor upset as Niagara went 4-0-2 against RMU in the regular season, but couldn't come up with a 'W' when it mattered the most.
Denny Urban scored midway through the first period and Trevor Lewis extended the lead late in the second period before Derek Foam tallied early in the third period for NU.
"You know when you got a 2-0 lead you know they're going to come guns a-blazing at the end of the game and next thing you know, they get one," Schooley said. "But we buckled down at the end, blocking shots. So I can't say enough about my defensemen in keys situations that's for sure."
Ostergard and Pagliero each made 27 saves.
"He's been playing good since he kind of took over the role," Schooley said of Ostergard. "If we would of given him the job in November I don't think he would have handled it well, but he adjusted to Division I hockey. He adjusted to what it took to be a DI goalie. He is running with this opportunity and we wouldn't be in this position right now and we have so much confidence in him right now."
Getting the early lead and the power play were key to the Colonials' win, according to Lewis.
"I think it was really big and got us settled down right away, plus got us into our groove," Lewis said. "It just gave us some good confidence right away. Our power play played well and the penalty kill was unbelievable and keeping them off board for a power play was good. The defensive play was so unbelievable. We weren't afraid to slide in front of any pucks to block shots today."
Burkholder put things in perspective at the postgame press conference.
"We couldn't have had more guys play poorly, (but) we are happy with our top line's effort," said Burkholder. "Robert Morris seemed a little more willing to compete in a win-lose battle. Our guys didn't have a lot of energy throughout the game. We definitely had enough power-play chances. We didn't get it in the zone and when there was a lose puck, we didn't win it. Hey, we get what we deserve — we played terrible."
"We just didn't have it, plain and simple," added NU captain Vince Rocco.
BSU Tops UAH In Second Semifinal
Bemidji State won their semifinal Friday night, 4-1, over UAH behind two goals from Read and a goal and two assists from Matt Francis.
The Read-Francis-Scofield top line was effective all weekend for the Beavers.
"They are good — there is no doubt about it," Serratore said. "They have so much speed and puck skill. As we all know, it is a team win and we need to focus on that."
Brandon Marino also tallied for Bemidji State and Dalton made 25 saves, plus assisted on Read's second goal.
"One advantage we have is being at home for the championship weekend," said Marino. "We just needed to get our fans in it. We knew that they (Alabama-Huntsville) were going to come hard and not just lay down because they finished last in the CHA. We knew we had to come out strong right from the start. Whenever you go somewhere else and there is a big crowd, it gets both teams jacked up and it gets you ready to play. When there is no one in the stands, it hurts both teams. Obviously, we are happy to be home in front of our fans and get that little bit of an edge, but I think it helps the other teams as well."
Joe Federoff recorded UAH's goal and Cameron Talbot made 29 saves in goal.
"Bemidji is a good hockey team and they always have been," Cole said. "It was a 2-1 game and sometimes it comes down to bounces and they got some of those. We had our chances, but Dalton made some great saves. I'm not at all disappointed in our guys at all. It was a nice, tight game here and its tough to play in Bemidji. We obviously didn't get the outcome we wanted."
Even though he's graduating this year, UAH captain Scott Kalinchuk spoke of the future for the Chargers — one that right now may be uncertain with the CHA closing up shop after next season.
"We have been on the tough end of things from this year and last year," said Kalinchuk. "We have always worked hard and the coaching staff has done a great job in installing a new culture here and I think that is going to continue over into the future and all the boys are working toward that."
McManamin With Beavers In Spirit
BSU junior defenseman Graham McManamin's mother, Mary Lynn, passed away late last week and McManamin flew home to Anchorage to be with his family and missed the tournament. His jersey was hanging behind the BSU bench during their two games and Francis is holding it in the celebratory team photo. Godspeed.
Phoenix Native Gives Nod To CHA Champs
Forward Duncan McKellar of the North American Hockey League's Wenatchee (Wash.) Wild is the latest player to choose a CHA school, as he'll join Bemidji State next fall.
McKellar, a 19-year-old from Phoenix, is a product of Arizona's P.F. Chang's midget program and ranks third in Wild scoring with 46 points after 45 games. He has twice been named the NAHL's West Division Player of the Week.
"Bemidji is getting an exceptional player and young man who will contribute heavily to the success of its program," said Wild head coach Paul Baxter. "Duncan has made an excellent decision and will have a great opportunity to play for one of the most successful college hockey programs in the country.
"I have no doubt that Duncan will be a very good Division I hockey player."
NU Gets Commitment From NAHL Defenseman
St. Louis Bandits defenseman Danny Weiss has committed to Niagara for next season.
In 24 NAHL games this year, Weiss, a 19-year-old from Ballwin, Mo., has three goals and 11 points.
"The entire Bandits organization would like to congratulate Danny for accomplishing his goal of securing a Division I scholarship," said Bandits head coach Jeff Brown. "Niagara is a school that's had a lot of success in getting to the NCAA tournament, as well as moving players onto professional hockey.
"We're proud of Danny for this accomplishment and wish him nothing but the best."
Rocco Signs ECHL Deal With Royals
Rocco signed a professional contract with the ECHL's Reading Royals on Monday to become the first CHA player to ink a pro deal this offseason.
The two-time NU captain recently completed a stellar career that saw him become the 11th member of Niagara's 100-Point Club with 120 points, while helping to guide the team to a 2008 CHA crown and NCAA Tournament appearance. He also finished 10th in career points (120), ninth in career goals (46) and sixth in career assists (74).
"What more can you say other than 'thank you' to a player that has done so much on and off the ice for our program," Burkholder said. "He has been an elite Division I player and I am glad he is getting a chance at the next level. The Royals are getting a quality player who will also be a great ambassador for their organization."
Rocco will join former Purple Eagles teammate Scott Langdon in Reading before returning back to Monteagle Ridge to finish his degree once the ECHL's regular season ends.