Players and coaches discussing big saves by North Dakota rookie goalie Brad Eidsness became a common occurrence this season after Fighting Sioux victories at Ralph Engelstad Arena.
It wasn't just his teammates or his coach, Dave Hakstol, who noticed Eidsness' impact as UND went 14-3-2 at home. Often when opposing coaches and players were asked about a key turning point in a game, they'd talk about a save by Eidsness that either prevented their team from tying the game, cutting a Sioux lead or going ahead.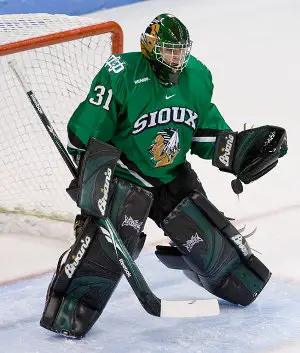 "The biggest thing with Eidsness in net is that he gives us the opportunity to win every night," North Dakota senior defenseman and assistant captain Joe Finley said. "He might give up an occasional goal and get down on himself, but he turns around and makes two, three, four or more saves that keeps us in a game or allows us to build a lead. That's what sets him apart."
One of those moments occurred during the last 10 seconds of the second game against Colorado College in Grand Forks on March 1. With the score tied 3-3, the Tigers went on the power play and had a faceoff in UND's zone. Eidsness made two saves on point-blank shots just as time expired in regulation. The Sioux killed the penalty in overtime and then went on to a win that enabled them to overtake Denver for the WCHA lead.
"I think that's important in hockey," Eidsness said of a goaltender's ability to make a clutch stop at a decisive juncture of a game. "Sometimes they don't get noticed, but I think if you look back at certain times in games, there are saves made at critical times that really help out.
"That's something I pride myself on, being consistent game in and game out," he continued. "I just focus on the next shot and not worrying about what's happened before or what's going to happen."
In the final season series at Wisconsin, Eidsness stopped 22 of 23 shots in a 2-1 win over the Badgers that resulted in UND clinching the WCHA championship outright.
Hakstol believes that Eidsness' knack for making the big save at the right time in a game will be crucial during the playoffs.
"What you want out of your goalie any time of year is for him to give you the opportunity to win a game, and that comes in a lot of different shapes and forms," Hakstol said. "It doesn't necessarily come from throwing up a shutout every night."
Hakstol referred to Eidsness' performance during UND's 4-3 playoff win over Michigan Tech last Saturday, a victory that enabled the Sioux to sweep the Huskies and move on as the top seed in the WCHA Final Five.
"Michigan Tech was playing very well," he said. "They scored the first goal of the game. During the second period, you can pick out two or three saves that were real key saves that gave us an opportunity through that period to get going and build a lead. That's timely goaltending."
UND began the season looking to replace Jean-Philippe Lamoureux, a Hobey Baker finalist last season who finished a four-year career as one of the school's top all-time goalies. Senior backup goalie Aaron Walski had played in only three games. The incoming freshmen goalies — Eidsness and Graeme Harrington — both played in Canadian junior leagues, but were untested at the college level.
A native of Chestermere, Alberta, and a fifth-round draft choice of the NHL's Buffalo Sabres, Eidsness became UND's first drafted goalie in 15 years. It's probably no coincidence that UND was 3-6-0 before Eidsness established himself as UND's No. 1 goalie and 22-6-4 after.
"For me, it was a rough start and there were some definite learning processes the first month of the season," Eidsness said. "I don't know that there was a specific moment where it kind of just clicked, but after the first month of learning what it took every day in practice and going through that real steep learning curve right away, I started to become a little more comfortable. As the season wore on, maybe through December, I started to get a little bit more comfortable."
Finley observed that it didn't take Eidsness long to move his game up to the college level.
"Like most goalies who come into college hockey, they have to get adapted to the speed," he said. "Guys are making plays a lot faster and every guy can shoot the puck a little better, too. Early on, it was just a matter of him catching up to the speed, and he did that real quickly."
For Eidsness, during UND's slow start in the first half of the season, it was a matter of continuing to believe in himself and his abilities.
"As a freshman, it was just tough questioning yourself. Can I actually to do this? Am I going to be able to pull myself to a point where I'm going to make a difference and we are going to win some games?" he recalled. "The biggest thing was just staying confident. I think all along I've had confidence in myself. It was just a matter of putting it together."
Don't look for Eidsness' name among the nation's leaders in the statistical categories commonly used to measure a goaltender's performance. Although he made the WCHA all-rookie team and challenged Minnesota-Duluth's Alex Stalock for the league's goaltending title, Eidsness' .909 save percentage is 41st nationally and his 2.44 goals against average is 25th.
A better indicator of Eidsness' role in UND's success is his winning percentage, which is .703 — tied for eighth nationally — and was a WCHA-best .731.
As a freshman, Eidsness is already making his mark on UND's record book. He has made 37 consecutive appearances, the most ever by a Sioux freshman. He's two games shy of breaking the school record for consecutive starts by a freshman. Leading the WCHA with 24 wins overall, he joins Ed Belfour (1986-87) and Karl Goehring (1997-98) as just the third freshman goalie in UND history to win 20 games in a season.
Eidsness' temper and stick-throwing incidents during practice have also made an impression on his teammates.
"That's him competing and always wanting to get better," Finley said. "In his mind, he can save every puck. Maybe after a few go by him, he might get a little upset at himself and expect more. There have been a lot of goaltenders with big-time tempers who have gone on to do good things. Hopefully, Eidsness is another one of them."
During a game, however, Eidsness doesn't let his temper or emotions get the best of him.
"I try to remain calm in the eye of the storm. If I let a bad goal in during a game, I just shrug it off," he said. "In practice, sometimes things go a little bit different. I don't like to let shots in, and sometimes I get a little angry. It's something I've tried to keep out of games."
Eidsness prefers to discuss the team's overall success rather than his contribution to it. He downplays his role in overcoming UND's slow start, preferring to credit the team's offense for keeping the pressure off him and its defensive play for limiting shots on goal. He credits the team leaders with getting the Sioux primed for what has become their traditional second-half surge into the playoffs.
"I don't think there was any point where someone stood up in the locker room and said, ÔHey, we've got to get going!' I think we all understood the situation we were in," he said of the point in the season when UND was near the bottom of the WCHA, completely out of the national polls and plummeting in the PairWise Rankings.
"Some of the older guys really took it upon themselves to start playing us out of it," he remembered. "We have a lot of great senior leadership, and I think that really helped."
Although he's a freshman, Eidsness leaves no doubt about understanding his role for the remainder of the season.
"The biggest thing for me is winning as a team. You've got to make a save like that every once in a while to be able to keep your team in it and be able to win a game," he explained. "That just comes with the territory."