A 22-win season and a trip to the Frozen Four are a long way from where the Vermont Catamounts' program was when Kevin Sneddon arrived.
In his first season, Vermont posted a dismal 9-22-4 mark in the ECAC. Adding strife was the fact that the club was just four years removed from a hazing scandal that rocked the program, forcing the club to cancel the season midyear.
The fact that Sneddon has righted the ship in such a short time hasn't gone unnoticed, particularly among UVM hockey alumni and the local residents of Burlington, Vt.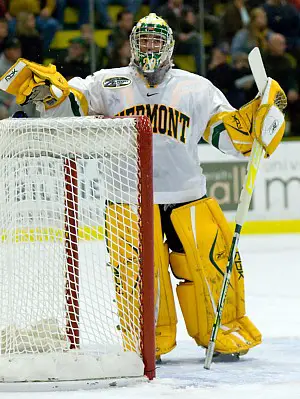 Sneddon described an impressive sendoff that the team received when leaving Vermont Tuesday — one that makes you think this team is slowly becoming composed of athletes who will long be part of folklore.
"We had staff members, faculty standing in the pouring rain cheering the Catamounts on as they got onto the bus to go to the airport," said Sneddon. "We got to the Sheraton to have a lunch and we were greeted by at least 19 former UVM players, ranging from [the class of 1970], who live in the area. That was a special moment for not only our student-athletes but for the alums to reconnect with their team."
The recognition hardly stopped there.
"We drive two miles forward and the grade school on the right-hand side, every student was standing out in the pouring rain holding signs for us. We get to the airport and the air-traffic controller has a 'Go Cats, Go!' banner hanging up there."
That alone may have made all of the hard work that Sneddon has done to revive this program in his five years worth it. Things were dire at times this decade. Besides the hazing scandal in 2000, the program hardly responded well immediately to the change Sneddon brought with him.
The team got off to a 0-11-1 start in Sneddon's first year as he tried to implement a defense-first mentality. But Sneddon said the key was sticking to his beliefs and keeping preaching the same message.
"There was a lot of change," said Sneddon. "[Former head coach] Mike Gilligan did a great job laying a foundation. The team was solid in the community and there was some talent in the locker room. I think it was just a product of guys not knowing what it took to win.
"We wanted to build a team that was based on sacrifice, based on team defense first. That took a little time to sink in. Blocking shots was not met with open arms when I got there."
After fighting through that dismal first season, Sneddon and his club hit their turning point early in season two.
The team was a heavy underdog when traveling to Minnesota Duluth to face the then-No. 1 ranked Bulldogs. The Catamounts walked out of Duluth with a win a tie and opened many arms and eyes. Though it has been suggested by many that that weekend was a turning point, Sneddon disagrees.
"I said it the weekend before, when we got swept by Niagara," said Sneddon. "Niagara came in and wanted it more, with no one willing to block shots or do anything like that [for us].
"We pointed that out to our guys very clearly, and we went on to be the most-improved team in the NCAA in any sport that year."
You may say that the rest is history — though at this point history could be less than 24 hours away when the team will have a chance to reach the national-title game for the first time in school history.
Keep it Simple, Stupid
The KISS mentality is "keep it simple, stupid."
That's Sneddon's approach to Thursday's semifinal, particularly given his familiarity with the opponent, conference rival Boston University.
"People always ask, 'Do you like being familiar with your opponent?' You have to be very careful to not overcoach, just from the fact that we know each other more," said Sneddon. "The bottom line is that at this time of the year you have to worry about your team first and what your team needs to do to be successful.
"From a coaching standpoint we could drive ourselves crazy worrying about the strengths of BU. But I have to worry about getting the most out of my team and not worry so much about our opponent."
Good Vibrations
For Sneddon's wife, Toni, even success can breed a modicum of irritation. After all, family dinners are sacrosanct: Frozen Four or not, no phones allowed.
"My wife was ready to throw away my Blackberry," said the coach. "I put it on vibrate, and the thing was bouncing around the table and about to fall right off after we won, and then all the way right through today, and I'm sure it'll be the same right through the weekend.
"Whether it's NHL players like Martin St. Louis, you know, you name it. Jamie Sifers, Torrey Mitchell. That's part of all of this, is we're sharing this moment with all those guys. This is their team. We're happy to be running the program, and trying to move the flag forward as they say, but this is their program as well and they're very proud of it.
"That's a great feeling as a coach, it's great for these guys to see how much it means to so many different people. The messages have been going crazy, and it's been fun."
Girding for Gilroy
The Catamounts are wary of the Terriers for any number of reasons, but one player that they won't allow to take them by surprise is Hobey Baker finalist Matt Gilroy.
The senior walk-on forward-cum-defenseman is one of three Hobey Hat Trick finalists, competing against teammate Colin Wilson and Northeastern goalie Brad Thiessen.
"He's everywhere. He's a tremendous student-athlete, he's a great ambassador for college hockey. He certainly deserves — as does Colin (Wilson) — in our league, special recognition as they are getting for the Hobey Baker Award.
"He's got a great knack of knowing when to jump up into the play; it's almost like at certain times he's an extra forward out there and it makes it difficult to take chances against them, because if you're not careful, you end up giving up a lot of odd-man rushes and he's leading the way.
"He's a tremendous talent, and just a true gentleman. He's what's right about college hockey."
Quotables
Junior forward Viktor Stålberg, on the Frozen Four's impact in his native Sweden: "I don't think they know very much at all, to be honest with you. I don't think I knew very much about it before coming over here either, but I certainly know a lot about it now."
Senior forward Dean Strong, on clock-watching: "It's been one of the slowest weeks I've had in my four years at school, and getting on the ice today, it was just a great feeling. Seeing the 'V-Cat' around the building, you know, it's something special."
Freshman goalie Rob Madore, recalling last week's unusual double-overtime goal against Air Force, in which defenseman Dan Lawson's shot flew straight through the Falcons' net: "I was watching Danny, making sure he didn't put any through the nets in warmups. I think they're in pretty good shape; we shouldn't have any problems like two weekends ago. At least not on me."