Boston University defenseman Brian Strait's stint as co-captain proved to be a short one.
Less than two months after the Terriers won the national championship in dramatic fashion over Miami, the rising senior opted to forgo his senior season in favor of signing a pro contract with the Pittsburgh Penguins, who drafted him in the third round of the 2006 NHL entry draft.
Strait's departure leaves former co-captain Kevin Shattenkirk as the sole captain. He is the first Terrier since Jack O'Callahan to be a captain as a junior, and, according to Terrier historian Sean Pickett, he is first BU junior to be the only captain since Bob Smith in the 1961-62 season. Senior Eric Gryba and junior Nick Bonino will serve as assistant captains.
On a team dominated by more flashy offensive defensemen, Strait and Grbya were the true defensive defensemen for the BU team, which won seven championships over the course of last season.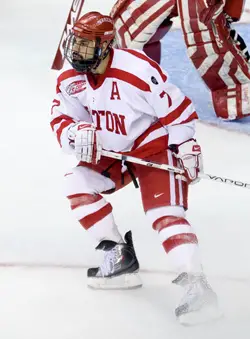 "Obviously, we're disappointed," Terriers coach Jack Parker told USCHO. "We're losing a very, very good player at a key position and a senior who gives us experience but also a senior who was co-captain of the team. All of that is a big loss."
Defenseman Max Nicastro — a 6-foot-3 blueliner who played for Chicago in the USHL last season — already was in the mix to replace graduating senior Matt Gilroy for this fall. However, Strait's departure means that BU will accelerate the arrival of Sean Escobedo, another USHL product who originally was slated to arrive in 2010.
"We thought it was a possibility that [Strait] might sign, therefore we had backup in place in case he did sign," Parker said. "So we're not so worried about numbers at defense, and we certainly are going to have some quality at defense back, but we're going to miss his leadership and experience.
"Three of our four returning defensemen are more offensive players, and Strait is more of a defensive player. Escobedo is the same type of player. He's not an offensive, get-up-the-ice type player like Shattenkirk or David Warsofksy, but he won't have experience at this level."
Time will tell whether Strait chose wisely by leaving early.
"It remains to be seen whether it's the correct decision for him," Parker said.
Asked if Strait may enjoy some financial advantage by leaving now, Parker replied, "I don't see any at all."
Parker pointed out that if Strait had stayed for his senior year and held off signing for a few months, he could have become a free agent and enjoyed a bidding war, just as Gilroy experienced recently.
The bottom line is whether Strait will play most of next season in the NHL.
"A lot of guys who are good players in this league have gotten to be NHL players, and there's no reason to think he won't," Parker said. "But will he play next year? It all depends. They're in the Stanley Cup finals right now; they've got a pretty good team. They're telling him that they're going to lose all these defensemen to free agency — that they're not going to sign them. And they may lose some of them, but it doesn't mean they won't sign another free agent. They don't know who they're going to get in the draft or who they're going to trade for. I think he thinks it's best for him.
"I don't think there's any question in my mind that the only reason you should leave BU is to go play in the NHL — not to go play in the American Hockey League. What he's going to give up next year and what he could have had here next year is something he'll never get back, no matter if he plays 10 or 15 years in the NHL."
Strait finishes his college career with a modest total of five goals and 18 assists in 111 games played, but he will be best remembered for his grit, leadership, and reliable defensive play, particularly as defensive partner to Hobey Baker Award winner Gilroy, who gave Strait considerable credit for his success.