When Air Force coach Frank Serratore took the podium at Rochester's Blue Cross Arena for this year's Atlantic Hockey media day, he expressed his love for the rink that's hosted the last three AHA championships: "I'm glad to be back in the greatest hockey arena in the world," he said.
One can understand why Serratore thinks so: his Falcons are 6-0 at Blue Cross, including 3-0 in championship games.
"We've been very good over the past three seasons," Serratore said. "But we've been very lucky, too. We're playing with house money, going for four in a row. But we'll go out and take our swings and see what happens. The margin of error is so thin. We saw that in the NCAA tournament last season."
The Falcons lost three of their top five scorers to graduation, but return scoring machine and Hobey Baker finalist Jacques Lamoureux, whose 33 goals were tops in the nation by a wide margin.
"It's going to be tough to score 33 goals again, but we're just going to let him do his thing," Serratore said. "He's a handy guy with the puck on his stick. There are very few players in college hockey — very few players in hockey, period — that you can say their strongest attribute is scoring goals."
Matt Fairchild also is back. The senior was the Atlantic Hockey playoff MVP last season, and has a knack for scoring big goals in big games. Fairchild is one of at least three league MVP candidates on the Air Force roster this season.
"He's our most complete player," Serratore said. "He does everything at a high level."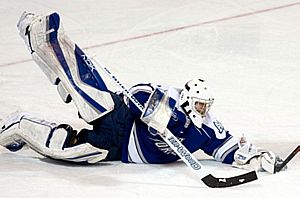 The other main man is Andrew Volkening, who played every minute of every game (2,503) last season after putting up 2,271 minutes the year before. The senior posted a 1.97 GAA last season, including a 43-save shutout of Michigan in the NCAA tournament.
Will Serratore try to ease another goalie (sophomore Steven Caple or freshman David Bosner) into the mix to prepare for 2010-11?
"I don't worry about it one bit," Serratore said. "I'm going to play the goalie that gives us an equal to or better chance of winning. If that's Andrew Volkening, so be it. As someone once told me, 'Worry about this year this year, and next year next year.'"