This is Robert Morris' last chance to win a CHA championship.
And with a 1-in-4 chance, those are pretty good odds.
RMU made the CHA finals last spring after upsetting defending champion Niagara in the semifinals. The Colonials hope to go farther next spring.
"Everyone wants to look toward the end and hope to be champions, and that is what success is based on, championships," Robert Morris senior captain Dave Cowan said. "But we are taking the season as it comes, trying not to look too far ahead and stay focused on what's in front of us now. We need to win in our conference. We need to win at home and stay consistent.
"I think that our biggest downfall in the past is consistency, so if we can stay consistent, we should be able to keep ourselves in the hunt."
Sophomore goaltender Brooks Ostergard finished with two shutouts, a .917 save percentage and a 2.57 goals against average a year ago, and while Ostergard was a no-name to some, his name is now very common in the Pittsburgh area.
"It's his job [to be the No. 1 goalie]," Colonials coach Derek Schooley said. "He's earned it and it will be interesting to see how he can do for a full season. He just needs to be consistent."
Junior forward Chris Kushneriuk is also a fan of Ostergard.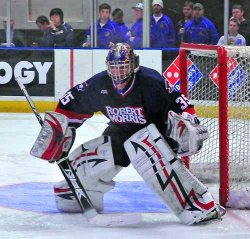 "We all knew Brooks had the talent to be a top goalie right from the moment he got here last season," Kushneriuk said. "He's confident, talented and determined, and all the guys are comfortable having him behind us. He's a great leader in his own sense because he keeps things loose and has a great sense of humor to go with it."
While it's easy to look past the season and to the CHA tournament, Cowan, as a competent captain should, has his team firmly on the ground at this point. 
"When looking at the season, you never want to look too far ahead," Cowan said. "This preseason is the best we have had since my start to the program, and a lot of that is thanks to Jeremy Hoy, our strength coach. Hopefully, our hard work in the summer and in the preseason will pay off, as I'm sure it will. My expectations are always high for this program as they should be when looking at the guys we have coming back and our freshmen coming in."
Losing key players like forwards Chris Margott (the school's all-time leading scorer) and Jason Towsley and defenseman Matt Krug only opens the door for players like junior forward Nathan Longpre and junior defenseman Denny Urban, two All-CHA preseason team picks, to shine.
"It would be easy to say that Urban and Longpre will need to continue to have stellar seasons, but really we're going to need all the returnees to lead the way," Kushneriuk said.
"We only have two seniors and we are still a very young hockey team, but we have great leadership," Schooley said. "Once we get back from Alaska next weekend and then go to Ferris State after that, we should know more."
Even so, the talk of bringing a CHA title to RMU still cannot be avoided.
"With the core group of guys that we have and a very gritty and talented group of freshman, we're expecting nothing less than winning the CHA championship," Kushneriuk said. "Since this is the last year of the CHA, we're looking at nothing less than winning the CHA championship. Robert Morris has been close too many times, but now we have the personnel and the drive to take it home.
 
"We need to stay true to our systems, be strong on our special teams, and continue to do what made us successful at the end of last year. All the returnees know the feeling we had in Bemidji, and we're going to do everything we can to make sure it doesn't happen again."