Capacity at the 2010 Frozen Four at Detroit's Ford Field is shrinking to just over 36,000 from over 70,000, the NCAA announced Thursday.
The rink originally was to be placed in the middle of what normally is the football field in the stadium, but that location has been moved to the West end zone.
Risers with seating will be put in on both sides of the rink.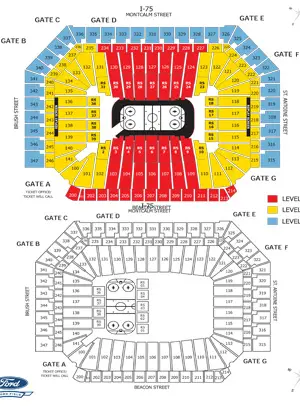 Joni Comstock, the NCAA senior vice president of championships, said sight lines for fans and the economy, particularly in having so many tickets available, factored into the decison.
Less-than-desired ticket sales likely factored into the equation.
"We are truly excited about the potential for a record-setting Men's Frozen Four at Ford Field," Comstock said in a news release. "The NCAA, the Central Collegiate Hockey Association, Detroit Sports and Ford Field have been working together to ensure the 2010 Men's Frozen Four will be one of the best ever."
No one of those factors was more important than another in the decision to alter the layout, said Cameron Schuh, the NCAA's associate director of public and media relations.
He said about 22,000 ticket packages are accounted for, including those being reserved for the competing teams, the NCAA and the local organizing committee.
Those who already have purchased ticket packages will have their ticket locations reassigned for the new layout.